What makes CUT Gaming unique?
One normally associates a LAN event with players bringing their own computers to the event to play the games offered by the tournament organiser. LAN events such as these are classified as a "Bring Your Own Computer" (BYOC) event.

The LAN tournament of 2018 was held in the IT laboratories of the CUT's IT department. This created the perfect opportunity to allow students who are gamers and who do not own their own gaming PC's to play in the LAN competition by using the provided lab computers.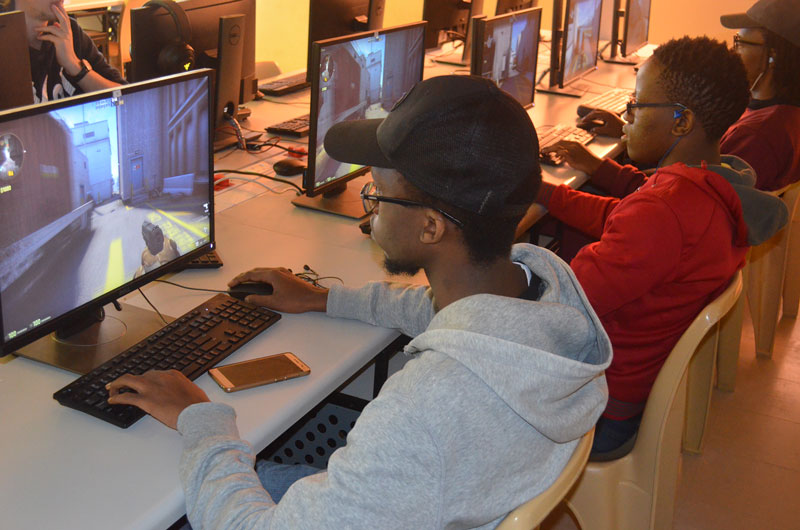 CUT Gaming encourages "Bring Your Own Peripherals" (BYOP) events whereby participants that are serious about gaming, to bring their own keyboard, mouse, mousepad, headset and or earphones to use with the lab computers. All the games used in the various tournaments are preloaded before the start of each event in the labs. The games are customized according to the specifications of the computers to ensure the best gaming experience possible for all participants.
Purpose of CUT Gaming
The intent is to develop the platform as a contribution to the community of the central region. CUT Gaming hopes to make a difference by establishing and promoting eSports in the region. We also invite gamers from nearby towns to join the hosted tournaments.
What type of tournaments can you expect from CUT Gaming?
CUT Gaming will always strive to keep up to date with the latest eSport trends both locally and internationally that millions of gamers enjoy. For 2019, we decided to offer five different types of gaming genres based on the following game titles for each event:
Game

Genre and short description

Counter-Strike: Global Offensive

First Person Shooter

CSGO is an objective-based multiplayer first-person shooter in which players play as either Terrorists (Ts) or Counter-Terrorists (CTs). Both teams must complete objectives while attempting to eliminate the enemy team by means of bomb detonation on specific scenarios, which are referred to as "maps".

Each map has two bombsites whereby the Ts need to plant to bomb at either of the two sites, while the CTs attempt to successfully defuse the bomb or eliminate the Terrorist team. Each map is contested over a duration of 30 rounds in which the winning team needs to achieve a maximum of 16 rounds in total to be declared the winner.

Played in 2 teams of 5 vs 5 (10 players per match)
Skills acquired by playing the game: strategy, awareness, adaptation, team building and reflexes

FIFA 19

Sports

FIFA 19 is a football simulation video game. The game features the UEFA club competitions for the first time, including the UEFA Champions League. Choose your favourite international football club and control the actions of your favourite players on your way to glory against your opponents!

Can be played head-to-head (1 vs 1)
The objective of the game is to score more goals than that of your opponent
Skills acquired by playing the game: awareness, adaptation and reflexes

Dota 2

Strategy

Dota 2 is an RTS-styled competitive team game with RPG elements. Two competing teams (Radiant and Dire) consist of five players each. The main objective in Dota 2 is to destroy the enemy Ancient inside their stronghold. These strongholds are protected by multiple towers down 3 lanes.

Dota means "defender of the ancients".
Played in 2 teams of 5 vs 5 (10 players per match)
The skills acquired by playing the game: strategy, planning, adaptation and team building

Call of Duty: Black Ops

First Person Shooter

The player assumes the role of a foot soldier who can wield various firearms (only two of which can be carried at once), throw grenades and other explosives, and use other equipment as weapons.

The competitive mode of Black Ops usually revolves around two teams on a specific mission. For example, in Team Deathmatch the team with the most kills wins, while in Capture the Flag, players take the other team's flags and return it to their own base. Additionally, there is Free For All in which players aren't separated into teams. Matches are contested over 14 different maps.

Skills acquired by playing the game: strategy, awareness, adaptation, team building skills and reflexes

Rocket League

Sports

Rocket League is a vehicular soccer video game. Described as "soccer, but with rocket-powered cars", Rocket League has one to four players assigned to each of the two teams, using rocket-powered vehicles to hit a ball into their opponent's goal and score points over the course of a match.

Can be played head-to-head (1 vs 1), or in 2 teams of 3 vs 3 or 4 vs 4
The objective of the game is to score more goals than that of your opponent
The skills acquired by playing the game: strategy, awareness, adaptation and reflexes
How to get involved and registered for CUT Gaming events?
CUT Gaming has dedicated social media channels on Facebook, Twitter and Instagram.
All our event information will be published via our Facebook page and shared on CUT's official Facebook page. This doesn't mean you require Facebook to signup for any of the tournaments.
Each Facebook event page has a description area in which the registration links are posted. If you follow the registration links for each title, all the relevant info about the venue, tournament structure and rules are provided.
Upcoming Events
The next event is scheduled to take place on 18 May 2019, see details: https://www.facebook.com/events/306524053378038/
A brief history of CUT Gaming
On 19 May 2018, marketing members of the CUT's Information Technology department held the first ever Counter-Strike: Global Offensive (CSGO) Local Area Network (LAN) competition. A (LAN) is a group of computers and associated devices that share a common communications line or wireless link to a server. Computers were loaded with the CSGO game client, which was then connected to various CSGO game servers on which the competition was played.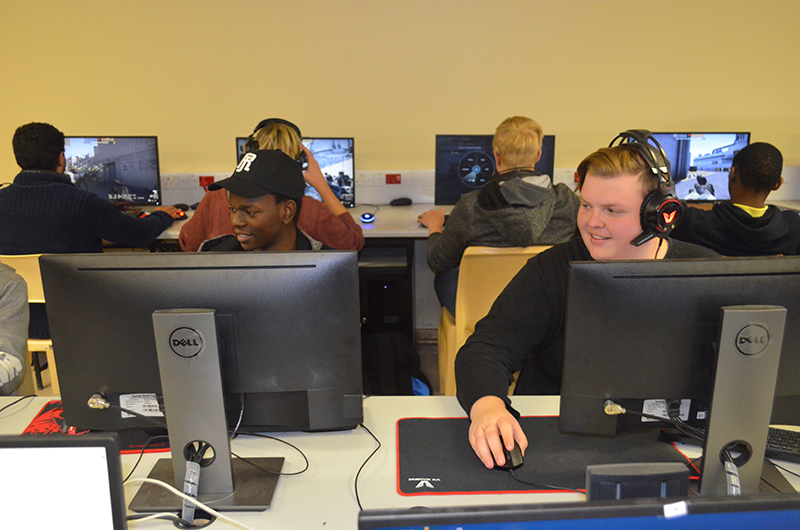 The event was scheduled for CUT students only and had about 50 participants in the two-week timespan that it took to put the event together. 
After the initial event in May 2018, three IT students approached Mr van der Linde with the idea to establish CUT Gaming. There are various competitive electronic sports (eSports) tournaments held throughout South Africa on an annual basis, but these events are mainly situated in Gauteng and the Western Cape.
Uploaded: 22 October 2019