CUT gaming students put their skills to the test at the first USSA eSport championships
CUT News Sport Students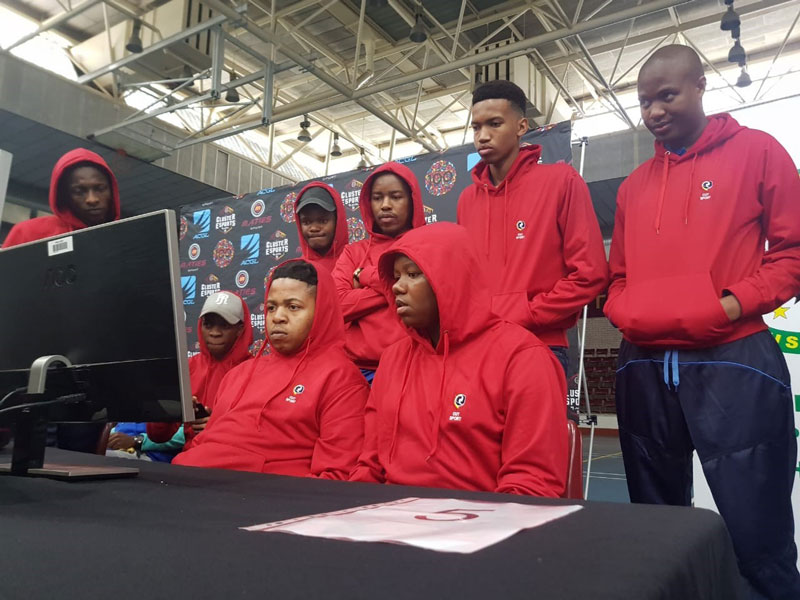 CUT eTitans (CUT-eSports team) proved their mettle by finishing in 2nd place after the host university (University of Stellenbosch-Maties) took top honours. Glued on their screen are: Thapelo Manyanye (standing far left) Theo Moalosi (coach - seated left), Tankiso Samuel, Khothatso Nthoba (Middle-seated) and back row from left:  Lesego Rabanye, Mokete Marumo (coach), Mamello Leripa and Michael Makina (all 2nd year students from  Faculty of Engineering, Built-environment and Information Technology).
Gone are the days when e-games used to be referred to as couch potato sports. Today, with the 4IR upon us, the realm of eSports and gaming is rapidly becoming a worldwide buzz with university student players also getting a portion of the action.
eSports is a billion-dollar industry overseas and has now made inroads in South Africa over the past few years. Universities have now formally affiliated with University Sport South Africa (USSA) and launched the sport for the first time in September 2019 at Stellenbosch University (Maties), where 88 of the best student gamers from 11 universities competed against each other for the tournament championships.
Earlier in the year, the CUT Department of Information Technology under the tutelage of Mr Leon van der Linde, Lecturer in the department, Team Manager and CUT Gaming Coordinator, launched the university's first own competition on video gaming (eSport) initiative called CUT Gaming, to pace themselves for the USSA's main competition. Two events were held where games such as FIFA 19, Counter-Strike: Global Offensive and Call of Duty Black Ops were featured.
Upon realising the talent and skills, readiness and determination, CUT Gaming was later affiliated with USSA to be able to compete in the mainstream competition.
To qualify for the tournament, 64 students from all faculties battled it out against each other to determine the top 8 students who would eventually compete at the main tournament.
According to the Team Manager Mr Leon van der Linde, the CUT eTitans (CUT eSports team) did exceptionally well for an inaugural tournament. "Our future strategy is to improve from here, close the small gaps and aim for the top. My dream is to establish an eSport lab on campus where our eSports teams can practice and play throughout the year to be on top of their game. The most wonderful thing about it is that it is not only restricted to certain demographic areas, age, gender or race; it is a sport for everyone, and I personally see it growing beyond limits."
Leon further mentioned that the sport only requires passion, practice, skills and determination. "I wish to attract more first-year students in 2020 so that we can grow our teams," he said.
Sponsors in support of the CUT Gaming are Compuden (local computer store in Bloemfontein) and ASUS South Africa (component manufacturer).
Watch this video learn more about the eSport Intervarsity 2019
Uploaded: 24 October 2019