The Internal Audit Student Chapter intends to advocate for Internal Auditing students to have relevant issues affecting them to be addressed and also to promote integrity, professionalism and dignity of the profession to students.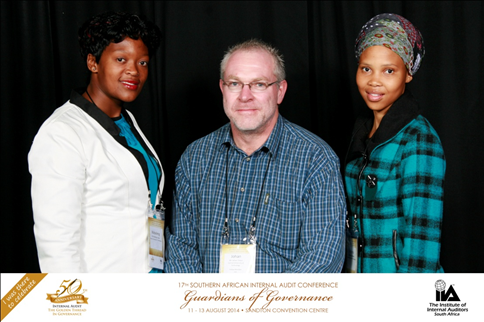 The two top B.Tech Internal Auditing students and Mr J Steyn (Coordinator: Internal Auditing) attended the 17th Southern African Internal Audit conference in Sandton, Johannesburg from 11 to 12 August 2014.
The Chapter intends to benefit its stakeholders (students) through achievement of the following objectives:
Promote the dissemination of knowledge and information concerning Internal Auditing and related subjects.
Provide exposure to the profession of Internal Auditing and opportunities such as informing students about professional accreditation and certification offered by The Institute of Internal Auditors SA;
Provide a platform that creates access to internal audit resources and information to students.
Plan and organise seminars, conferences, presentations, debates and other networking events; to educate and empower students.
Promote professional body and student chapter membership and participation;
Create forums for peer sharing ideas and a problem solving environment, on issues such as coping mechanisms upon entry into the field; and
Promote and encourage academic excellence of respective student chapter members.
Benefits of being a member of the Chapter
How to become a Member of the Chapter
Any individual who subscribes to the purpose and basic policies of the Chapter may become a member of the Chapter, subject to compliance with the provisions of the constitution. No student who meets the criteria for membership can be denied membership on basis of race, colour, religion, sex, national origin, age, disability, marital status, veteran's status, or sexual preference.
Requirements:
Be a registered Internal Auditing student for the current academic year.
Submit application form (no charge).
Membership will be subjected to annual renewal.
Student membership of  The Institute of Internal Auditors SA  is strongly recommended.
E-mail: iia_cutstudents@mail.com

Uploaded: 17 March 2020