SA and Sweden University Forum (SASUF) Student Network Chapter launched at CUT
CUT News Students International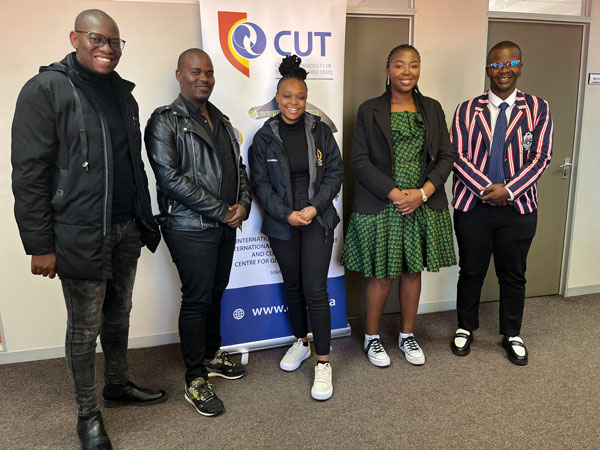 Postgraduate students at the Central University of Technology recently launched the South Africa - Sweden University Forum (SASUF) student network chapter. SASUF is a strategic internationalisation project launched in 2017 to take the South African and Swedish relationship to the next level.
The second phase of collaboration, named SASUF 2030, is a transformative project uniting 39 universities from across Sweden and South Africa, bringing together researchers, students, university leaders, and other stakeholders to develop solutions addressing the UN Sustainable Development Goals (SDGs) and Agenda 2030.
CUT hosted a hybrid induction workshop in Bloemfontein on 19-20 August 2022. The workshop was facilitated by the SASUF Student board 2022/2023 chairperson, Andile Mthembu from the University of Zululand, the deputy chairperson, Thuto Mashila from the University of Pretoria, and the network's representative at the University of Free State, Simba Matema. In addition, Helin Bäckman Kartal, Project Coordinator for SASUF at Uppsala University, Sweden, joined virtually and emphasised the momentum built between Sweden and South Africa over the past few years.
SASUF 2030 will pilot new and innovative ways to develop joint solutions to SDG challenges. More delegates joined virtually, shared their messages of support, and envisaged collaboration with the CUT SASUF student network chapter. Track the SD goals with the global goal tracker.
The SASUF student network's mandate and goals are driven by the UN Sustainable Development Goals making the network a crucial student-oriented institution as it advocates for students' involvement and participation in activities advocating for the enhancement of the SDGs. The CUT's network is formally launched and wishes to extend an invitation to all CUT students to become part of the network.
"I look forward to initiating collaborative projects at CUT with researchers and students from both countries addressing challenges linked to the SDGs," said Ms Refilwe Moleyane, SASUF Coordinator at CUT.
Sign up for the CUT SASUF Student Network Chapter.
For more information about the SASUF student network.
Caption
Lawrence Mkhize, CUT SASUF student network representative; Andile Mthembu, SASUF Student network Chairperson; Thuto Mashila, SASUF Student network Deputy Chairperson; Pontso Letuka, CUT SASUF student network representative and Simba Matema, UFS SASUF student network representative.
Uploaded: 02 September 2022