Regional studentpreneurs compete for national intervarsity finals
CUT News Students Research and Innovation Partnerships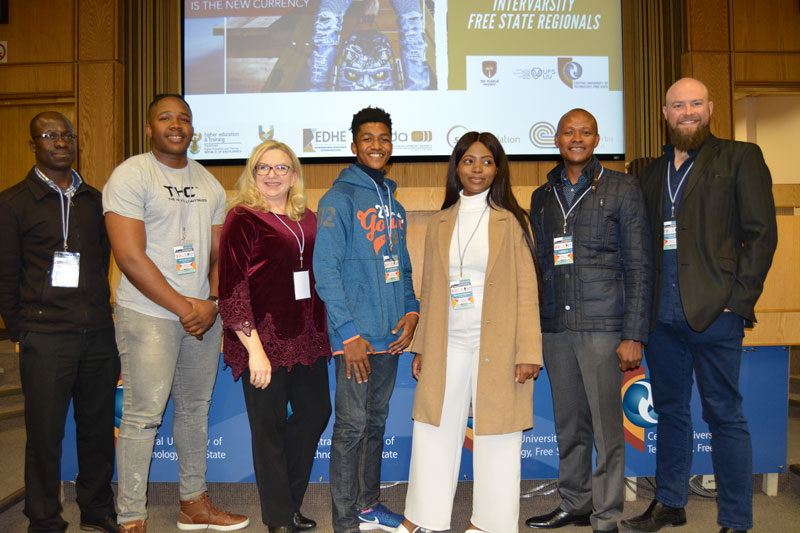 Pictured here is a group of student entrepreneurs who have made it to the finals with the judging panel. From left to right: Mr Andrew Setho, from TIA and one of the Judges; Sibulele Tyala, category 4 winner from CUT; Dr Norah Clarke, Director: Entrepreneurship at Universities South Africa and Department of Higher Education and Training; Theron Sethibe, category 3 winner from Sol Plaatjie University; Grace Mthembu, category 1 winner from University of the Free State; Mr Given Madhlophe panel member from SEDA, and Christopher Rothmann, category 2 winner from University of the Free State.
The increasing rate of unemployment in South Africa demands universities to move away from the notion of producing job seekers and to encourage them to consider entrepreneurship as a career path.
CUT promotes a culture of innovation and always strives to instil an entrepreneurial mindset amongst its students.
On 08 August 2019, CUT held the Entrepreneurship Development in Higher Education (EDHE) Intervarsity Competition-Regional rounds whereby students from CUT, University of Free State (UFS) and Sol Plaatjie University (SPU) pitched their ideas in 5 minutes to a panel of judges under four categories which are Innovative Ideas, Tech Business, Social Impact and General.
The aim of the competition is to identify and support student entrepreneurs who have been able to establish their businesses, along with those who have innovative ideas that they would like to pursue while studying.
Out of ten contestants who participated in the regional rounds, only four students under four categories made it through to the national level which will be taking place on 18 September in Gauteng. The winners are Grace Mthembu and Christopher Rothmann, both from the University of the Free State under electricity system and Liquid Culture companies, Theron Sithibe from Sol Plaatjie University under his company- Lola Foodz and Sibulele Tyala from The Central University of Technology under his company called THC sportswear.
Prof. Alfred Ngowi, Deputy Vice-Chancellor Research Innovation and Engagement said that entrepreneurship and innovation are the only things that will not be affected by machines in the 21st century. "We have realised that despite the abilities of technology, entrepreneurship and innovation must be at the core of what students should learn. Most of the work that is being done today will be taken over by machines in the coming years and we need to be prepared."
He further motivated the student entrepreneurs to take the front row seat in becoming the job creators and overcoming the panic caused by the 4th industrial revolution. "Pitching Your ideas are equally important and already make you a winner. The fact that you have an idea and brought it forward shows that you are already a winner and please let us move forward with that spirit. Continue to market that idea and find other avenues to put them out there. Let us ensure that the central region is pioneering when it comes to entrepreneurship."
Dr Norah Clarke, Director: Entrepreneurship at Universities South Africa and Department of Higher Education and Training said that this year the competition does not aim to solve all business problems straight away but intents to create 28 national heroes. "This competition aims to make sure that your universities are aware that you exist and can take the necessary measures to support you better as future entrepreneurs and that is what our job on a national level is. We have that job of advocating for better support for you. At the finals, we will also be recognising the university from which the overall winner comes from as we want to encourage universities to support you as best as they can. We want people to know you, acknowledge and be able to recognise your faces so that they stop fearing business. We want you to be national heroes who will inspire others."
 At the finals, winners will receive cash prizes as follows: Innovative Idea R10 000, Tech Business R10 000, Social Impact Business R10 000, General R10 000 and the overall Studentpreneur for 2019 will receive R50 000.
Uploaded: 14 August 2019