NSFAS CEO and Chairperson visit CUT
CUT News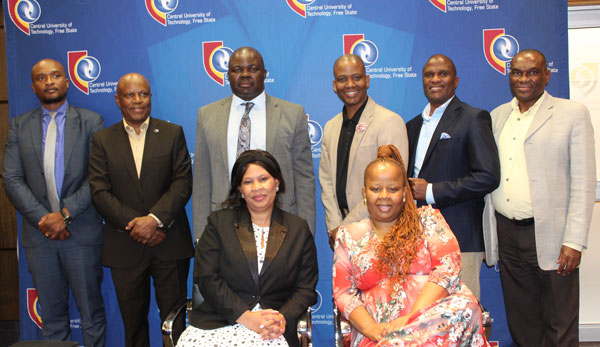 National Student Financial Aid Scheme (NSFAS) Chairperson of the Board, Mr Ernest Khosa and Chief Executive Officer, Mr Andile Nongogo the visited the Central University of Technology, Free State as part of on-going engagements within the sector to bring about lasting solutions to challenges faced by NSFAS funded students at CUT.
NSFAS Chairperson, Mr Khosa stated that he and his team are on a national tour of the universities they work with. "One of the first decisions that we made as a new board and management is that NSFAS has got challenges that cannot be addressed only at the bottom, and the board decided to understand these challenges we need to talk to our stakeholders; including students, university management, our staff, labour and our shareholders. It's important to have a round-table face-to-face conversation where we raise matters and come up with some solutions," said Khosa.
CUT Council Chairperson, Cllr Matthew Rantso stated that the visit was an essential part of ensuring that students' best interest are at the forefront of university matters. "This is a step in the right direction, we are focusing on matters that affect students the most, especially the admin around capturing their data, how they receive their allowances as well as matters pertaining to the accommodation," said Rantso.
Khosa highlighted that about 70% of CUT students are funded by NSFAS. "That's no small portion of students and for that reason, we found it necessary to come and talk to you. This university is a very important university, its role in the economic development of this country is not something that I would consider minimal. So, we are here in good faith, if there are challenges or problems, we are going to resolve them," concluded Khosa.
Caption
Front from left: Dr Sally Dzingwa, CUT Registrar and Ms Matseliso Mfanta, CUTis Chairperson.
Back from left: Mr Andile Nongogo, NSFAS CEO; Prof. Alfred Ngowi, acting Vice-Chancellor and Principal; Mr Ernest Khosa, NSFAS Chairperson; Cllr Matthew Rantso, CUT Council Chairperson; Prof. David Ngidi, Deputy Vice-Chancellor: Teaching and Learning and Cllr Moeketsi Sefika, Chairperson: Planning, Finance and Resources Committee of Council.
Uploaded: 26 November 2021