Meals-on-Wheels partnership brings support to CUT students
CUT News Partnerships Students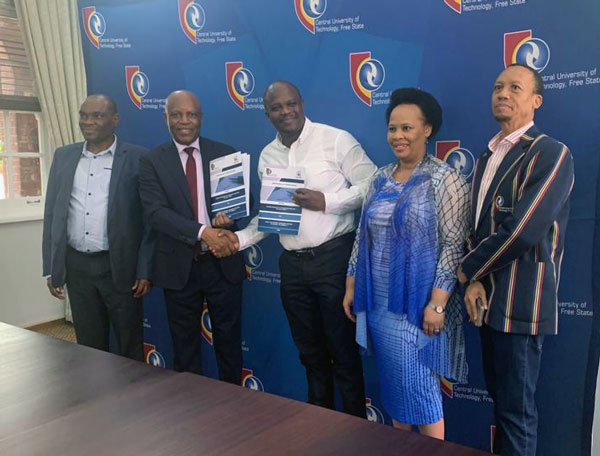 CUT and Meals-on-Wheels Community Services signed a Memorandum of Understanding (MoU) on 07 December 2022, in which both parties are fully invested in making this collaboration fruitful and successful.
This partnership between CUT and Meals-on-Wheels is directly linked to the Sustainable Development Goals intended to eradicate poverty as an act of justice to unlock enormous human potential in our students so that they realise their dreams.
In his opening remarks, Prof. Alfred Ngowi, acting Vice-Chancellor and Principal, said that the signing is affording the institution an opportunity to build an important and strategic partnership that will help achieve the university's desire to have no student at CUT ever goes to bed hungry.
"With the costs of higher education which are increasing at an alarming rate, many of our students are battling financially to meet the ever-growing demand for university education, but despite these challenges, we have made some progress since the inception of this initiative. As many of our students come from poor backgrounds, we are most grateful to you for being instrumental in realising our desire to support our students in this way. With your contribution and support, we will be able to provide more food and have something we too can share with our students."
Some specific initiatives that will be pursued through this partnership include agreeing to the broad areas of collaboration, such as access to the Meals-on-Wheels Farmland for research work, identifying our postgraduate students as possible facilitators for the new Agri-academy; making available our Agricultural Student Organisation (Agri-SO) to participate in the Agri-related projects, as well as our Work Integrated Learning students to gain much-needed experience in all farms across the country using the training units as a model strategy.
Caption
From left: Prof. David Ngidi, Deputy Vice-Chancellor: Teaching and Learning; Prof. Alfred Ngowi, acting Vice-Chancellor and Principal; Mr Effort Mbebe, Chief Financial Officer: Meals-on-Wheels; Dr Sally Dzingwa, CUT Registrar, and Mr China Kokoana, acting Dean of Students at the signing of the MoU to provide much-needed support to needy students at both campuses.
Uploaded: 13 December 2022