Higher Education during the pandemic - CUT expert part of the symposium panel
CUT News Leadership Support Services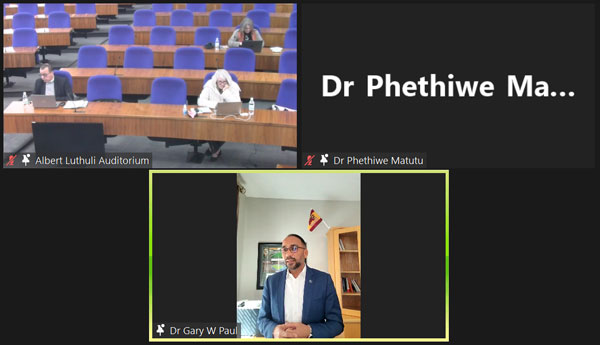 On 28 June 2022 a group of higher education experts participated in an online symposium discussing student and staff experiences during the pandemic: Implications for planning, funding, and quality assurance.
Panellists included delegates from the Central University of the Free State (CUT), the University of the Free State (UFS), Nelson Mandela University (NMU), University of Johannesburg (UJ), Sefako Makgatho University (SMU), University of the Western Cape (UWC), University of South Africa (UNISA), members of the Council on Higher Education (CHE) and Universities of South Africa (USAf).
The Covid-pandemic flung society into uncharted territory, and the higher education field was no exception. Institutions resorted to emergency practices to accommodate the pandemic regulations that restricted movement and gatherings. Most South African universities are by nature contact institutions, relying on face-to-face facilitation for teaching and learning. Measures to complete the academic programme via an online and blended approach were implemented with varying degrees of success.
While initially met with resistance, many students now indicate that they prefer a blended and/or online methodology. Even though this can be viewed as the future of higher education, it is accompanied by a unique set of challenges, including funding for digital training, access, and infrastructure.
Dr Gary Paul, CUT's Deputy Vice-Chancellor: Resources and Operations, was a panel member and contributed to the topic of funding and financial implications related to and arising from blended learning and digital literacy. He observed that institutions must radically rethink operating models to enhance financial sustainability, institutional viability, and resilience.
"The best way to make money," he said, "is to save money." Hence, he suggested that single-person offices must be revisited, as well as the constant adding to on-campus infrastructure. "Investing in off-campus infrastructure makes more sense to pursue infrastructural growth that can be repurposed and sold at profit when it is no longer needed."
Dr Paul further mentioned that cost-saving measures like virtual and augmented reality modes of academic delivery, negotiating more competitive data pricing with mobile network operators, and diversifying income streams could all be used to fund the required digital infrastructure and training needed for a blended approach. He highlighted that enhancing employees' digital literacy in itself, is measure that could enhance organisational performance as recent research studies found that digitally literate employees are more self-efficacious and deliver improved performances. Of particular significance, in the context of digital literacy, he pointed out that digital literacy correlates very strongly with organisational agility.
This symposium highlighted important considerations necessary to align the South African higher education environment to global competitors and peers. The challenges and solutions unpacked by this event will pave the way to further discussions and ultimately workable policy alternatives. The CUT is proud to be an active player in the critical discussions at this level.
Uploaded: 29 June 2022