CUT's Health and Environmental Sciences present Prestige Research Seminar with entrepreneurial spirit
Faculty of Health and Environmental Sciences CUT News Research and Innovation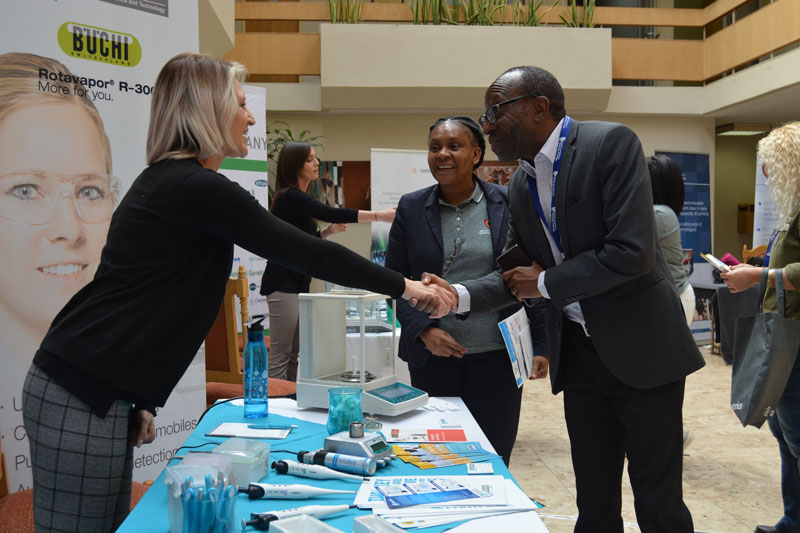 The faculty invited some of their lab equipment and consumables suppliers to exhibit their products. The companies sponsored the award prizes received by presenters on the day. Exhibitors included BUTCHI, Labotec, Anatech, The Scientific Group, Inqaba Biotec, Ascendis Medical, Colgate, Somatology programme (CUT) and CUT Indigenous Knowledge systems (CUTIKS). Seen here is the Dean of the faculty, Prof. Samson Mashele doing his rounds at the different exhibition tables to greet all exhibitors who attended.
The Faculty of Health and Environmental Sciences held their prestige research seminar entitled "Food Science, behaviour and entrepreneurship for the 21st century: a balanced act." The prestige research day aims to honour outstanding research, scholarship and creative activity from the faculty, as well as showcase accomplishments of fellow academics and postgraduate students to external partners, industry representatives and the broader community.  
Prof. Samson Mashele, Dean of Health and Environmental Sciences, said that the faculty is doing well as far as research is concerned, has the highest number of post graduate students and also managed to come up with innovations and publish. He further advised researchers to publish their work in higher impact journals so that some innovation can come out of it. "The kind of research that we do, must be able to respond to the challenges faced by our societies."
Mrs Linda Jackson, guest speaker, CUT Alumni and Director of Food Focus SA, shared her observation on the food industry in South Africa touching on the outbreak of listeriosis, which had a significant impact on the food industry and broken trust of consumers. She said that consumers put a lot of trust in consuming food that is prepared by someone else, but the listeriosis outbreak made them stop and think about food safety. She further emphasised that a formal controlled way of managing food safety within all food businesses needs to be looked at.  
Mrs Magda Keates, founder and Clinical Principal of Focus Counselling and Consulting Services in Queensland in Australia, mentioned the use of neuroscience to reduce emotional challenges experienced by researchers and academics. She also spoke about what stress, depression and anxiety is, how to identify it in the brain and some intervention methods on what can be done dealing with different types of anxiety.
Uploaded: 15 October 2019