FNB CUT stun FNB Shimlas in Bloemfontein derby
CUT News Sport Students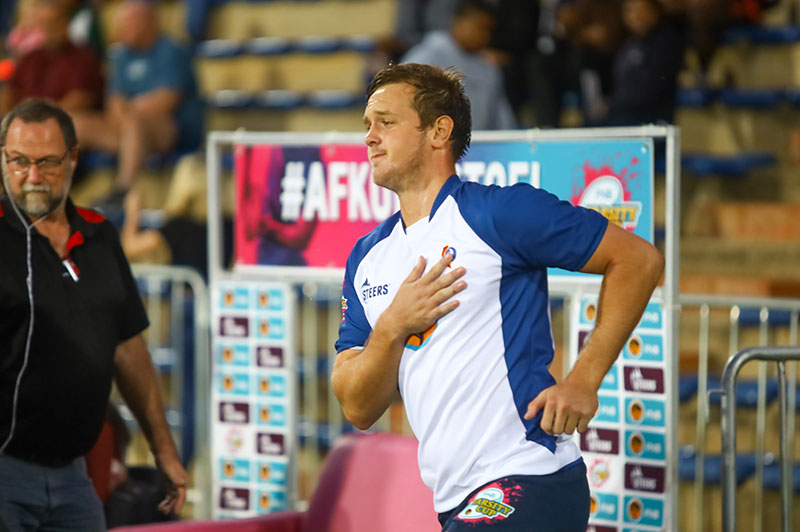 FNB CUT outplayed FNB Shimlas to win 35-14 in a titanic battle at Shimla Park, and claim back-to-back wins over their neighbours in the FNB Varsity Cup.
FNB CUT started off solidly by pinning FNB Shimlas in their own half from the start. This forced Shimlas into scrappy play and, in the second minute, CUT's star fullback Cohen Jasper opened the scoring with a drop goal.
CUT duly kept the pressure on Shimlas and were rewarded when their flanker Luvuyo Ndevu scored an easy five-pointer converted by Charles Williams to put FNB CUT ahead 10-0 just four minutes into the game. The next six minutes was territorial kicking contest between the two teams with no significant result.
Shimlas did, though, find their feet and deservedly benefitted when their lock Rholane Ncubuka scored from a 'truck-and-trailer' maul from a line-out. Flyhalf JP Duvenage converted the try to take the score to 10-7 in the 18th minute and suggest the hosts were up for the contest.
What they wouldn't have wanted was to concede a penalty three minutes later which Williams knocked over to increase the lead to 13-7. CUT handed Shimlas an opening, however, thanks to prop Quintin Vorster being sent to the Afkoelstoel for a dangerous tackle in the 30th minute.
Shimlas used the opportunity and centre Janco van Heyningen took a gap to score a five-pointer, converted by Duvenage to hand them a lead, at 14-13, for the first time in the game. It was short-lived... Williams knocked over two penalties and the Ixias retreated to the changerooms at half-time leading 19-14 on enemy territory.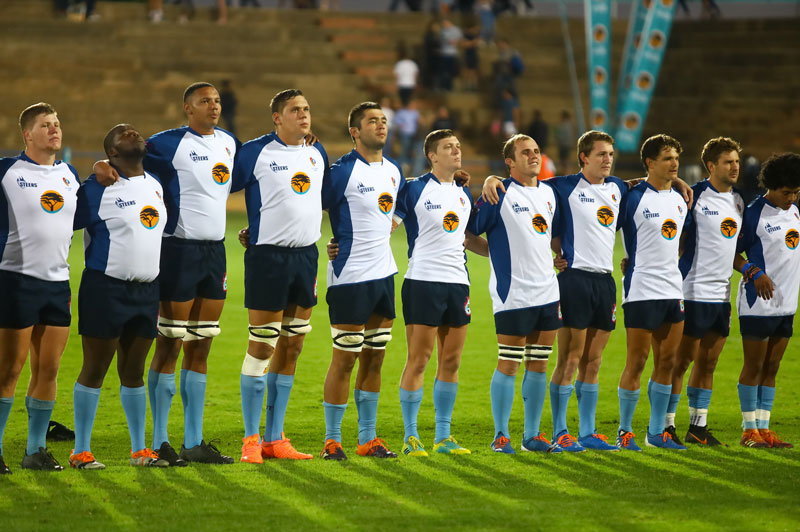 A determined fightback from Shimlas, on the back of a stern talking to from Hendro Schioltz, would have been expected. As it happened, Shimlas did make a solid enough start into second half with constructive attacking play... only for CUT winger PJ Krugell to intercept and run in a point-of-origin seven-pointer converted by Williams to increase the lead to 28-14.
Both teams made extensive handling errors to stall the momentum of the game. The visiting Ixias pulled their game together and brilliant individual play from scrumhalf Xavier Swartbooi who scored bonus point try in the 57th – which Williams again converted to stretch the score to 35-14.
To make things worse for Shimlas, scrumhalf Chadd Adams was yellow-carded for dangerous play behind the goal line and this left them without a scrumhalf as Rewan Kruger was injured in the first half. The rest of the match was benchmarked by scrappy play by both teams to take the match to the final score 35-14 for CUT.
Awards
FNB Player That Rocks: Xavier Swartbooi (FNB CUT)
Steers Kinging Moment: PJ Krugell (FNB CUT)
Scorers
FNB Shimlas: 14 (14)
Tries: Rholane Ncubuka, Janco van Heyningen
Conversions: JP Duvenage 2
FNB CUT: 35 (19)
Tries: Luvuyo Ndevu, PJ Krugell (point-of-origin), Xavier Swartbooi
Conversions: Charles Williams 3
Drop goal: Cohen Jasper
Penalties: Charles Williams 2
Teams
FNB Shimlas: 15 Cham Zondeki, 14 Francois Agenbag, 13 Janco van Heyningen, 12 Tiaan Schutte, 11 Charl Pretorius, 10 JP Duvenage, 9 Rewan Kruger, 8 Bertie de Bod, 7 Sibabalo Qoma (captain), 6 Jan Rossouw, 5 Keanan Murray, 4 Rholane Ncubuka, 3 Gerrit Visser, 2 Hanno Snyman, 1 Bhekinkosi Qaba.
Replacements: 16 Jhaques Thyssen, 17 Wihan Marais, 18 Daniël Wessels, 19 Nathan Jordan, 20 Mihlali Peter, 21 Chadd Adams, 22 Siyanda Cele, 23 Thabang Mahlasi.
Coach: Hendro Scholtz
FNB CUT: 15 Cohen Jasper, 14 Christiaan Nel, 13 Niell Stannard, 12 Heino Bezuidenhout (captain), 11 PJ Krugell, 10 Charles Williams, 9 Xavier Swartbooi, 8 Hardus Nel, 7 Jacques Ackerman, 6 Luvuyo Ndevu, 5 Derik Pretorius, 4 Brendon Fortuin, 3 Tebogo Masemola, 2 Janus Venter, 1 Quintin Vorster.
Replacements: 16 Hans Terblanche, 17 Eddie Davids, 18 Wandré Nortjé, 19 Katleho Morapane, 20 Matthew Sekele, 21 Jaco Wilkinson, 22 Ruan Wasserman, 23 Karabo Maqeba.
Coach: Pieter Bergh
Captions
1: FNB CUT team captain, Heino Bezuidenhout who plays in the centre position take to the field.
2: Singing of the National anthem during the Varsity Cup Rugby match between FNB Shimlas and FNB CUT.
Source: FNB Varsity Cup
Photos: Hannes Naudé
Uploaded: 04 March 2020