Dr Brand Pretorius receives an honorary Doctorate
Faculty of Humanities Faculty of Health and Environmental Sciences Faculty of Engineering, Built Environment and Information Technology Faculty of Management Sciences CUT News Research and Innovation Students Welkom Campus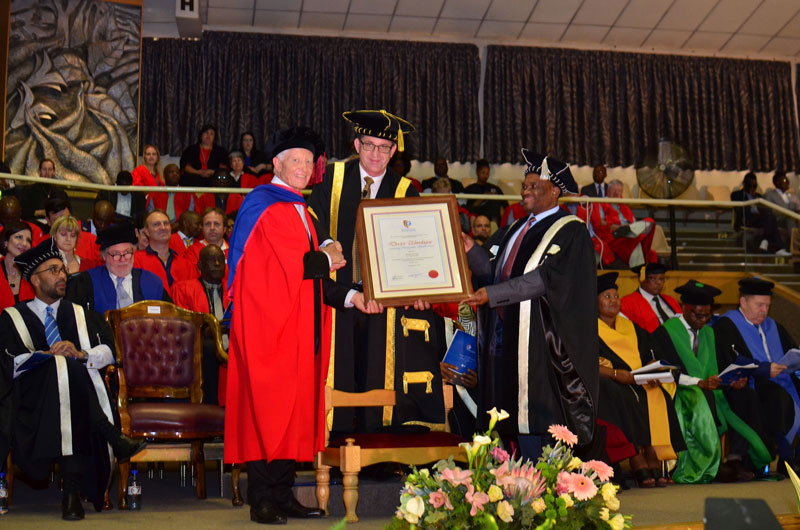 Prof. Henk de Jager, Vice-Chancellor and Principal (middle) and Prof. David Ngidi, Deputy Vice-Chancellor: Teaching and Learning (right), awarding Dr Brand Pretorius (left) with an Honorary Doctorate in Marketing Management in recognition of his exceptional record in business leadership
On 06 September 2019, the Central University of Technology, Free State (CUT) not only welcomed the new season, but celebrated the achievements of 631 newly graduates. Of the 631 graduates, 13 Masters and 7 Doctorates were conferred.
Amongst the graduates, Dr Brand Pretorius received an honorary Doctorate in Marketing Management in recognition of his exceptional record in business leadership. Dr Pretorius succeeded in the very demanding and challenging business sector through an attitude to serve rather than be served.  He represents a living symbol of CUT's Vision 2020.
When congratulating the graduates, Dr Brand Pretorius said "today represents a milestone in your lives with the sacrifices and hard work you put in, well-done! I share your pride and joy and I want to commend your spouses, parents, grandparents, families and friends for all their support. I wish every one of you, joy, happiness, fulfillment and success."
He also expressed his heartfelt appreciation for the honorary doctorate bestowed on him and promised to do all his best to be worthy for CUT. "I really appreciate your confidence in me, and I will represent CUT with pride. This is a wonderful time for me to be a member of the CUT family. I am very grateful."
The recently retired Chief Executive of McCarthy Limited dedicated his bestowal to his family for the support and sacrifices they have provided to him over the years and also paid tribute to the of Toyota South Africa and McCarthy group teams for joining hands with him to help with his leadership task and volunteering their intelligence, energy, contribution and loyalty. "Without them, I would not have achieved anything."
 Born, bred and schooled in the Free State, Dr Pretorius spent his business career in the competitive automotive industry. His career journey includes Managing Director of Toyota SA Marketing, Chief Executive at McCarthy Motor Holdings and later Chief Executive Officer of McCarthy Limited. Under his leadership, the technically insolvent McCarthy was successfully recapitalised, restructured and restored to financial health.  He received many national awards and currently serves on boards of companies in a non-executive capacity. He also made his mark in the academic fraternity as Honorary Professor at the University of the Free State, University of Johannesburg, University of Pretoria, as well as a fellowship at the Gordon Institute of Business Science and an honorary Doctorate in Marketing from the Durban University of Technology.
Uploaded: 09 September 2019