CUT's Thobile secures bronze medal for SA at international track and field varsity games in Malawi
Management Sciences CUT News Students Sport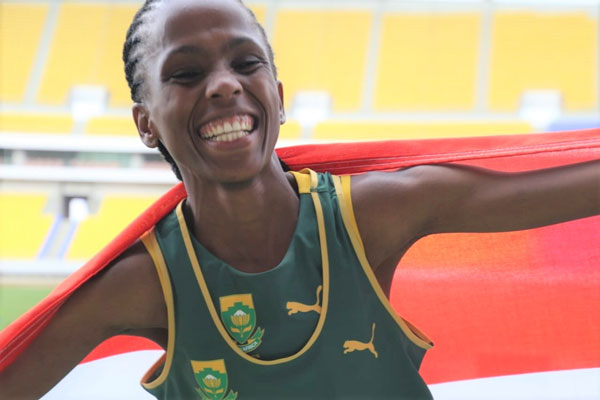 Thobile Mkhize, a first-year student in the Office Management and Technology programme, put the Central University of Technology on the map when she brought home a bronze medal from the 2022 CUCSA (Confederation of University and Colleges Sports Associations) Track & Field Games that were held in Lilongwe, Malawi from 28 August - 03 September 2022. Mkhize, who was representing not only CUT but South Africa at the international event, competed in the 1500m race, securing third place.
Earlier this year, she participated in the USSA (University Sports South Africa) Track & Field Championships, where she qualified for the competition by completing the race in record time.
Among other achievements, Mkhize is the current champion in the Free State's 10km Marathon as well as being the first black CUT female student athlete to get national colours. She expressed that representing the CUT and wearing the national colours is, so far, her greatest achievement. "It's been a long journey, and representing the country is a huge achievement because it is my first time doing so," said Mkhize.
A small-town girl from Mkhambathini, KwaZulu-Natal, Mkhize started running in primary school. The bronze medal winner has a twin sister, who is her greatest inspiration. "I get most of my support from my twin sister and close friends, as my parents have passed away. My sister is my greatest strength; she is my rhythm. I started running in primary school and after realising my potential, I never looked back, so basically, I have been running my whole life," she added.
The bronze-medal winner also said that running requires a lot of commitment and discipline. "It is difficult because I am a person, and I also want to do things; it's been a long journey, but this has been my biggest achievement because I was not only representing the varsity, but the country as a whole" said Thobile.
"My biggest dream is to run at the Olympics because it is the biggest platform in sports. I am working towards this goal, as I would be grateful to get the opportunity. Running has also allowed me to visit other countries and experience different ways of life, I've also learnt to be more appreciative of the little things," she concluded.
Caption
CUT track and field athlete, Thobile Mkhize, lands a bronze medal at the Confederation of University and Colleges Games in Malawi.
Uploaded: 22 September 2022