CUT's Oral health education outreach programme a success
Faculty of Health and Environmental Sciences Clinical Sciences Health Sciences Life Sciences CUT News Students Community Engagement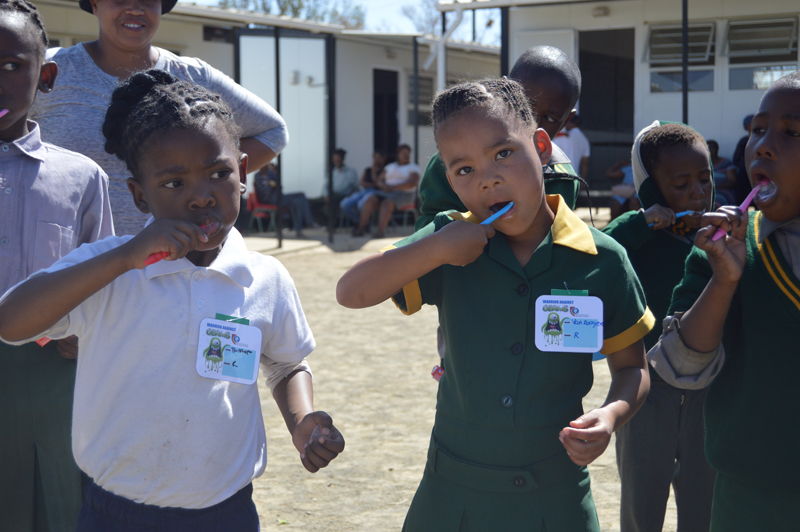 Demonstration time from left: Grade R learners, Boitshepo and van Rooyen are tasked to demonstrate the lesson learnt to the team on how to brush their teeth properly.
CUT has taken great strides in ensuring that their students are market-ready and has done so through its graduate attributes programme. Graduate Attributes are competencies, skills and qualities that students should develop during their course of study.
The Faculty of Health and Environmental Sciences reached out to a small community of Smithfield, some 132 km southeast of Bloemfontein, to visit Smithfield Primary School on 11 September 2019.  The project was a combination of the Nelson Mandela month and Oral Health month efforts from the department.  The purpose of the project- 'Warriors against germs', is to simultaneously give back to communities from which students come from and to instil graduate attributes.
The CUT outreach team consisted of student volunteers from the department of dental assistance and radiography programmes. The programme was led by lecturers, Dr Jeanne Oosthuysen, Senior Lecturer: Dental Assisting, Dr Je'nine Horn-Lodewyk, Lecturer in the Department of Clinical Sciences, Radiography and Mrs Henra Muller, Lecturer in the Department of Clinical Sciences, Radiography.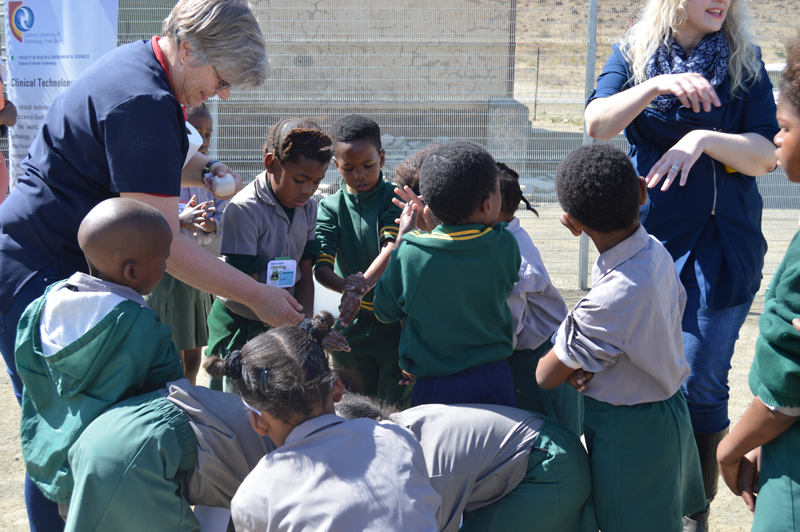 Dr Jeanne Oosthuysen, Senior Lecturer: Dental Assisting, demonstrating optimal hand-washing practices to the primary school learners.
Ms M Mokhotsoa, grade three Educator and Departmental Head at school, expressed her gratitude to CUT for visiting their school for such important life lessons that their learners will practise for the rest of their lives. In addition, she mentioned that their small community hardly ever gets visitors from major academic institutions and this has excited the learners and their parents. "The children in our community have just been exposed to a world they never knew existed." For CUT to be here and making our kids aware that such institutions exist and are open to everyone, gives them hope of studying further. They are also excited and motivated to see diversity in the CUT team because of the common belief amongst these learners is that tertiary institutions are only for white people. This memory is going to last them a lifetime," she said.
Ms Mokhotsoa further indicated that basics like health care, water and sanitation are a luxury in the community and that there is a high unemployment rate due to lack of education in the area."
The students enjoyed sharing their knowledge with the learners and also entertained them about "Warriors against germs". The outreach programme was sponsored by Colgate, who donated over 300 toothbrushes, toothpaste and Protex bath soaps.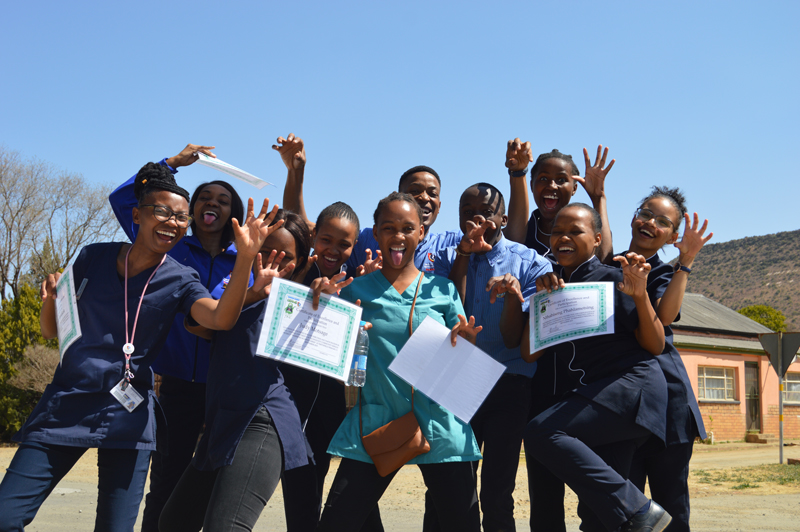 Mission accomplished: Happy student volunteers from the Departments of Clinical, Health and Life Sciences proudly showing off their certificates of excellence and participation. These students have displayed three of the ten CUT graduate attributes, namely, community engagement, communication and teamwork.
Uploaded: 13 September 2019