CUT's Microsoft AI Programme students share testimonials
Research and Innovation CUT News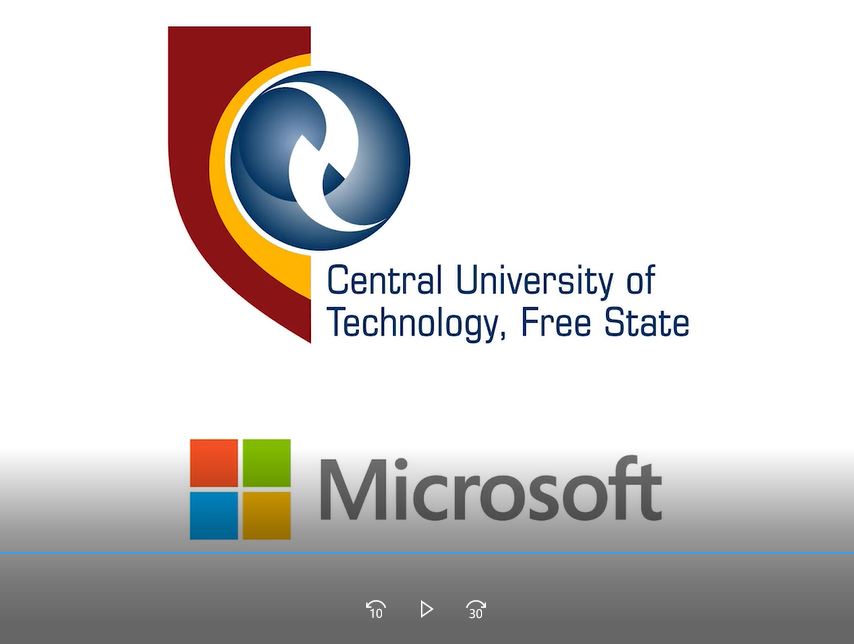 The Central University of Technology, Free State (CUT) introduced Microsoft's Artificial Intelligence Programme (AI) in July this year, to address the demand in the province, and South Africa in general.
Students from CUT and the Free State Premier's office who have been taking part in the pilot programme, which has been running for four months, have expressed that it has been a fulfilling experience and change of perspective.
The programme – developed by partners Microsoft and Gijima – has been designed to pass on the skills employers value and need by teaching young multi-disciplined graduates with limited or no work experience to explore, transform, model, and visualise data, as well as to create the next generation of intelligent solutions.
Microsoft Certified Facilitator, Carlo Chiriseri said that the students have been working on using Artificial Intelligence to positively impact society. "We are trying to implement artificial intelligence into the environment we have so that we can use it to solve problems. We realised that we were not really implementing artificial intelligence at all at this level that we are at, so our delegates are busy working on proof of concepts, which is the practical aspects of actually building their artificial intelligence projects that are going to then come up with strategies and solutions that are actually world-class and these solutions are not going to be kept in the books but can actually be implemented to make business in society," explained Chiriseri.
Professor Alfred Ngowi, Deputy Vice-Chancellor: Research, Innovation and Engagement at CUT said that the aim of this programme is to ensure that AI technology is not only for the elite. "At university level we want to make sure that artificial intelligence is incorporated in the curriculum. Every time people talk about the Fourth Industrial Revolution people talk about engineering, technology, but this is not so, this is for everybody, including humanities and social sciences. We want to use artificial intelligence to make sure that we increase the efficiency of our operations, this technology gives us many opportunities of forseeing possibilities which were not there before," added Prof. Ngowi.
Watch the AI students testimonials
Uploaded: 24 November 2020