CUT's Hydrology and Water Resource Management progamme is a distinctive career option for learners
Faculty of Engineering, Built Environment and Information Technology Civil Engineering CUT News Students Teaching and Learning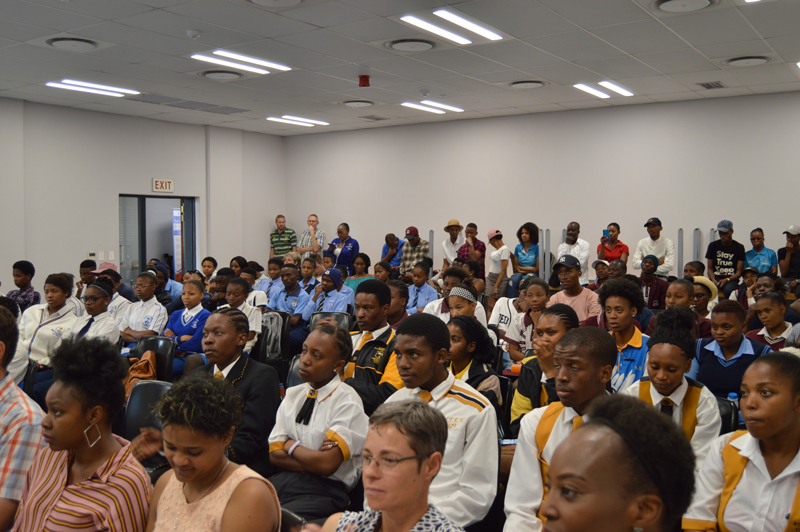 Teachers and grade 12 STEM learners from different high schools in and around Bloemfontein listening to presentations by role players and experts in the water sector. By the end of the fair, about 40 learners had already submitted their applications for the 2020 CUT academic year in the Hydrology and Water Resource Management programme.
The Department of Civil Engineering hosted a Water Science Fair on 20 September 2019, to introduce the new programme BSc Hydrology and Water Resources Management. The fair set out to stimulate interest of the grade 12 STEM learners, educate, create awareness on water resources, its management and other related components. Also, the fair showcased the role and impact of water to the community. To qualify for the three-year programme, learners must be in possession of a minimum admission score of 28 points and 50% in the Life Sciences/Physiology, Mathematics and Physical Sciences subjects.
CUT also invited role players and partners in the water sector from both private and public organisation in the Central Region to share their knowledge, expertise, career options and bursary opportunities related to the programme. Presenters included Bloemwater, Mangaung Municipality, The Energy & Water Sector Education Training Authority (EWSETA), Department of Water Affairs and Sanitation, IWater Solutions and Southern Africa Development Community Groundwater Management Institute (SADC-GMI). SADC-GMI presented bursary opportunities, internships for graduates, changes in the water industry, entrepreneurial opportunities and the role of groundwater in the Southern African regions.
Asked about what the programme entails, Dr Saheed Oke, Senior Lecturer in the department and project leader, said that water is a scarce commodity that directly affects and impacts life and the knowledge in hydrology and water-related sciences is critical. Water-related sciences are scarce skills in South Africa, and learners are unaware of the fields of study and how important it is to consider them in the decision-making process.
"Our three-year bachelor's degree focuses on various areas of study. These include water quality, water treatment, distribution and management, groundwater exploration and exploitation, integrated water usages such as rain harvesting, water reuse, wastewater treatment and uses, flood control and disaster prevention, environmental health, environmental sciences and environmental impact assessment, water costing and economics, geohydrology, etc. There are numerous benefits to this programme, some of which includes an opportunity to work in multi-disciplinary sectors like municipalities, water boards, government, research institutes, agricultural sectors, mines, private water laboratories, academic institutions or entrepreneurship.
The Faculty of Engineering, Built Environment and Information Technology began to offer the programme in 2015, and is ready to step up the 2020 admissions. "For learners to join our team of scientists, they must work hard and get the minimum 28 points and enjoy this journey with us," he said.
Uploaded: 01 October 2019