CUT's Enactus partner with Letsemeng Municipality to ignite LED project
Faculty of Health and Environmental Sciences CUT News Students Community Engagement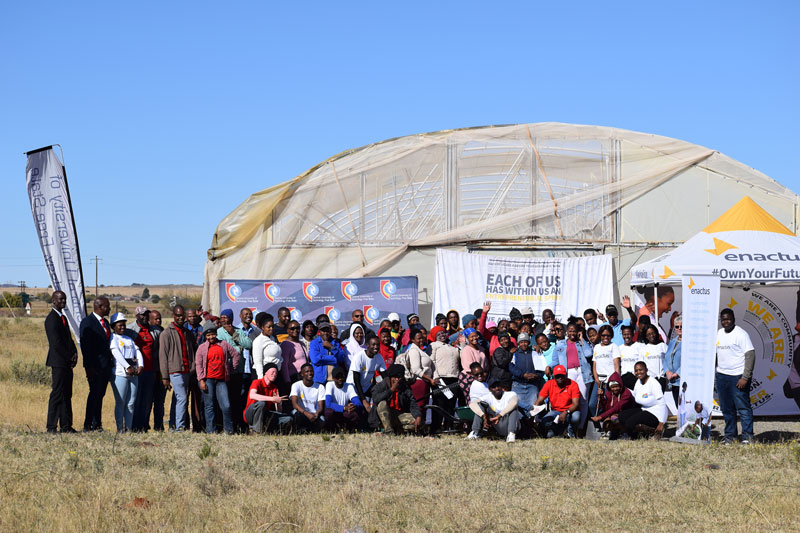 The Letsemeng Community members ready to kick-start the project with Enactus-CUT and other stakeholders to revive the medicinal plant project.
The Enactus-CUT in collaboration with African Solutions Institute and Centre for Applied food Security and Biotechnology (CAFSaB) took the initiative to partner with Letsemeng Local Municipality to ignite the Medicinal Plant project, a Local Economic Development (LED) project that was abandoned and vandalised in 2016. The ground-breaking ceremony took place at Letsemeng Medicinal Plant in Petrusburg on 8 of June 2019.
The Faculty Advisor, Professor Crispen Chipunza said that reviving the medicinal plant project will not only spark fresh energy within the Letsemeng local community but will also bring growth, empowerment, job creation, awareness, as well as unlocking new business opportunities.  He also pledged support and assured the community that CUT will bring-in students and academics with different expertise to ensure that the project is a success.
Enactus-CUT Projects Manager, Mr Thembisile Tyopo said that the main objective of the project is for the community to own the entire value chain and to help them renovate the facility for optimal operation. "We have raised funds to renovate the facility and sponsor equipment that will be used in the project operations. In partnership with African Solutions Institute (ASI), we have also trained the beneficiaries on basic business management skills and have scheduled more training which will unfold as the project gains momentum."
Acting Mayor of Letsemeng Local Municipality, Councilor Sello Bahumi, applauded Enactus-CUT for the glorious initiative that will give hope to Letsemeng. He also urged the community to work hard together with the Enactus team to improve their standard and quality of life.
Dr Manduna from CAFSaB advised the community to study their soil and check the safety of the medicinal plants for them to have a high crop yield.
Miss van Loggerenburg, Extension Officer at the Department of Agriculture in Petrusburg, said they are busy with a long-term project plan of producing other crops, the use of solar power and also, linking the project with trade.
Enactus is an international non-profit organisation dedicated to inspiring students to improve the world through entrepreneurial innovations, turning ideas into actions that will ultimately transform the lives of communities and create a better future.
Uploaded: 13 June 2019