CUT's CRPM and partner EmoyaMed change a life with 3-D printing technology
CUT News Research and Innovation CRPM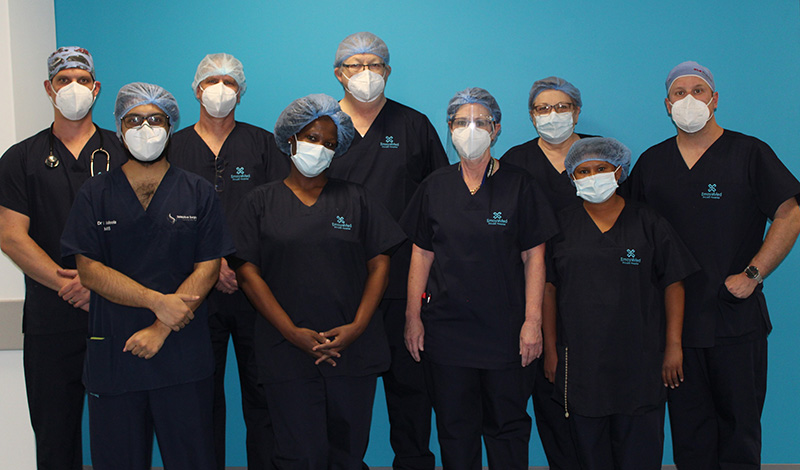 The Centre for Rapid Prototyping and Manufacturing (CRPM) at the Central University of Technology has made history through collaboration with EmoyaMed Private Hospital. The first ever operation in the new theatre wing took place on 29 June 2021, with the patient, who had a benign tumour on his lower jaw receiving a custom 3-D printed titanium implant manufactured by CRPM.
Award-winning prosthodontist, Prof. Cules van den Heever, explained that the project began with making the custom implant for the patient. "We were contacted by a surgeon at EmoyaMed, Dr Charles van Niekerk, who was aware of the custom implants that CRPM has been producing. During the planning stages we worked from the CT scan of the patient, there was a tumour diagnosis on the right side of the jaw. And from the planning and the 3-D printing that occurred at CUT, we have operated today and removed the tumour and replaced the jaw with a 3-D printed titanium jaw," said Prof. van den Heever.
The operation was done pro-bono, with EmoyaMed donating their facilities and staff for the operation. EmoyaMed Chief Executive Officer, Dr Willie Wiid said that they saw this as a great opportunity to give back to the community. "The procedure was not fully covered by the medical aid and thus we decided to provide the facility for free and with this operation marking the official start of our theatre complex," said Dr Wiid.
Dr Wiid added that giving back to the community through collaborations such as the one with CRPM is one way the hospital is entrenching its services in the Bloemfontein community.
Prof. Cules van den Heever added that project such as this one would not be possible without collaborations. "CUT is currently the world leader when it comes to 3-D printed titanium and cobalt implants and it's all happening here in Bloemfontein, the technology that we have here is not being done anywhere else. We've got another partner involved called Selective Surgical. Through this partnership they market our products and we do 3-D printed implants for them."
The patient, who is a male in his thirties is currently in recovery, which is expected to take about a month. "It's always good to do something for the community. I was born here, grew up here and it's good to be back and to give back to the people of this area and to make history," concluded Prof. van den Heever.
Caption
The surgical team who took part in the operation.
Back: Dr Wilbur van Biljon, Dr Dennis Tewson, Prof Cules van den Heever, Matron Henriette van Vuuren and Dr Charles van Niekerk.
Front: Dr Irshaad Abdoola, Ms Marcia Pitso, Ms Glenda Potgieter and Ms Naomi Gertse.
Uploaded: 01 July 2021