CUT unveils its solar car for the upcoming 2022 Sasol Challenge
Engineering, Built Environment and Information Technology CUT News Students Research and Innovation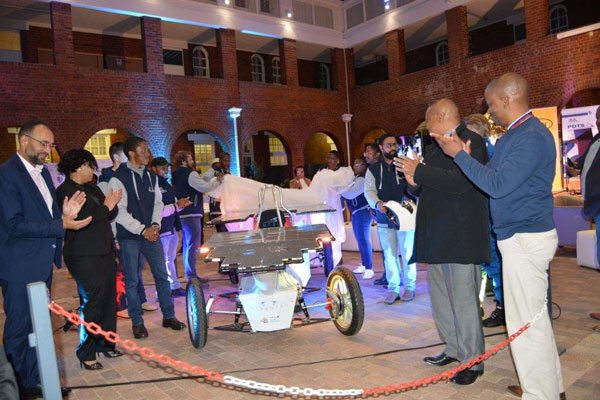 The CUT engineers recently unveiled the 2022 solar car at the official launch on 19 August 2022. The newly designed state-of-the-art car Ntsu (an eagle in Sesotho) was inspired by an eagle soaring higher than other birds with almost no energy lost. For the competition, participating teams were challenged to develop, build, and drive solar-powered cars, aiming to cover the most distance without using a drop of fuel. The vehicle incorporates 3D printing of custom components, electronics, and many other features. The car also has a new chassis for reliability on uneven road surfaces.
"These many technologies we see here at CUT represent our aspirations of becoming a leading university of technology in Africa. Our students and staff are the backbones of these innovations, as they always crave an opportunity to do something meaningful with their love for technology to support the university's ambition. This launch is part of our many projects in chasing our dreams. Come September, I am confident to say that our team will soar like an eagle and bring it home," said Dr Sally Dzingwa, Registrar and Acting Vice-Chancellor and Principal.
The race takes place every two years, and CUT will participate for the second time after its first race in 2018. The competition brings together local and international universities, high school teams, and private engineers who have manufactured fully functioning, roadworthy solar-powered cars. The cars will run on public roads, sharing space with trucks and regular traffic, and pass through multiple small towns.
| | |
| --- | --- |
| | |
Dr Tate Makgoe, MEC for Education, could not contain his excitement when he saw young women in engineering being part of building and designing a state-of-the-art car. "I get so excited when I see our young women participating in engineering. I believe they deserve an opportunity to lead the institution and be the best they can be. I am also thrilled to witness this in this most important month where we are celebrating them. Gone are the days when a place of a woman was in the kitchen. Today, the universities have proven to us that the place of a woman is in engineering and workshops."
Makgoe further indicated that solar panels and renewable energy are a way forward. "We are excited about all the projects done at this university. What is more exciting is that you can conceive ideas and turn them into services. I believe that all the students in this university are taught not only to think about being employed but about creating their own businesses and enterprises. To the team, good luck! You are simply the best!"
Ntsu is ready to hit the road to compete in the 2022 Sasol Solar car challenge that is scheduled to commence in September 2022. The 9-day race will begin from Johannesburg to Cape Town and pass five provinces and 18 towns. The new cities include Brakpan, Trompsburg, Willowmore, Kirkwood, Jeffreys Bay, Riversdale, and Caledon.
View more information about the 2022 Sasol Solar Challenge
Caption
1: Patrons who came to witness the CUT solar car launch include business and industry experts, provincial government and sponsors.
2 and 3: CUT's newly build state-of-the-art solar car - called Ntsu, is ready to hit the sunny road.
Uploaded: 24 August 2022