CUT Masters student flourish as dedicated start-up entrepreneur in Hydro-IT
Engineering, Built Environment and Information Technology CUT News Students Research and Innovation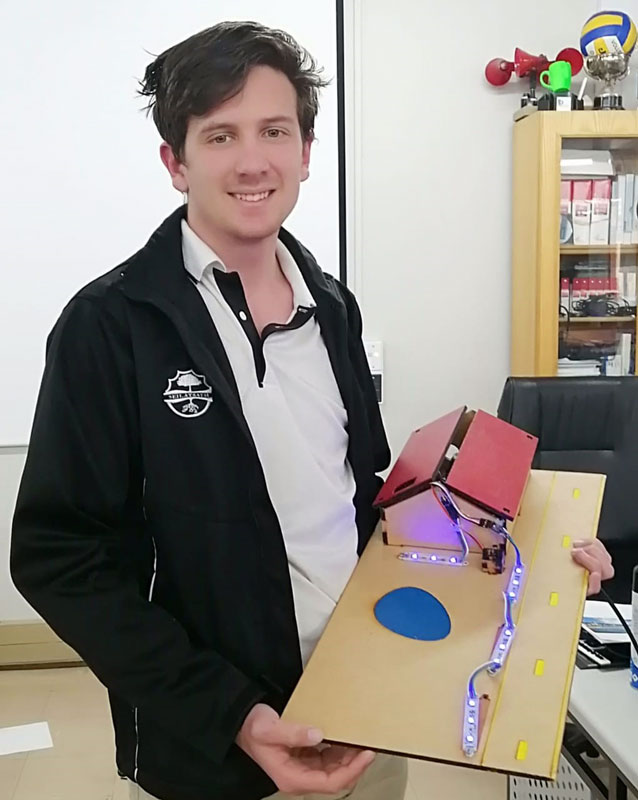 In 2019 Gareth Gerick, CUT student entered the idea gym innovation challenge with his invention Hydro-IT and won some cash prize from the competition. The Idea generator with the assistance of experts and lecturers provided him with the platform to further explore and develop his idea into a product that can be commercialised. His business is now further enhanced by him being an i-GYM EDP participant.
Gareth Gerick is a dedicated Start-Up entrepreneur, Founder at Hydro-IT and a full-time master's student in engineering within the field of the Fourth Industrial Revolution and is well noted with international publications. He is optimistic and always trying to go the extra mile to make a name for himself.
"The Idea Gym first started me off on my journey by giving me the necessary tools and platforms to learn and develop my business and product. We are newly registered and hope to launch the first municipal pilot by the end of this year," he said.
He explained that the major challenge of water wastage due to leaks is one of the factors that inspired his innovation. "As many citizens in South Africa struggle with water restrictions, I was baffled by the number of times I saw water leaks on my way to and from the university. I was wondering what I could do to fix that. My invention Hydro-IT aims at eliminating water leaks in South Africa, by installing IoT Water Monitors on municipal pipelines to detect, control and communicate water leaks. With South Africa having a national water loss average of 39% and wasting up to 5 billion litres of water (which amounts to approximately 1 billion rands) per year, with our technology, we hope to reduce those numbers to be on par with world leaders in this sector."
Dr Izabeth Conradie, Manager: CUT Idea Generator, said that Gareth was the winner of the i-Gym innovation challenge 2019 and as part of the prize money he attended the memorable SLUSH event in Finland. "He entered as a student and his business has advanced him to an i-GYM EDP participant. I accelerated the connection with UCT and CUT Infrastructure to facilitate a testing site. He also made contacts at SLUSH with possible stakeholders in the Netherlands."
It is also worth noting that Gareth's business has been doing exceptionally well. He has published an article in the 2nd ICERA Journal; he is the EDHE Regional Round Winner (Tech Category) & EDHE National Finalist, SAIS Boost-UP Stand-Up Finalist, SAIS Boost-Up Start-Up Winner, SA Innovation Summit Finalist and BRICS Young Scientist School Finalist.
When advising other students who aspire to be like him, Gareth said, "I believe the work done at the CUT Idea Gym is a shining example in South Africa for entrepreneurs to pursue their dreams. The team gave me the necessary start, motivation and knowledge to run my business and are dedicated to helping those who are willing to put in the work. If you have any idea and assistance, I believe they will be able to assist you as they did with me."
Uploaded: 15 October 2020