CUT STEM Academy celebrates Charlotte Maxeke with women-focused lecture
CUT News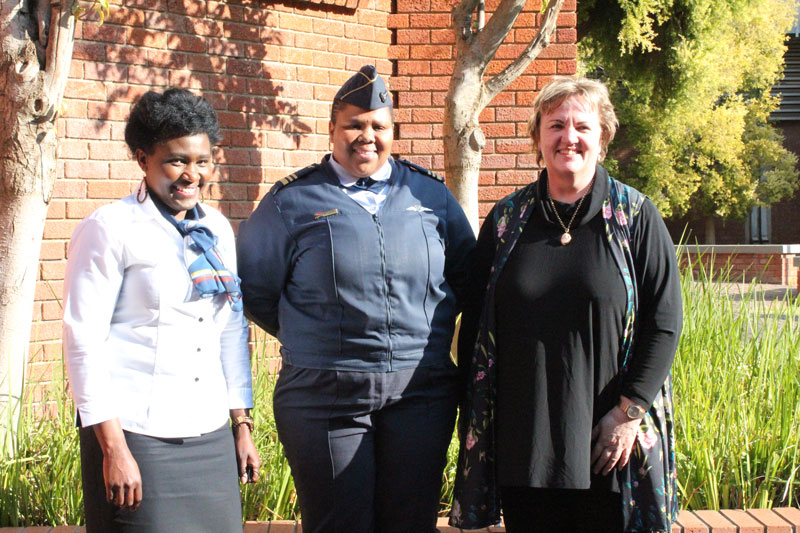 Science, Technology, Engineering and Mathematics (STEM) subjects have always been considered difficult, yet important to open more doors for learners, especially in the 4th Industrial Revolution (4IR).
On 27 August 2021, the Central University of Technology STEM Academy in collaboration with the Free State Department of Education, held the Charlotte Maxeke Lecture to celebrate her life and that of women in STEM. The lecture focused on celebrating the life of Charlotte Maxeke through promotion of STEM subjects, improving performance, retention, participation, and throughput rates in primary and secondary school levels.
There is increased demand for students in Science, Technology, Engineering, and Mathematics (STEM) and unfortunately, the demand has not been matched by an increase in the supply of matriculants who are interested in or adequately prepared for the STEM fields. This is a very concerning issue as participation in STEM subjects has declined and South Africa continues to suffer in its school education system.
When sharing her experience as a woman in STEM for over 20 years, Prof. Muthoni Masinde, HoD, Information Technology: Faculty of Engineering, Built Environment and Information Technology, said that as a mother and wife, juggling in between family, studies and work is possible and only requires commitment and dedication, focus and hard work. "All this is possible, and we can do it as women. All we need is the support systems and coping mechanisms in place."
Growing up in Kenya, Prof. Masinde adopted a I-can-do-it attitude, not letting anything stand in the way of achieving her dreams. She received Distinguished Women Award in Science for Research and Innovation from the Department of Science and Technology, which opened doors for her. "It is important to embrace and recognize women because every winner can create another winner," she said.
Based on her observation, she realised that Kenya is doing good when it comes to Mathematics and suggests that there be exchange students that go to Kenya and get the experience. "There is so much we can learn through a change of attitude. The greatest impact is the attitude because there are resources and great teachers, but we must pass on that attitude to the learners. If we girls or women are going to make an impact in the 4th Industrial Revolution, we need to study the STEM subjects. Through the STEM academy, we are building from the bottom up. I believe that the first teachers are the mothers, so let us teach them at home. We could also contribute to the bigger debate of gender-based violence, if we teach them, we can groom better husbands and fathers."
Dr Marinkie Madiope, Campus Principal: Distance and e-Learning Campus (South Campus), University of the Free State, said that as educators they need to enforce the basic mathematical and scientific knowledge and skills by making sure that they re-teach concepts that were misunderstood, do question analysis after any assessment, address and clarify the questions and give constructive feedback. "Teachers need to move away from pointing out flaws, and rather let learners figure out and learn from their mistakes and identify their strength, weakness and areas for development. As we move towards changes within the COVID-19 pandemic and remote learning, I think it is imperative that we also start looking at how best we can learn science and technology and embrace learning from a distance."
"As we celebrate this special day of women in honor of Mama Charlotte, we must be reminded of all these values she has instilled in us. There are many things we can continue to learn from her exemplary life in our quest to enhance our impact in education especially in the lives of women and girls in South Africa. It is my view that our collaborative efforts to empower our women and youth with today's educational currency in the form of a STEM approach of education, we will not only be paying homage to an incredible stalwart of our country's heroic political legacy. But, we will be continuing to teach our own not just to fish, but to preserve the source of their bounty and be able to progress and sustainably continue growing and competing in an ever-evolving global context."
Another feisty young woman, Lieutenant Colonel Phetogo Molawa, SANDF, Helicopter Instructor: 87 Helicopter Flying School shared her experience and life journey. Coming from the dusty streets of Thaba Nchu, Lieutenant Phetogo gave meaning to the saying 'your dreams are valid'. As a child, she had always wanted to be a pharmacist, so maths and science have always been an option for her. She never let her challenges deter her from achieving her goals. "As I grew older, I did some research and understood what the career entails and I knew from that point that I did not want to be stuck in an office all day in a mundane job doing the same thing day in and day out. I came across aviation during my research and focused more on helicopter flying which fascinated me the most. I came across the South African Air Force, and I knew that is what I wanted to do for the rest of my life."
She mentioned that being in the air force was challenging physically but throughout her training she always had the end goal in mind and her driving force was 'I have nothing to lose'. "I am still in awe of how I never thought of giving up. The military is very male-dominated and being in middle management in the air force, you are faced with many challenges despite your qualifications and capabilities. I obtained my qualification as the first black female helicopter pilot over 14 years ago but somehow, 14 years later, there are only three other black females after me, so where are we missing it? I can say that it starts with recruitment, but recruitment starts with black females qualifying to get here, which means having mathematics and science at the required level. In order to be a pilot or navigator in the air force, you need to have at least a level 4 in Mathematics, Science and English as well as a university entry-level."
Among other accolades, she was awarded for excellence in aviation by the Charlotte Mannya Maxeke Institute in 2018. "I am delighted to be here celebrating Charlotte Maxeke because through this award and others that I have achieved thus far. I am able to inspire young girls, the same way that Mme Maxeke has shown us that you too black girl child are capable, enough, and smart. The young girls of today are faced with many adversities and perhaps that is why STEM looks like a mountain to climb. As parents, teachers, and role models to our young girls, what are we doing to instill courage and confidence in these little girls who need to believe in themselves? What are we doing to make them see the bigger picture that they are capable and enough; that being a pilot is indeed a tangible thing and that being an astronaut is indeed within her reach?" she asked.
WATCH: Charlotte Maxeke Women in STEM Education Lecture
Caption
Prof. Muthoni Masinde, Head of the Information Technology Department at CUT, Lieutenant Colonel Phetogo Molawa, SANDF, Helicopter Instructor: 87 Helicopter Flying School and Ms Janetta Nel, Acting Director Secondary Schools: Free State Department of Education.
Uploaded: 31 August 2021