CUT partners with Massachusetts Institute of Technology
CUT News Research and Innovation Partnerships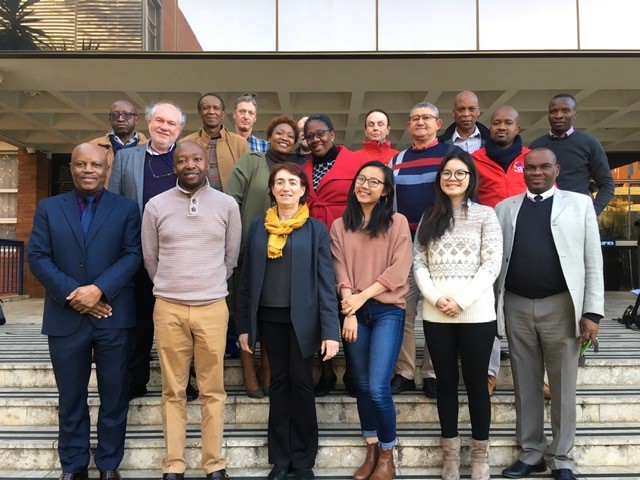 Front row from left: Prof. Alfred Ngowi, Deputy Vice-Chancellor of Research, Innovation and Engagement, and Mr Glarington Quvile, CEO: CUT Innovation Services (CUTis), Prof. Hazel Sive, Professor of Biology at MIT, Founding Director of J-WEL Higher Education and MIT-Africa initiative, Ms Michelle Huang, MIT graduate, Alice Lin, senior student at MIT and Prof. David Ngidi, Deputy Vice-Chancellor: Teaching and Learning. They are flanked by other CUT staff members from different departments who formed part of the discussions.
On 15 and 16 July  2019, CUT hosted Prof. Hazel Sive of the Massachusetts Institute of Technology (MIT) who led a workshop on Educating with Problem-Solving Approaches under the auspices of MIT-Africa Initiative. This initiative is part of collaborative projects between CUT and Massachusetts Institute of Technology in the USA that will ensue from this workshop.
Her presentation focused on pivotal aspects of the higher education curriculum that contributes to student success and promote problem-solving skills.  She spoke about how students can solve problems and use knowledge to address real-life challenges and learn from failure while working across various fields and ready for employment in the changing world of work.
As the result of the disruptions caused by the Fourth Industrial Revolution (4IR),  the 21st century is in need of students that are confident, entrepreneurial problem solvers who have tools to form a career, resiliency across the changing face of work, and power to contribute to economic growth.  Within the landscape of developing educational approaches and technologies, educators are challenged to devise new, productive curriculum that will motivate students, and promote achievements and success.
The workshop follows a visit by Prof. Alfred Ngowi, Deputy Vice-Chancellor of Research, Innovation and Engagement, and Mr Glarington Quvile, CEO: CUT Innovation Services (CUTis) to MIT in April 2019 that was aimed at establishing collaboration with MIT in a number of areas including innovation, entrepreneurship, research, and new approaches in education (including open learning) under the auspices of MIT-Africa and MIT-South Africa Initiatives.
MIT is a highly ranked institution globally, established in 1876 with the motto "Mens et manus" (Mind and Hands) that is rooted in its founding. Unlike other universities that focuses on the classical education, MIT puts emphasis on practical education as they believe that innovation and entrepreneurship are the must-have skills thus practice should be infused in the curriculum to emphasise learning by doing.
The Workshop formed the first step of the envisaged CUT-MIT collaboration that will be anchored by membership to the Abdul Latif Jameel Word Education Lab (J-WEL Higher Education), which convenes a global community to promote excellence and transformation in education.  Among the workshops conducted by MIT J-WEL include: Curriculum Design; High Impact Research; A University Entrepreneurship Ecosystem; University Leadership & Governance; and Technology Licencing. 
Uploaded: 18 July 2019