CUT officially welcomes new Vice-Chancellor and Principal, Prof. Pamela Dube
CUT News Leadership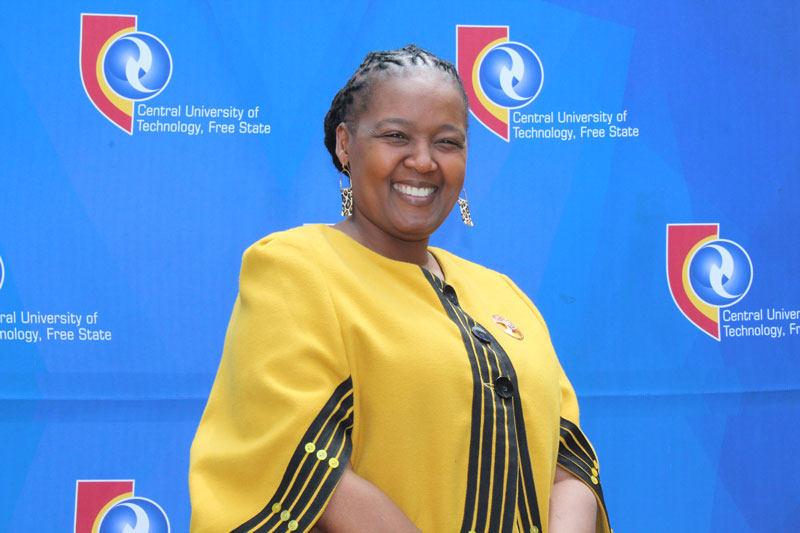 Photo: The newly appointed Central University of Technology, Free State (CUT) Vice-Chancellor and Principal, Professor Pamela Dube.
The Central University of Technology, Free State (CUT) Council Chairperson, Matthew Rantso officially welcomed the newly appointed Vice-Chancellor and Principal, Prof. Pamela Dube.
Cllr Rantso added that the university being without a VC for more than a year and a half, has been an arduous journey. "I wish to commend Prof. Ngowi for serving CUT as acting Vice-Chancellor during this period. We have witnessed remarkable strides towards the operational efficiency of this university despite the challenges we have experienced. We have seen progress in filling the key positions, especially in the Registrar's Division, with a shrewd eye on employment equity and representation," said Rantso.
He added that the Council prioritised making a female appointment. "Our institutional values of equity and excellence inspired us to make this call. Without a doubt, we found her to be the most suitable leader who will take the university forward. With her appointment, we, as a collective, believe that CUT is in good hands. The university is in a better position than it has been then and now. This is all because of our rigorous recruitment efforts. Rest assured; the new VC has the support of our Council, all statutory bodies within the university, and the university community. She will carry on where we have been doing well to drive our academic projects and Vision 2030 to become a leading university of technology in Africa through innovation," he added.
Prof. Dube brings credentials into this portfolio that will help her lead the university toward and beyond the CUT Vision 2030, using her vast knowledge and experience in higher education. A solid foundation has been laid for the Vice-Chancellor to build partnerships and lead strategic engagements at various levels. She has also achieved outstanding academic excellence and substantive experience at the university executive level. She has initiated effective relationship-building approaches with academic, governmental, and business partners, as well as public communications skills. She also brings a wealth of experience and passion for working with students who remain the number one priority at CUT.
Before joining the CUT, Prof. Dube served as a Deputy Vice-Chancellor: Student Development and Support at the University of Western Cape. She is an accomplished leader in academia, having completed her MA and PhD studies in comparative Literature and Media at the University of Siegen in Germany, supported by the German Exchange Programme, DAAD.
Prof. Dube is also a graduate of the University of KwaZulu-Natal (UKZN) who has lived and worked in Germany at the University of Siegen after completing her doctoral degree. Her career includes higher education and research management, comparative media/communication and literature, human resources development, institutional advancement, student affairs and international relations. She has worked as a senior employee of the National Department of Education, as an academic at the Universities of Siegen in Germany, Kathmandu University in Nepal, the University of Kwa-Zulu Natal, Pietermaritzburg and worked at the University of the Witwatersrand in Johannesburg, as a dean of students.
She served as a Special Advisor to the Vice-Chancellor at the University of Johannesburg, where she also took on the leadership of the Human Resources Division. She is also a past employee of the South African Nuclear Energy Corporation (Necsa), where she established an International Relations office and managed the Learning and People Development Unit. Therefore, Prof. Dube will be instrumental in driving sustainable partnerships at the CUT and supporting initiatives for internationalisation between the CUT and its international partners.
Since her appointment began, Prof. Dube has been engaging with relevant stakeholders, and getting to know the CUT community better. "Today, I look at my coming here to CUT as a beginning of a new dawn, a new journey. And as we begin this journey jointly as a collective, I want to thank the Chair of the Council, Cllr Matthew Rantso, the Members of the Council and the university stakeholders for your confidence and trust in me to drive the university vision to 2030 and for the privilege of becoming the first woman Vice-Chancellor and Principal of CUT," said Prof. Dube.
Prof. Dube will continue to build on strength and excellence within the university's core business- teaching and learning, research, innovation, and community engagement, further strengthen our current university partner development initiatives with universities of repute across the globe and forge new alliances that will be more significant to the communities we serve.
Uploaded: 25 January 2023