CUT launches Welkom Campus Expansion Project
CUT News Support Services Leadership Welkom Campus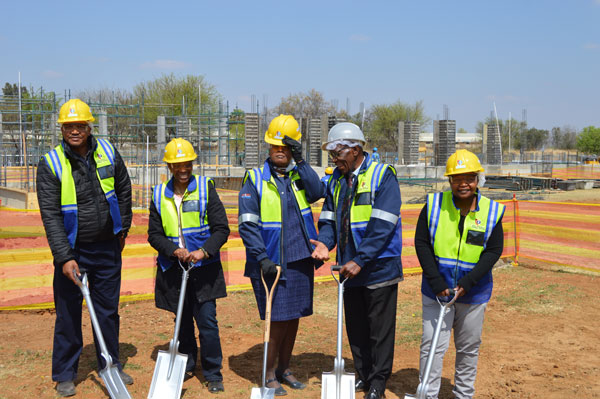 Photo: Mr Hlobohang Mokhomo, MMC Finance in Matjhabeng Local Municipality; Cllr Nonie Mokose, CUT Councillor; Prof. Pamela Dube, Vice-Chancellor and Principal; Mr Lemmy Mule, founder member of the Welkom Campus, Author, and Publisher and Cllr Palesa Moshanyana, CUT Councillor, at the groundbreaking ceremony for the campus expansion projects.
The Central University of Technology Welkom Campus Expansion Project, aimed at constructing various buildings and developing infrastructure upgrades for the rapidly growing university, is well underway.
CUT held a ground-breaking ceremony to celebrate the construction of a new research centre dedicated to sustainable technologies that will align with the university's mission of fostering innovation, research, and sustainable development. These new buildings will include a new residence, providing much-needed student accommodation. The double-storey building will feature 16 family units amounting to 221 beds.
"As you know, for the past 40 years, this campus never had student residences until 2017. Today, the three projects will position this campus as a world-class entity. These projects are essential to CUT, as they offer our current students unique residential and academic experiences and appeal to prospective students. They are helping us to meet current demands, as we still need more residential space for our students," said CUT Vice-Chancellor, Prof. Pamela Dube.
The project also includes various buildings which will be constructed at both campuses as an important milestone in developing infrastructure upgrades for a rapidly growing university.
"The multi-purpose hall, which will be used for indoor sports facilities, various university events, examination venues, etc., has a maximum capacity of 910. Another facility, the Teacher Education building, considered a high-priority building, is scheduled for construction in September 2023. The three-story building, envisioned to house academics, has unique features such as laboratories, lecture halls, additional office spaces and media rooms," added Dube.
The expansion project indicates the advancement the institution has made towards improving the Matjhabeng Municipality's infrastructure. Speaking on behalf of the municipality, Hlobohang Mokhomo, MMC Finance in Matjhabeng Local Municipality, said that the expansion project is an indication of the advancement the municipality and the institution has had through improving the livelihoods of the Matjhabeng community.
"In the past, the municipality was not attracting investors, but we have seen things turn around with current leadership. The partnership we have with CUT is essential, and we support the initiatives that the institution is doing, and we are excited to see this project happening. We invite all the investors to come and invest in Matjhabeng," said Mokhomo.
Through this project, CUT will be working with various stakeholders in the community to provide the necessary support in the implementation of the construction of these buildings. In turn, the people of Matjhabeng stand to benefit significantly from this project through direct employment opportunities, skills development, and transfer to subcontractors from the Free State, including in Welkom, Thabong.
Uploaded: 15 September 2023