CUT hosts world-renowned AM experts at the 20th annual RAPDASA conference
CUT News CRPM Partnerships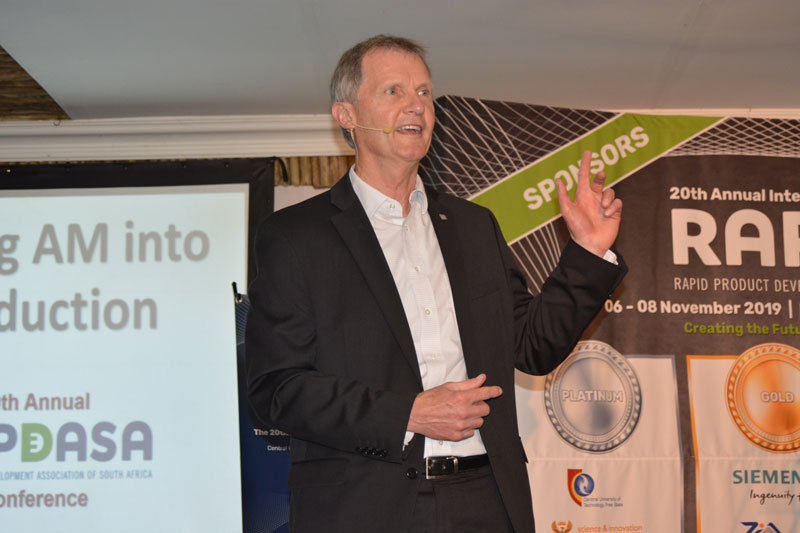 Earlier in November, the Central University of Technology, Free State's (CUT) Centre for Rapid Prototyping and Manufacturing (CRPM) brought together renowned experts in the field of Additive Manufacturing from around the globe to network and share their knowledge on the technology at the 20th annual international RAPDASA conference, themed Creating the Future of Manufacturing – Layer by Layer.   
Additive Manufacturing (AM) has been active in South Africa for 21 years, and the market has grown significantly over the years.  The technology has matured from a prototyping technology into the fully-fledged manufacturing technology and has proved itself in aiding designers and engineers to achieve complexity in design and manufacturing. The conference will cover sectors such as Aerospace, Medical and Bio-medical, Automotive, Sport & Leisure and Architecture.
Keynote speaker, Dr Terry Wohlers, President of Wohlers Associates in the USA and CUT Alumnus said that he started with 3D printing more than 30 years ago and have had the time to learn how to make models, prototype parts and some forms of tooling. "The next frontier is to use it for actual manufacturing, and we have seen a few cases of that in aerospace, medical, power generation, dental, jewellery and some consumer products. The next opportunity in the future is to drive cost out of the machines, drive the speed up and make more types of material but most importantly lower cost.  If your product is not adding value, then you probably should not 3D print it because it is going to cost more. You have to somehow add value to justify some of the things you do."
Dr Terry Wohlers is the President of Wohlers Associates, Inc., an independent consulting firm that has been in existence for 31 years. The company provides technical and strategic consulting on new developments and trends in rapid product development, additive manufacturing and 3D printing.
In 2016, he became an adjunct professor at RMIT University in Melbourne, Australia. Wohlers was elected to the SME College of Fellows in 2005 and has in 2004, received an Honorary Doctoral Degree in Mechanical Engineering from the Central University of Technology, Free State (CUT).
One of the attendees at the conference, Mr Mokoena Botete, first-year PhD student from Stellenbosch University said that he enjoyed the conference and has learned a lot. "Up to so far the conference has been pleasant. I have learned many things from both local and international speakers, their presentations were insightful. I am also grateful that I have managed to network with a lot of people and will be collaborating with some on new opportunities in terms of AM. I am content."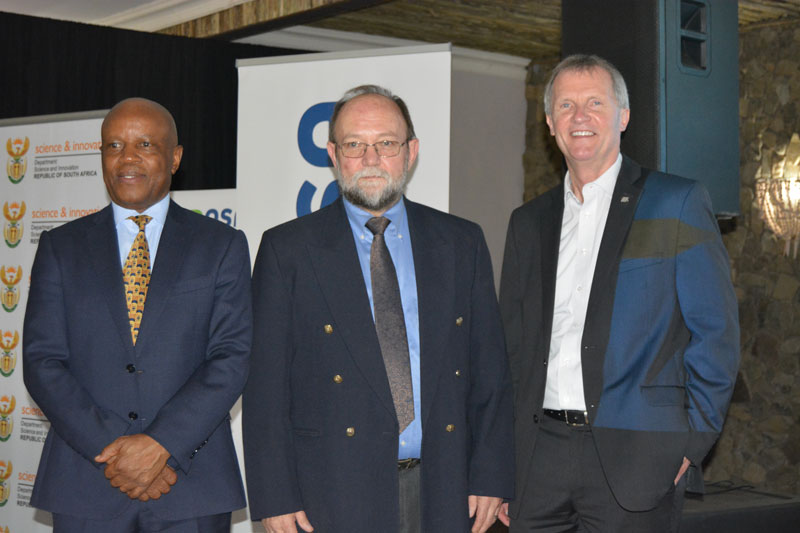 Mr Justice Ramakokovhu, Operations Manager at Armscor Dockyard, said that their company manages and operates the Naval Dockyard as the SA Navy's (SAN) third-line maintenance and refitting authority. The Dockyard focuses on maintaining the required capabilities to support the nation's submarines, ships and shore-based support facilities.
He said his reason to participate in the conference is to acquire knowledge, network and collaborate with experts in the AM space. "We are currently busy with the process of investigating the 3D printing technology and are looking into using it to support the foundry applications. I came to the conference so that I can be able to network, get to meet more people who are in the same business so that we can be able to position ourselves, learn and advance."
Other international speakers included Prof. Eric MacDonald from Youngstown State University, Prof. Alain Bernard from Centrale Nantes, France, Dr Chris Broeckhoven from the University of Antwerp in Netherlands, Mr Ravi Kunju from Altair USA, Prof. Markus Glasser, senior Vice president of EOS, Mr Olivier Diegerick, Portfolio Development Executive at Siemens PLM, Prof. Amir Zadpoor from Deft University of Technology, Netherlands, Prof. Frank Bruckner from Technische Universitat, Dresden, Germany, Prof. Nataliya Kazantseva from Russian Academy of Sciences, Russia, Prof. Ian Gibson from University of Twente, Netherlands, Prof. Paulo Bartolo, University of Manchester, UK and Mr Arno Held from AM Ventures. 
Captions
1: Dr Terry Wohlers, one of the keynote speaker, CUT Alumni, and President of Wohlers Associates, Inc., in the USA gave an insightful presentation on scaling AM into production and sharing his 30 years experience in AM with the audience at the RAPDASA conference held earlier in November 2019.
2: Prof. Alfred Ngowi, Deputy Vice-Chancellor: Research Innovation and Engagement, Prof. Deon de Beer, Chair in Innovation and Commercialisation of Addictive Manufacturing and Dr Terry Wohlers, CUT Alumni and President of Wohlers Associates, Inc., at the 20th annual international RAPDASA conference, themed Creating the Future of Manufacturing–Layer by Layer.
Uploaded: 28 November 2019