CUT hosts the Golden Key Ceremony to welcome new members to the Chapter
CUT News Students Research and Innovation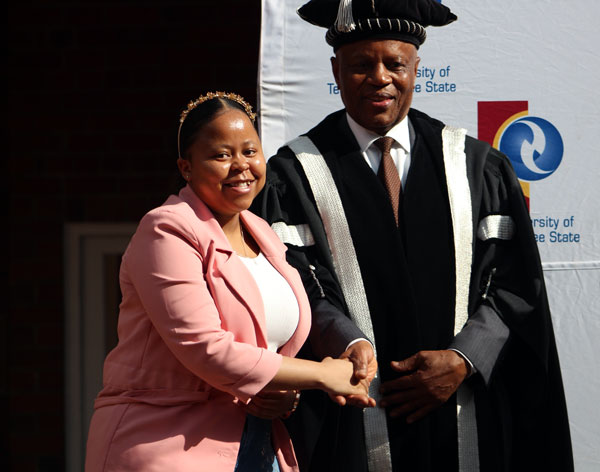 Photo: Prof. Alfred Ngowi, Deputy Vice-Chancellor: Research, Innovation, and Engagement congratulating Thenjiwe Ndesi, Golden Key president.
The Central University of Technology and Golden Key Southern Africa welcomed new members to the society on 13 September 2023. Golden Key is the world's largest international collegiate honour society for graduate and undergraduate students.
Ms Gillian Cloete, Regional Director (Southern Africa) and Acting Regional Director (Asia Pacific), said students would be well positioned to participate in their academic journey and future endeavours actively. "Golden Key members have access to a network of like-minded peers and mentors who share a passion for success. This is valuable and offers ample opportunities for personal growth. Being selected to join Golden Key is a true testament to your commitment to excellence and the ability to go above and beyond in your academic and personal pursuits. Your remarkable accomplishment in the classroom, your involvement in extracurricular activities, and your services to the community have undoubtedly set you apart as exceptional individuals," she said.
Prof. Alfred Ngowi, Deputy Vice-Chancellor: Research, Innovation, and Engagement, mentioned that Golden Key has proven that excellence is not merely a term or an abstract concept but a way of existence. "This induction signifies the acknowledgement of your accomplishment and carries the responsibility to continue striving for excellence. To our new members, I urge you to never lose sight of the journey that has brought you this remarkable juncture. Excellence is a lifelong journey, never a destination. You are set to thrive through your continuous pursuit of knowledge, unwavering dedication to your craft, and resolute commitment to making a difference." said Prof. Ngowi.
Thenjiwe Ndesi, Golden Key president, said that their mission is to be a society that recognises, rewards, and encourages its members beyond expectations, representing the highest performing students, graduates, and alumni in the world and showcasing their achievements. "Golden Key offers unique access to graduate schools and graduate school scholarships each year. The Society makes it easy for our members to study abroad and have access to a new network of like-minded alumni in their fields," she said.
Uploaded: 20 September 2023