CUT hosts a 100-Mars-One Project astronaut candidate
Faculty of Health and Environmental Sciences CUT News Leadership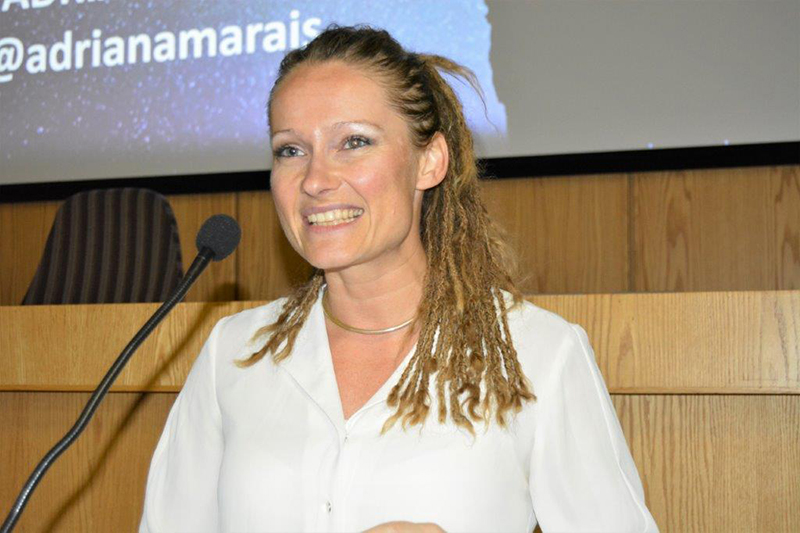 The Faculty of Health and Environmental Sciences at the Central University of Technology, Free State (CUT) hosted a public lecture in which Dr Adriana Marais, a renowned speaker at academic, corporate, educational and public events presented a lecture on prospects of taking an exit journey to Mars.
Dr Marais is a theoretical physicist, Head of Innovation at SAP Africa and aspiring extraterrestrial who believes that humanity has reached a turning point since the dawn of time, as science and technology is developing at an unprecedented rate and the expansion of a living space beyond the outer limits of the earth is within reach.
In her public lecture presentation, she spoke about her research in quantum biology, the origins of life, the technology required to sustain terrestrial life on Mars and the various projects aiming to send human missions there. She described how the establishment and potential discovery of evidence of life on Mars would be one of the most profound possible contributions of science to humanity. She also tackled big questions such as where we come from, how life emerged on earth, where water comes from, where we are going and why she wants to go to Mars.
When unpacking her lecture, Dr Marais said as humans, we live in an unprecedented era where we have more information at our fingertips than ever before. We are unique in terms of creating knowledge, data, and storing information at a capacity that is both wondrous and extremely inundating, which she said can be terrifying at times, not only in the history of humanity but also, in the history of the planet.
She said that life is the most mysterious phenomenon ever encountered and it is also tricky to study life as a living system. "One of the very crucial developments in understanding terrestrial life is understanding that all living systems on earth contain DNA.  Life on earth is a one big interconnected system and we are all interdependent. The air we breathe comes from the photosynthetic organisms, and we are a beautiful living network, "she said.
She mentioned that water has been facilitating life from the beginning but how life emerged on earth from a scientific perspective is still not understood. "My favourite theory in terms of how life may have arrived on earth is called panspermia. It is the theory that life on earth may have been delivered to the planet by a meteorite, which may have contained fungal spores known to be able to survive journeys through space in a vacuum at extremely cold temperatures. There is no consensus from a scientific perspective on how life on earth began, but what we do know is that life on earth is abundant and can be seen from space. Water is an entrancingly important molecule for life and it may have even facilitated the formation or origins of life on whichever planet it first emerged on."
Dr Marais mentioned that everyone is a decedent of some brave ancestor who has made a one-way trip. "Assuming that none of us is still living in the Central Eastern Africa where homo sapiens first emerged, I think the next step by humanity will be ancestors of future generations who will make one-way trips off the surface of earth."
She further spoke about the curiosity rover that has been taking videos and images and sending data for public viewing and research purposes. The information collected is used to research Mars based on the radiation levels, which poses potential health risks, the sunlight disposal for power and analysing the composition of the sand. "With all this data, the first settlers on Mars will have more information about their destination."
"We are living in a unique era and technology is happening faster than ever before. We have access to the sum of human knowledge and we can watch the grandest adventure, not only in the history of humanity, but also in the history of life on earth. It has taken about 4.5 billion years to get on earth to this day and point where we are discussing potential missions to live on the surface of mars.
Asked about the survival methods on Mars and how they will overcome other risks that come with the trip, she said that all skills required for survival are there but basically they will have water management systems in place, grow their own food, using precision farming system, extract the ice from the sand, collect the water and recycle it, use solar power for heating system, use the oxygen that comes from the water extracted for breathing , live underground for radiation and sun protection and also use 3D printing to build most of the components that will keep them running on the planet and create new pieces. "We need a perspective shift in terms of how we are using the technology here on earth. We already know what to do but I do not believe we are doing it fast enough and perhaps, it would take demonstrating on how we can survive at a desert with negative 50 degrees and an atmosphere filled with radiation. If we can live there and be happy, then I believe there is no longer an excuse for poverty on earth."
Dr Adriana Marais is one of the 100 Mars One Project astronaut candidates in the running to move to the red planet in the next decade. Mars One project is to send humans to Mars on a one-way ticket. Willing to take a one-way trip off to Mars, she believes that people should not live in fear and must learn to appreciate everything no matter how small. She also said that she is proud to be one of the people who will be bringing the life to Mars and is confident that the skills and training acquired for the team will help them survive against all odds. "We are unique as being knowledge creators and our future cannot be confined to earth. The reason why I want to go to Mars is simple: The allure of the unknown is far more powerful than the comfort of the unknown," she concluded.
Image
Dr Adriana Marais is one of the 100 Mars One Project astronaut candidates in the running to move to the red planet in the next decade. Mars One project is to send humans to Mars on a one-way ticket.
Uploaded: 01 November 2018