CUT honours former leaders
Leadership CUT News Support Services Partnerships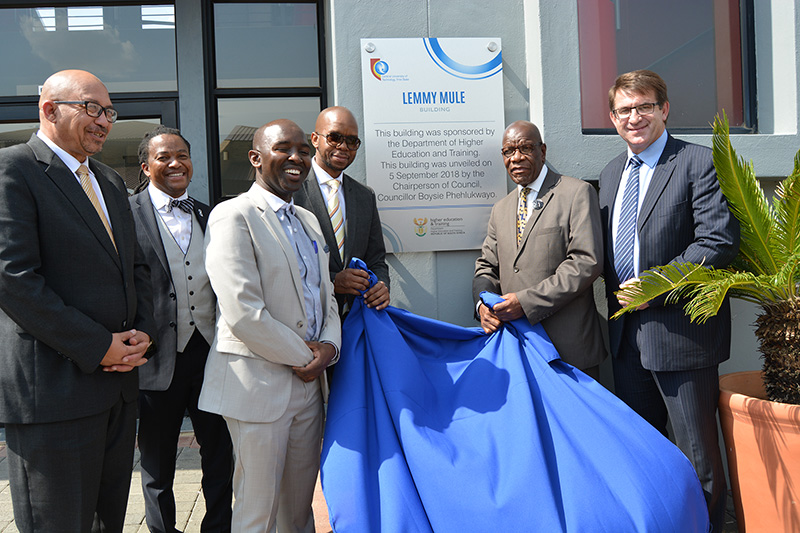 The Central University of Technology, Free State (CUT) honoured and celebrated former leaders who have contributed significantly to the history of Welkom Campus at the official unveiling and dedication of buildings ceremony held at Welkom campus on 05 September 2018.
Although some leaders were honoured in absentia, some managed to attend the glorious moment and witnessed their loved one's names engravement on the university walls.
Among the dignitaries who graced the occasion were families of the stalwarts and founding fathers. The dignitaries included, Prof. Alwyn Louw former Campus Director and Principal of Vista University, Prof. Tsehloane Keto former Deputy Vice-Chancellor, Maipato Mokatsane, Mr Lemmy Mule, Mr Tshiamo Moleme, Director: Infrastructure in the Department of Higher Education and Training (Pretoria), School Principals and stakeholders from TVET Colleges, business and industry.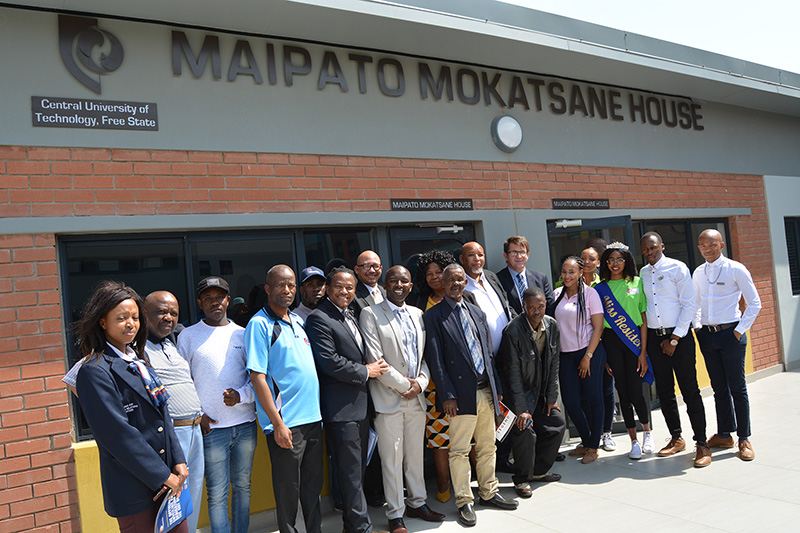 Dr Garth van Gensen, Deputy Chairperson of Council and former Alumni President delivered a celebratory speech on behalf of Councillor Boysie Phehlukwayo. He said, "we are excited that you were able to join us in celebration of this important milestone in the history of our university and to mark the culmination of the sterling work that was started about eight years ago by our CUT council and management."
Dr Van Gensen also commended the Department of Higher Education and Training (DHET) for their leadership, commitment and continued support towards the advancement of universities to become world class entities. "I am pleased to announce that our infrastructure project is complete, and we are taking a major step as a university to build the future of this community and generations to come." He further mentioned that in the past 30-year history of Welkom campus, there has never been student residences. "This is indeed a story of change and transformation. I am now confident to say that CUT is a home for the community of Matjhabeng, students from far and wide, as well as families who are here with us today."
When congratulating the university, Mr Tshiamo Moleme said that the provision of quality tertiary educational infrastructure in the post-schooling system is of paramount importance to the department. The department is acutely aware that improved teaching, learning and research can be severely compromised without the necessary supporting facilities and equipment that creates an enabling and conducive environment for academic success and excellence. "As we are all aware, the provision of accessible, decent, safe and academically conducive student learning experience in all South African universities is of great importance to the quality of the higher education system and the success of our students, especially those from rural and poor backgrounds. It needs to be emphasised that the Department has been providing funding for infrastructure development in the university sector since 2007 when it introduced the Infrastructure & Efficiency Grant Programme."
He also emphasised that major infrastructure development has happened across the system at all institutions over this time, with the largest amounts being provided to the historically disadvantaged institutions to help redress past inequalities. "We know that CUT itself is not a historically disadvantaged institution, but the Welkom Campus is, and has thus benefited from this funding as we can see here today."
He further said that through the partnering approach with institutions of higher learning, the department has injected significant funding into universities since the beginning of the grant programme in the 2007/08 cycle. "The Department has since contributed R20.158 billion for infrastructure development at all universities and has now allocated an additional R8.507 billion for the 2018/19 to 2020/21 funding cycle, which brings the total amount invested in infrastructure in the university sector since the 2007/08 financial year to more than R 28billion," he said.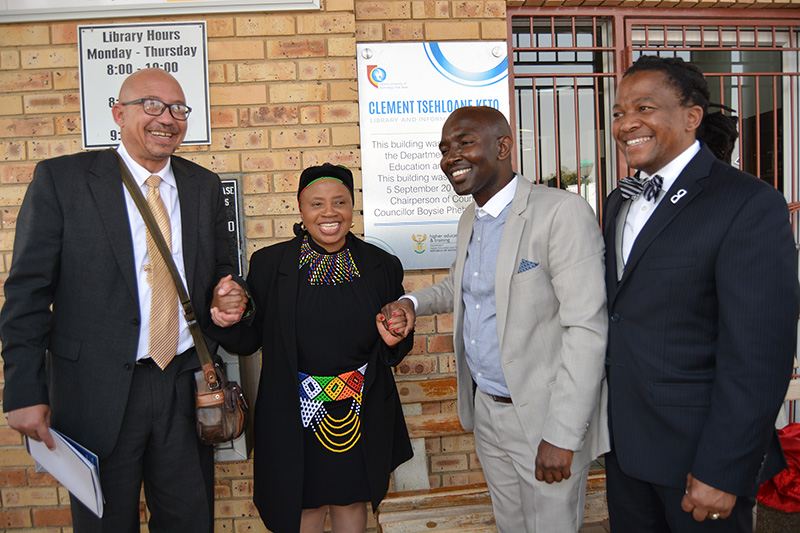 Mr Moleme said that the partnership between government, universities and the private sector is praiseworthy and should be encouraged to continue. "We should, however, add that these significant investments by government, universities and the private sector, compels us to ensure that funds are spent in the most prudent and efficient manner. The Department is committed to provide continuous support and universities are expected to maintain and use good practice in the delivery and management of the infrastructure. We wish you all the best with these new facilities, and we know that you will continue to provide quality teaching and learning," he concluded.
Prof. Henk de Jager, Vice-Chancellor and Principal commended Councillors- Boysie Phehlukwayo, Chairperson of Council, his Deputy, Garth van Gensen, RG Nicholls and former Council members for their leadership and wisdom in steering the project and the CUT management to the successful execution. "We have spent almost 700 million over the past 10 years on both campuses and our university council approved approximately seven million rands towards these projects. I would also like to convey my profound thanks to the members of the university naming committee for the efforts and vision invested in giving identity to our buildings. Naming is not just another integral transformation process of our university, it is also linked to our institutional culture and who we want to be, and brings an element of identity to our alumni, staff and community at large. This is an institutional culture that we want to instil on this campus," he said.
In conclusion, he acknowledged all the families and stakeholders, some of whom these buildings were named after. "On behalf of council and the university community, I would like to thank you for your presence in making this celebration a success."
On behalf of the families, Mrs Zodwa Keto conveyed her sincere appreciation to the University for honouring their families and naming buildings after them. "I wish to applaud CUT for recognising our loved ones for their respective contribution to this university and what it is today. We feel valued and appreciated to be part of this historical event that takes us back to where our journey began.   Our interaction with you has taught us something about the sense of care and support. Your hospitality will remain engraved in our hearts and memories forever."
The following buildings were unveiled: Lemmy Mule Building(formerly known as 'O' block), Alwyn Louw Auditorium (formerly known as Auditorium O3), the Thutong Building (formerly known as Academic Student Support Centre), The Mangaliso Robert Sobukwe Building (formally known as 'P' block), Clement Tsehloane Keto Library and Information Services ( formerly known as the Library and information services), Hugh Africa Building(formerly known as 'A' block) and Maipato Mokatsanyane House, the newly built student residence consisting of five wings, namely: Unity house, Ikaya Lethu house, Maya Angelo house, Protea East and Protea West houses.
Images
1: At the unveiling ceremony, the Lemmy Mule family is flanked by (from left): Dr Garth van Gensen, Deputy Chairperson of Council and former Alumni President; Dr Oupa Makola, Welkom Campus Director; Mr Tshiamo Moleme, Director: Infrastructure in the Department of Higher Education and Training; Mr Kgabele Mule, son, Mr Lemmy Mule, Business mogul and honoured guest, and Prof. Henk de Jager, Vice-Chancellor and Principal.
2: The Maipato Mokatsane family with student leaders, CUT Management and Council members and residence House Committee members.
3: Mrs Zodwa Keto, Spouse to the late Prof. Tsehloane Keto, is congratulated by Dr Garth van Gensen, Deputy Chairperson of Council and former Alumni President Mr Tshiamo Moleme, Director: Infrastructure in the Department of Higher Education and Training and Dr Oupa Makola, Campus Director.
Uploaded: 07 September 2018