CUT honours Dr Blekie with Chancellor's Excellence Award
CUT News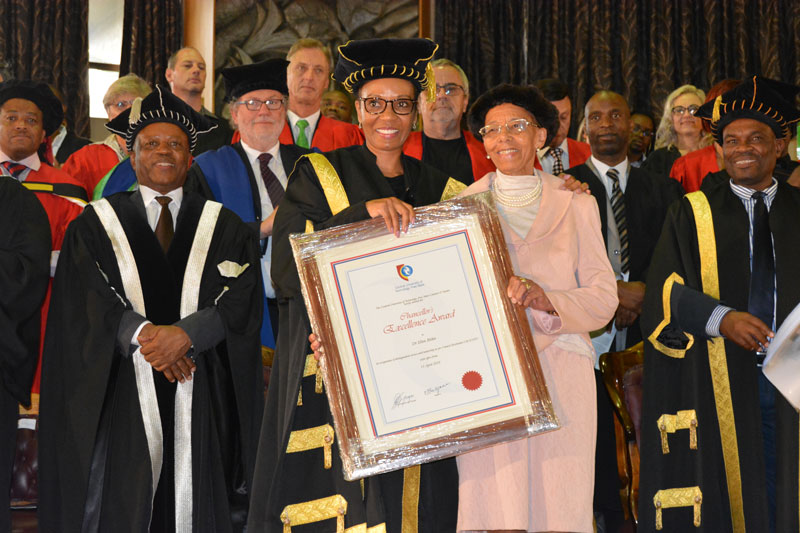 Madam Chancellor Justice Mahube Molemela presenting Dr Ellen Blekie with the Chancellor's Excellence Award at the autumn graduations. Dr Blekie is the third recipient of this award since its inception in 2017. Also pictured are Prof. Alfred Ngowi, Deputy Vice-Chancellor: Research, Innovation and Engagement (left) and Prof. David Ngidi, Deputy Vice-Chancellor: Teaching and Learning (right) as well as academic employees who formed part of the academic procession on the day.
CUT's Chancellor Justice Mahube Molemela honoured Dr Ellen Blekie with the Chancellor's Excellence Award at the autumn graduations for her remarkable contribution to the community of Thaba Nchu with a record of well-established distinction and achievements in community service initiatives and innovations in the region. This award is conferred to those individuals who have contributed profoundly to the progress of human society based on their leadership abilities demonstrated consistently and their capacity to guide and motivate others to excellence, with a proven commitment to serving and improving the community.   Dr Blekie is the third recipient to receive this award since its inception in 2017.
When receiving her award, Dr Blekie expressed her sincere appreciation and thanked CUT for thinking of her contribution to society. "I am overwhelmed and excited about what is happening. I would like to thank the Chancellor, Vice-Chancellor, Senate and everyone at CUT for thinking of me. I never expected this. To me, I was just doing my job and helping people. I hope the students who are here will take it to heart that whatever you do someone is watching. It is up to you to see that this country is becoming a better place to live in, and I hope that you will try to have the qualities that will one day land you on this platform."
Born and raised in Nigel, Heidelberg district, Dr Ellen Blekie attended school at the well-known Lovedale education centre in Alice, Eastern Cape. Upon matriculating, she furthered her studies at the University of Fort Hare where she completed her BSc in 1953. She then joined Wits University to pursue her medical studies and was one of a small group of black women who were the very first to be allowed to study Medicine.
After completing her studies, she served as a medical doctor in Durban, Benoni and the Baragwanath Hospital. From 1968 to 1971, she was invited to work in Swaziland, where she met several exiled members of the ANC. She became part of the struggle for liberation from the apartheid regime.   
Uploaded: 17 April 2019