CUT encourages a culture that embraces inclusivity, diversity, and equality
CUT News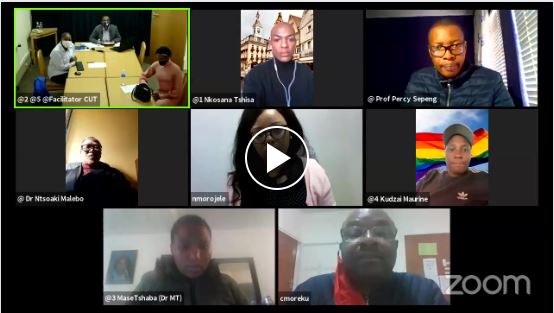 Discrimination based on sexual orientation and gender identity remains a thorny issue in South Africa and other African countries and the atmosphere of intolerance has escalated from ideological condemnation of homosexuality to hate and physical violence.
As part of embracing the CUT 2020 theme, "Reimagining CUT: Co-creating vision 2030- our people, our voices!" The transformation office held the big debate on a virtual platform to share views on the topic: "How can institutions of Higher Learning enable a conducive environment for Lesbian Gay Bisexual Transgender Queer Intersex and Asexual" (LGBTQIA+) staff and students.
Panel of members consisting of staff, students and Human Rights representatives deliberated on the topic and shared some insights and challenges faced by the LGBTQIA+ community within the Higher Education sector and possibly how these challenges can be tackled. This also created a platform to engage on sexual diversity issues through human rights-based approach in relation to equality security, dignity, fairness, and respect within the institution.
The debate is intended to encourage an institutional culture where all forms of unfair discrimination is uprooted whilst promoting a culture that embraces inclusivity, diversity, and equality. The debate also explored strategies for diverse sexuality and gender identities to navigate and enable the wellbeing and safe environment within institutions of Higher Learning.
In her opening remarks, Prof. Ntswaki Malebo said "there is no doubt that the society influences our interactions especially how we treat each other in South Africa and the African continent. We have observed an increase of homophobic attacks physically or emotionally in our communities and staff and students tend to emulate behaviours that are reflective of the society that they come from."
She also mentioned that historically it has been observed how legislation can enable and constrain certain engagements. One such legislation being the apartheid legislation which played a significant role in the evolution of the higher education sector. "This legislation not only segregated individuals by race but outlawed homosexuality through the immorality amendment act, and this meant the rights of LGBTQIA+ staff and students were not legally recognized. We are grateful that our legislation has since been amended to be inclusive. It is against this backdrop that CUT created this platform for staff and students to engage in sexual diversity issues through a human rights-based approach."
Prof. Percy Sepeng, Senior Manager: Institutional Renewal and Transformation Unit said that as a unit, it is important for them to learn from this process to ensure that their policies do not discriminate. "We are coming from a background or context that is not friendly with change and we know that change is painful. Changing minds at a university needs to be workable because universities are not only there to construct knowledge, but also to contribute to the existing one. To win the battle of discrimination against LGBTQIA+, we should work hard to advocate change, create awareness and also, encourage their presence and participation in strategic leadership positions and decision-making forums within the workplace," said Prof. Sepeng.
Panel members included Nkosana Tshisa, Junior Lecturer at CUT, Ninothando Hlanganani, CUT student, Dr MT MaseTshaba, Chair of the Department of Decision Sciences at UNISA, Kudzai Maurine, Human Rights Activist and final year student at Midlands State University in Zimbabwe, Maraka Lefera, Naledi Morojele, Human rights Officer at the South African Human Rights Commission.
WATCH: The Big Debate on Facebook
Uploaded: 31 July 2020