CUT Confers Honorary Doctorate to Daphne Mashile-Nkosi
CUT News Alumni Teaching and Learning Welkom Campus Research and Innovation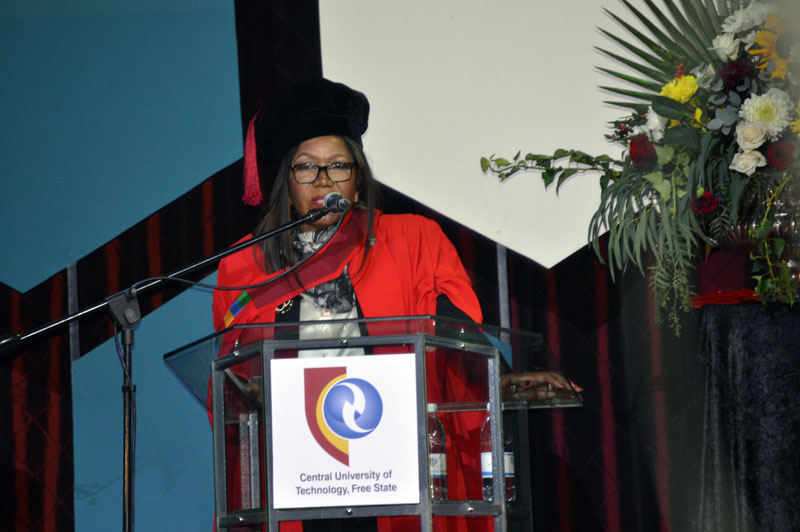 Photo: Honorary Doctor of Philosophy in Management Sciences (Entrepreneurship) recipient, Dr Daphne Mashile-Nkosi.
The Central University of Technology, Free State (CUT) has conferred an Honorary Doctor of Philosophy in Management Sciences (Entrepreneurship) to dynamic businesswoman, Daphne Mashile-Nkosi. CUT hosted its first day of the Autumn Graduations, kicking off the celebrations at the Welkom campus. This graduation season will see 3 756 undergraduates, including 62 master's and 21 doctoral recipients.
Honorary Doctorate recipient and the sitting Executive Chairperson of Kalagadi Manganese (Pty) Ltd, Mashile-Nkosi has founded several companies in South Africa. She is a shareholder and board member. While delivering her speech, she said that she shared this honour with all the teams she has served with, partners, supporters and family who have supported and encouraged her through the years.
"As I accept this honorary doctorate, I understand that with great recognition comes great responsibility. I pledge to continue to use the knowledge, experience, and skills I have acquired on my journey to further support young entrepreneurs, small business owners and develop opportunities for those who, like me have faced great odds. I am grateful for this nomination and honorary doctorate conferral for it says that what little we think we have achieved can be recognised by an esteemed institution of learning such as yourselves. For me today, it says I have done something right," she said.
A social activist, she continues to advocate for female empowerment and self-reliance in South Africa. To date, she has ensured that at least 70% of the shareholders of Kalagadi Manganese are women and continues to make a difference in the lives of women and their families.
"Coming from a poor upbringing, no one could have imagined I would one day become the first and only black woman to own a mine in South Africa nor imagined the life I would live, making a contribution in many of the boardrooms in South Africa and the world. From the obstacles I had to face and the walls I had to scale, it was unthinkable - even though, already at a young age, I had set my heart on lofty dreams. I knew that one day I wanted a big house, it was my barometer for achieving great things. Growing up, I was full of confidence. It didn't matter what you said about me, it wasn't going to change my mind on the dreams I had for myself. Surrounded by the poverty of my community and our small means, I was dead set on being successful," said Mashile Nkosi.
Congratulating the graduates on their achievement, Prof. Alfred Ngowi, CUT Deputy Vice-Chancellor: Research, Innovation and Engagement said: "Graduation is one of the most critical events in a person's life. Despite many setbacks, it is the pinnacle of a student's academic pursuits and the outcome of three years of hard work, sometimes four or five years of toiling. Many have come to appreciate students' struggles to reach the finish line, and we take off our hats to you. I also acknowledge the contribution of our academic staff. For your consistent efforts and unwavering dedication to delivering a high standard of education, you, too, deserve to be congratulated and celebrated.
The Autumn Graduation ceremonies are taking place until 11 May 2023.
Uploaded: 07 May 2023