CUT commends employees for their long service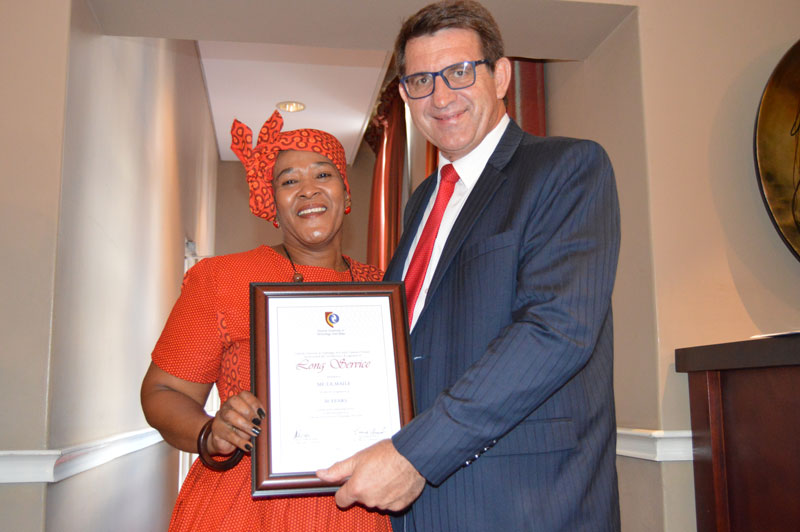 Employee appreciation is one of the top priorities on the CUT mandate and Long-service Awards are considered one of the most important forms of employee recognition.
The Central University of Technology, Free State (CUT) recently held its annual Long Service Awards to appreciate the long-serving employees for their loyalty, commitment and dedication demonstrated over their years of service in helping grow the university and carrying out its vision to where it is today.
When acknowledging the long-serving employees, Prof. Henk de Jager, Vice-Chancellor and Principal, said that it is important for any organisation to give recognition to its employees, which in turn speaks to the culture within the organisation. He further said that the main reason for such events is to say the simple yet very important words "thank you" to the people who have given most of their lives to the university. "The long service awards acknowledge solid performers, people who are loyal, committed and dedicated to this university", he said.
He mentioned the human project vision, which he said, is to make every employee feel at home and get opportunities available to achieve their full potential. He confidently indicated that it is his role as the Vice-Chancellor to unlock those opportunities. "The experienced employees are the anchor of this university and our 27 recipients together share a combined service record of 590 years between them, which is really a remarkable commitment."
Amongst the long-serving employees was Ms Dimakatso Maile, Library Assistant: Circulations, who spoke about her career growth path for the past 30 years. Ms Maile said she started as a cleaner at the student residences and that opened her up to what the university life was all about. "Over time, I grew with the university, was provided with opportunities from then to where I am as an experienced Librarian." Her story attests to Prof. Henk's human project vision.
Another dedicated employee, Mrs Victoria Koma, Lecturer: Accounting, took a moment to deliver the vote of thanks and this is what she said "On behalf of all recipients, I would like to say thank you to CUT for being the best employer. I have been part of this community for the past 15 years and have experienced nothing but love and support, I am content, and I cannot picture myself working anywhere else," she said.
Captions
CUT Vice-Chancellor & Principal, Prof Henk de Jager (right) presenting the long service certificate to Ms. Dimakatso Maile who has been in the CUT employ for the past 30 years. Ms Maile's career grew from being a cleaner to an experienced Librarian.
Uploaded: 23 March 2020