CUT Chancellor runs her first Two Oceans Marathon
CUT News Leadership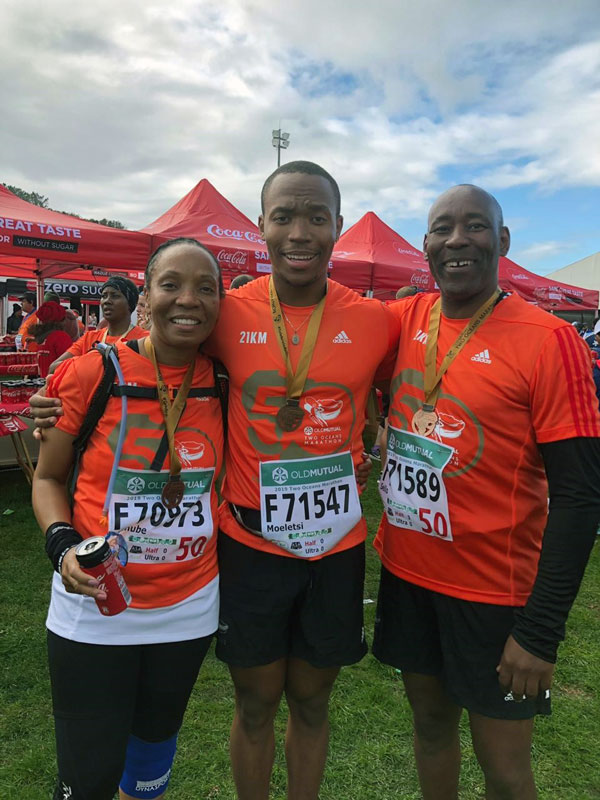 CUT Management wishes to commend Chancellor Mahube Molemela for completing the Two Ocean Marathon in which she had taken part for the first time. She was among thousands of health enthusiasts who entered the half-marathon ballot for a place at the starting line.
The Two Ocean Marathon which is the country's second prominent marathon offered a welcome respite for her after a weeklong programme of Autumn graduations where she officiated as the Chancellor. "I have taken part in several short races, but completing my run successfully here is a fulfilment of a goal to which I have long planned and prepared over weeks and months and look forward to racing again next April.
She first registered for the Old Mutual Half Marathon for the first time in 2015 but withdrew months before the race because she realised that she wasn't physically ready for it. In 2016 she participated in the 117km 3-days long historic Moshoeshoe Walk in Lesotho and managed to walk 98km despite a groin injury.
"Since then, I knew I could finish the half-marathon but just couldn't find the time to train for it. In November 2018, completing the 2019 marathon became my new year resolution, and I started training for it on 1 January 2019," she said.
Two weeks before the race she sustained a knee injury and had to run the entire 21.1km wearing a knee brace. "The race was quite challenging, especially the Southern Cross uphill, which seemed to go on forever. All things considered," she said.
Chancellor also said that the best part of the race was being with the family. Both her husband, Mr Sello Molemela and their youngest son, Moeletsi Molemela, took part in the race and supported her. "I am proud of my progress and wish to thank my family, particularly, my husband and our son, Moeletsi who were there in every step of the way for support," she concluded.
In addition to her commitment to the university as a chancellor, she is also a supreme court judge of the Appeal Court in Bloemfontein.
"The university is indeed proud to be associated with Madam Molemela and is privileged to have her as our Chancellor. She has a good record of personal support to worthy causes in our communities and continues to render such support through the position she holds in society," said Mr Dan Maritz, Spokesperson.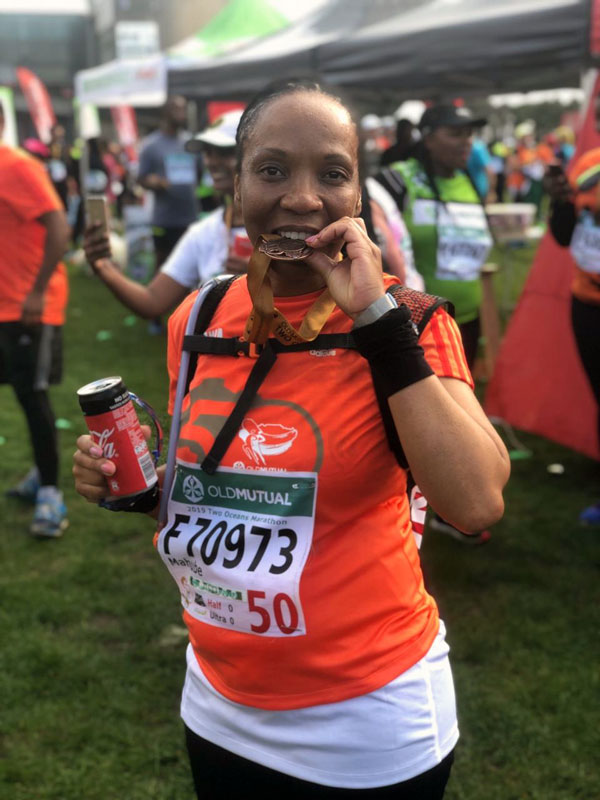 Her advice to the young ones, she said, "the fact that I'm doing all these things at the age of 50 plus should serve as motivation for any youngster... if I can do these things, why can't you? The sky is the limit, folks...all that you need is mental and physical preparation and commitment."
Images
1: From left: CUT Chancellor, Judge Mahube Molemela, Mr Moeletsi Molemela (son) and her husband, Mr Sello Molemela showing their medals after the race.
2: CUT Chancellor, Judge Mahube Molemela showing her medal after the race.
Uploaded: 24 April 2019