CUT Bloemfontein Campus open the 2019 academic year
Faculty of Humanities Faculty of Health and Environmental Sciences Faculty of Engineering, Built Environment and Information Technology Faculty of Management Sciences CUT News Students Teaching and Learning Research and Innovation Support Services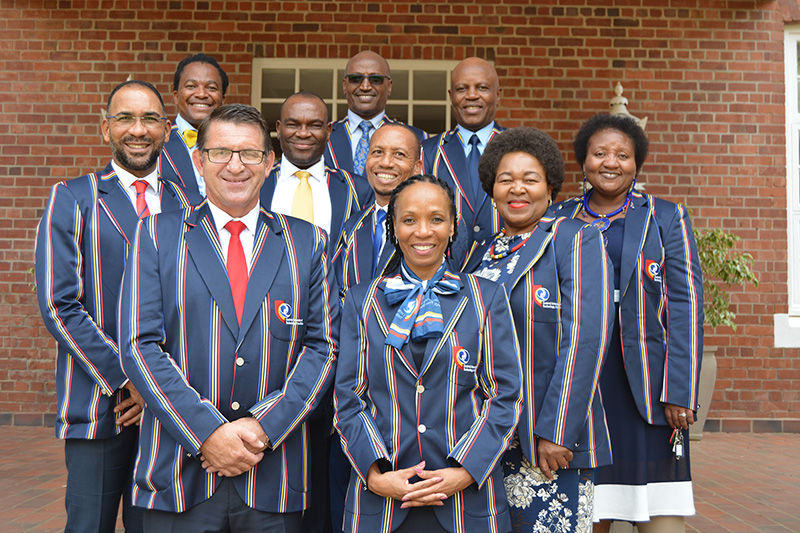 Wearing a new look with pride and dignity: Front row from left is Prof. Henk de Jager, Vice-Chancellor and Principal, Madam Justice Mahube Molemela, Chancellor. Second row from left is Dr Gary Paul, Deputy Vice-Chancellor: Resources and Operations; Prof. David Ngidi, Deputy Vice-Chancellor: Teaching and Learning; Mr China Kokoana, Acting Deputy Registrar: Student Services;  Dr Nothemba Mrwetyana, Registrar and Prof. Neli Feza, Dean: Faculty of Humanities. Back row from Left is Prof. Oupa Makola, Welkom Campus Director; Prof. Yali Woyesa, Acting Dean: Faculty of Engineering, Built Environment and Information Technology; Prof. Alfred Ngowi, Deputy Vice-Chancellor: Research Innovation and Engagement.
Following the successful official opening ceremony held at Welkom Campus, CUT Bloemfontein Campus followed suit and officially declared the university gates opened for the 2019 academic year on 01 February 2019.
Vice-Chancellor and Principal, Prof. Henk de Jager welcomed all students and parents who graced the occasion. He also gave a special word of welcome to all first years and international students. "At CUT, we put our students at the center of everything we do; your experience and success are important to every staff member who works here. We are committed to promoting diversity, and you are an important part of the CUT family. Thank you for deciding to make CUT your intellectual home."
Prof. de Jager also encouraged students to take full responsibility for their development and success. "While you are here, you will have the opportunity to learn new things, acquire new knowledge, develop new skills, and enhance your personal and academic attributes in profound ways that will prepare you on how you can contribute to your families and your communities as responsible citizens. You are now expected to be more self-reliant and responsible for what you do. There will be no one to check up on you, so you are accountable to yourself. Remember if you find it hard to cope reach out. We have state-of-the-art resources to support student learning and development."
In conclusion, he said that CUT is indeed a sound institution. "We are firmly on track towards realising our drive of "Reimagining CUT as a transformational, transformative and entrepreneurial university, and 'model' university of technology (UoT) in Africa, impacting on the socio-economic development of the Central region of South Africa and beyond."
Mr Sabelo Ngwenya, Bloemfontein SRC President said, "our purpose as SRC is to ensure access through success for all CUT students, it is to ensure that no academically deserving student is excluded on the basis of finance. It is also to ensure that no student suffers in the presence of the SRC. No student will be victimised and limited to swipe at selected stores." 
He challenged CUT students to define their purpose in life. He urged them to dig deeper into their thoughts to find that purpose.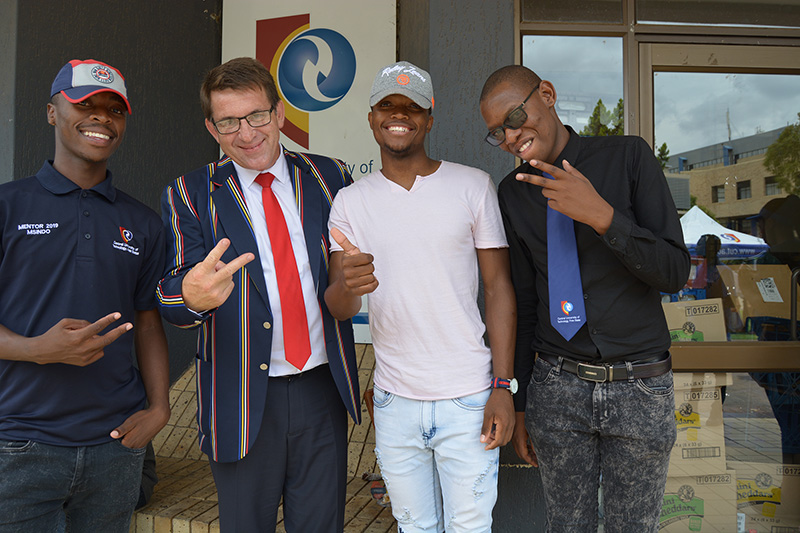 Vice-Chancellor and Principal, Prof. Henk de Jager (second from left) engaging with students at the Official Opening. With him from left is Lerato Msindo, Malefetsane Ditaoe and Laurance Mkhize.
Uploaded: 05 February 2019