CUT and the Rural Education Access Programme formalises their relationship in an MoU signing
CUT News Research and Innovation Leadership Partnerships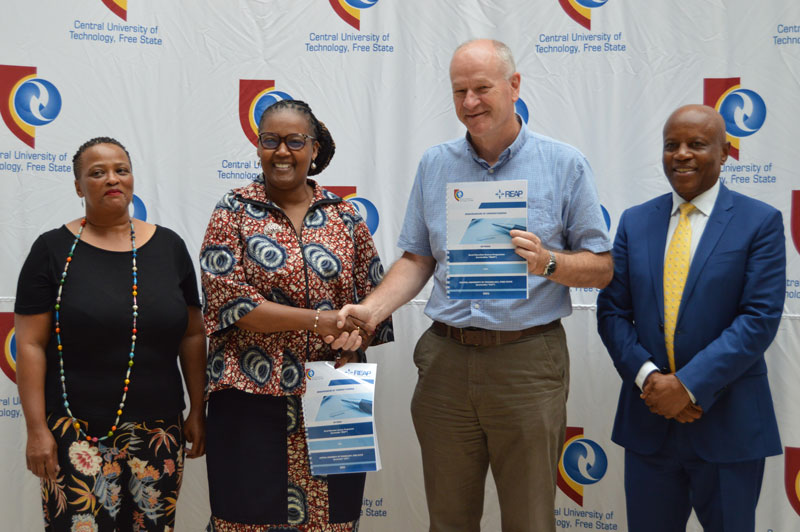 Photo: From left: Ms Ndileka Booi, Head of student support: REAP, Prof. Pamela Dube: Vice-Chancellor and Principal, Mr Russell Davies, Director: Rural Education Access Programme and Prof. Alfred Ngowi, Deputy Vice-Chancellor: Research Innovation and Engagement.
On 07 March 2023, the Central University of Technology, Free State (CUT) and Rural Education Access Programme (REAP) formalised their long-standing relationship dating back to 2008, in a Memorandum of Understanding (MoU) signing.
REAP is a South African NPO focused on assisting academically able South African youth from disadvantaged backgrounds, specifically in rural areas, to access and succeed in higher education. Although the organisation is not a core funder, it works closely with government entities to supplement the NSFAS-funded students with basic resources such as laptops and other educational material, allocates a Student Development Advisor (SDA) to each REAP student to assist and guide with structured and holistic support for the duration of their undergraduate programmes was.
At the agreement signing, Prof. Pamela Dube, Vice-Chancellor and Principal, also a REAP Board Member, said that she is looking forward to signing her first agreement on behalf of the institution. "I am looking forward to seeing how we as the CUT community take these agreements into action and, more so, how much we value and nurture these relationships going forward."
She also mentioned that REAP works closely with universities and provides wrap-around programmes, which not only focus on access and funding but also monitoring of the progress and success of students, their well-being and how they can enable and support them."
When giving background information on the programme, Mr Russell Davies, Director: REAP, mentioned that the organisation offers motivated young South Africans from disadvantaged rural households the support and guidance they need to participate and succeed in post-school education and training in order to sustain themselves and become ethically responsible and caring citizens.
"REAP aims to reduce rural poverty in South Africa by developing skilled, self-sustaining, ethically responsible youth. CUT has become an important part of us, and we have supported several students. So far, 375 students have benefited from this partnership. This MoU is to formalise our long-standing relationship and I am looking forward to more years of growth and success."
Uploaded: 08 March 2023