CUT and the Human Rights Commission engage on current challenges in SA
CUT News Research and Innovation International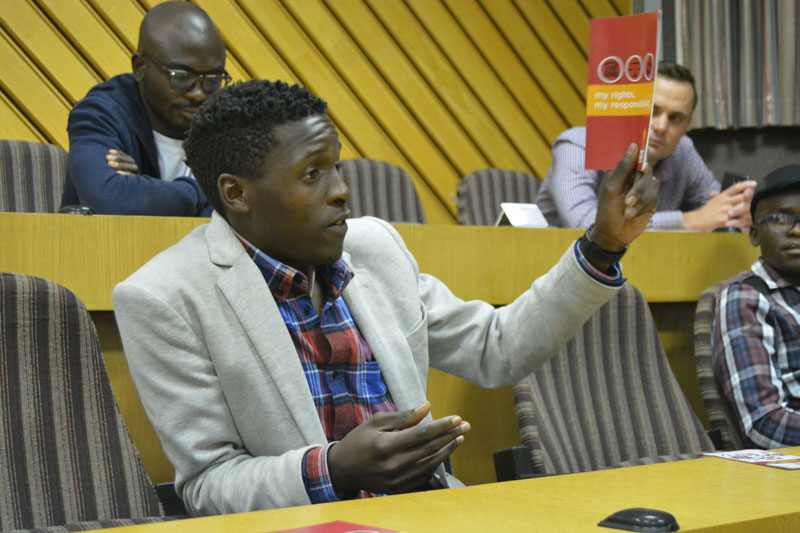 CUT employees and students engaging speakers and raising questions to the Human Rights Commission representatives. Some of the audience felt that the situation is self-hatred from one African to another while others felt that it is an underlying issue that has been ignored by the government and the commission itself.
In light of the recent xenophobic attacks in some parts of the country, the South African Human Rights Commission's (SAHRC) Bloemfontein region in association with CUT International Office hosted the Human Rights dialogue on 03 September to address key human rights challenges faced by the country and create public awareness of the roles and responsibilities of stakeholders in upholding and protecting human rights.
When addressing the audience, Mr Thabang Kheswa, South African Human Rights Commission: Free State Provincial Manager, said that people who do not know their rights, tend to violate the rights of others. He emphasised the need for South Africans to step up and protect non-nationals and salvage the little respect that is still left for the country. He further mentioned that if such actions continue, South Africa will be isolated in economic participation. "With our already unstable economy, matters can only get worse." He also touched on issues such as easy access to boarders, drugs, human trafficking and lack of information as problematic issues.
Ms Naleli Morojele, Human Rights Officer, spoke about xenophobia vs afro-phobia where she mentioned that what is currently happening in the South African is based on afro-phobia than xenophobia. "I am saying this because we are only attacking African foreign nationals, while European nationals such as the Portuguese, Greeks, Romanians and so on, are living peacefully in this country." She said that she is positive that the national initiative will bring an end and peace to the tragic situation in the country.
Prof. Alfred Ngowi, Deputy Vice-Chancellor: Research, Innovation and Engagement encouraged the audience to go back to their communities, spread the word and speak out against these attacks. He further commended South Africa for the strides made in putting the constitution together and not adopting the oppressor's way of life. "We have opened our borders to the world with the intent of growing the economy and participating in international market. Being able to come together in this kind of a forum, sit down and discuss a way forward around these burning issues is the first step in the right direction for us as a nation," he said.
Uploaded: 10 September 2019