CUT and Samsung Electronics South Africa forge a new alliance
CUT News Partnerships Leadership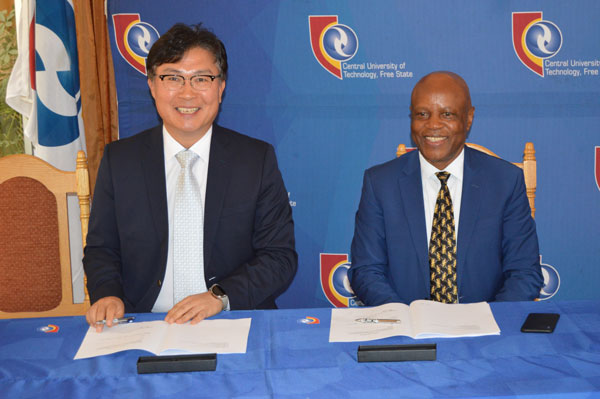 CUT and Samsung Electronics South Africa signed a Memorandum of Understanding (MoU) on 17 November 2022, in which both parties declared that they would be fully invested in making this collaboration a fruitful and successful alliance.
In his remarks, Prof. Alfred Ngowi, acting Vice-Chancellor and Principal, said that the signing would mark a significant turning point for the institution as it aims to dominate the 4IR market by using applied research to benefit the local communities, but most importantly, to benefit CUT students.
"Something we share with SAMSUNG is innovation and technology values that are a hallmark of well-run organisations like SAMSUNG and CUT. As a University of Technology, we are proud to be associated with the global leader in technology and innovation. This MoU signing is an important milestone for us as the university, as we are aspired to become a key player in the 4IR space through our applied research approach for the benefit of the communities we serve."
Mr Hlubi Shivanda, Director: Operations at Samsung Electronics South Africa, mentioned that CUT is the second institution in South Africa to be involved in the Samsung Innovation Campus. The Samsung Innovation Campus offers young people the opportunity to improve their job prospects and get hands-on training in technology. In collaboration with educational agencies and local governments around the world, the program offers tailored programs in different countries.
To achieve the common objective of empowering student through innovation and providing them with additional training thereby enhancing their chances to do better for themselves, both parties pledged more future collaborations. "As Samsung, we are truly honoured and humbled to be partnering with CUT and launching the Samsung Innovation Campus. I wish to see the alliance between these two parties growing fruitfully from strength to strength," said Mr Hlubi.
Caption
At the signing ceremony, from left: Mr Bumsuk Hong, President & Chief Executive Officer, Samsung Africa and Prof Alfred Ngowi, acting Vice-Chancellor and Principal, excited to forge a new alliance.
Uploaded: 19 November 2022