CUT and partner Microsoft launches Artificial Intelligence (AI) Universities programme
CUT News Research and Innovation ideaGYM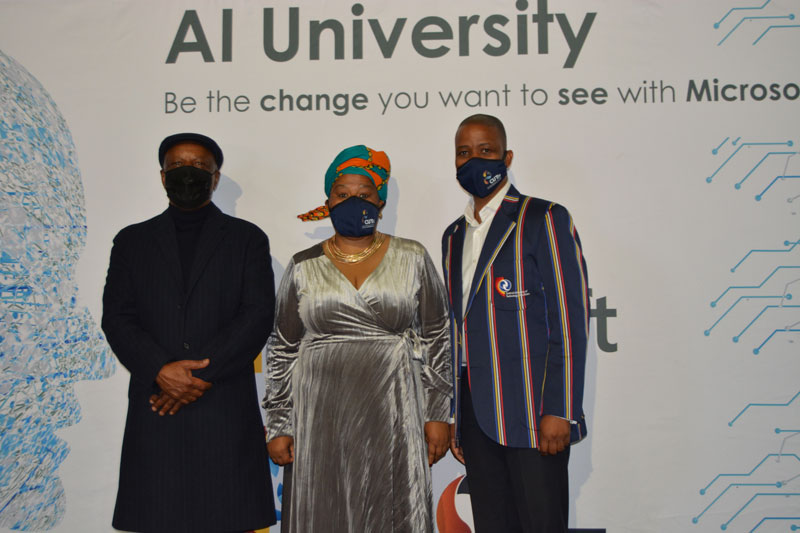 On 30 June 2021, the Central University of Technology, officially launched the Microsoft's Artificial Intelligence programme (AI) that was introduced in July last year. For the first time the event was streaming online via Microsoft teams. The programme is aimed at addressing the demands in the province, and South Africa in general.
The Innovation Services of CUT (CUTis) and the Free State Provincial Government will be the first to benefit from the programme's training , which has been designed to enable the skills transfer, to the university lecturers who will lead the programme in the coming years.
The 12-months programme uses a blended learning model that includes the integration of self-study, online learning, classroom instructor-led training and a flipped classroom. These covers: Mentorship and coaching by industry experts, Business skills, Microsoft Azure AI Associate Certification, Flipped Classroom, Guest Lecturers, Career days, Examination and Certification.
Mr Asif Valley, National Technology Officer: Microsoft SA, said that the programme has been designed to pass on the skills that employers' value and need by teaching young multi-disciplined graduates with limited or no work experience to explore, transform, model, and visualise data, as well as to create the next generation of intelligent solutions. 64% of organisations in SA expect to see an increase in positions that require technology skills within the organisation in the next 2-3 years. "The collaborative nature of the AI university programme will unlock the value of AI. By bringing together private and public sector partners, students, facilitators, mentors, coaches and industry experts, the programme will enable the development of critical AI skills that will help young people become more work ready and employable, as well as help organisations adapt to the ever-changing demands of the world of work. We believe that a strong partnership with CUT combined with world class training, real world experiences and online classrooms, can build a knowledge-based economy that leaves no person behind and enables both future and current workers to realise the promise of technology."
Shubna Harilal, Managing Director: Gijima Technology Solutions, said that the programme is aimed at addressing the lack of access to critical and relevant 4th Industrial Revolution skills in south Africa. "This will help to create the capacity needed in order to help suitably qualified AI engineers. AI and Data are undoubtedly the future and businesses need groomed AI engineers with certified skills and hand on project experience to assimilate into the workplace quickly and seamlessly. The power and the impact of the journey that you are embarking on puts you in an advantageous position of changing the lives of the people of our country, the continent and the world. This path will allow you to expand your knowledge in this area, setting you on a great future in both the tech and business worlds."
MEC for Treasury: Free State Provincial Government, Ms Gadija Brown said that this is a huge and necessary step for government and industry to acknowledge and embrace the changes that are coming. "I think that this partnership between Free State Provincial government, CUT, Gijima, Microsoft and all other partners is impactful, and these programmes are sought to have tangible outcomes. If we do not allow ourselves to leapfrog and work towards these developmental models, we will skip the need and lag, and we will really have to pay a lot in terms of funding and fiscus to catch up at a later stage. AI may assist us in all sectors of our economy and can also be utilised on a hybrid basis until we are able to roll it out."
Ms Brown also added that in terms of safety perspective of jobs, their role as government is to continue working towards sustaining what they have and building a more developed and innovative future. "As a province, this initiative could not have come at a better time given the COVID-19 pandemic and the challenges we have that have worsened our economy and youth unemployment. We hope that the graduates of this programme will not only be employable but will be able to use the acquired skills to establish their own businesses," she concluded.
Caption
Prof. Alfred Ngowi, Deputy Vice-Chancellor: Research Innovation and Engagement, Ms Matseliso Mfanta, CUTis Chairperson and Cllr Mathew Rantso, CUT Chairperson of Council at the official launch of CUT and Microsoft's Artificial Intelligence Universities Programme.
Uploaded: 05 July 2021