CUT and Namibia University of Science and Technology discuss current and future collaborations
Engineering, Built Environment and Information Technology Health and Environmental Sciences CUT News International Leadership ideaGYM CRPM PDTS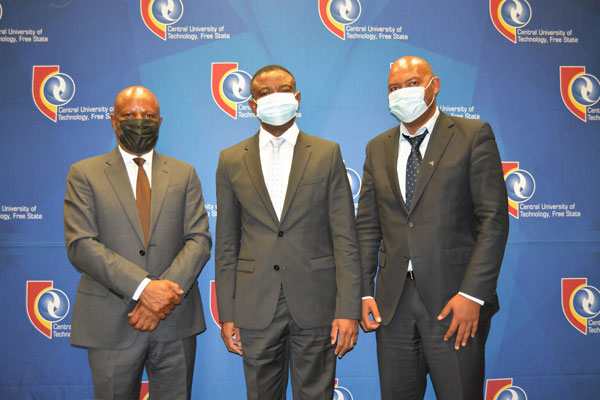 The Central University of Technology hosted the Namibia University of Science and Technology (NUST) as part of expanding collaborations between the two universities. NUST Vice-Chancellor, Dr Erold Naomab, was accompanied by Dr Erling Kavita, Executive Director in the Vice-Chancellor's Office, to continue the engagement on partnerships which will further increase the total number student and staff mobility between CUT and NUST. The discussion explored co-application to internationally funded programmes that will enable mobility and research collaborations.
CUT acting Vice-Chancellor and Principal, Prof. Alfred Ngowi welcomed the visitors and highlighted the importance of cross-border collaborations, which will benefit both universities "The importance of our institution collaborating and partnering with others is essential because we learn a lot of things. The more partnerships, the better for all of us, so that we can use our collaborations to make our communities better. We have collaborations with NUST already and we are excited to show you some of our other projects so that we can see what else we can collaborate on," said Prof. Ngowi.
Previous collaborations between the two universities include the formalisation of the CUT-NUST agreement which was followed by a delegation visit to NUST in 2018. NUST officials participated in the CUT Innovation week and led a discussion on the model of research management that NUST uses to implement research objectives. CUT student leadership (including SRC members) visited NUST for student leadership benchmarking. Engineering staff also assisted in the teaching of Hydrology, Hydrogeology and Groundwater modelling courses to Masters students from NUST. The teaching was part of a lecturing support programme between the two universities.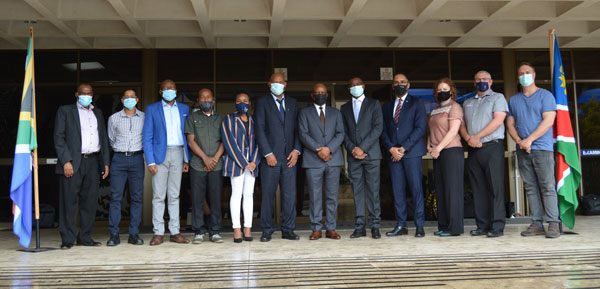 Dr Kavita encouraged more leisure tourism between the two countries, adding that this is needed for economic growth. "There are no jobs, we have to create jobs and I think this is the direction to go, the direction of innovation and collaborations and look for avenues that we can really explore. We are a young institution, but that should give us enough intelligence to learn from those who have made mistakes so that we do not make the same ones. We can plan better and from those opportunities and use our scarce resources in a better way, to ensure inclusivity especially regarding students for future projects," said Dr Kavita.
NUST Vice-Chancellor, Dr Erold Naomab stated that there is substantial room for further engagements, and there is a lot of synergy. There is a substantial investment in research in your institution as well as in our institution, but the question is, so what? Why do we do all this, what is the purpose and the impact? And I think that one of the things that we may need to do is to propose a platform where we regularly allow our academics and experts to exchange ideas and discuss the impact of that. I am very encouraged by the presentations, which I will take back and share with my colleagues and make sure that there is connectivity between our institutions," said Dr Naomab.
Caption
1. Prof. Alfred Ngowi, CUT acting Vice-Chancellor and Principal; Dr Erold Naomab, NUST Vice-Chancellor and Dr Erling Kavita, NUST Executive Director in the Vice-Chancellor's Office.
2. NUST visited CUT as part of maintaining current collaborations, and discussing future possibilities.
Uploaded: 29 November 2021