CRPM celebrates 21 years of innovation and excellence
Engineering, Built Environment and Information Technology Research and Innovation CRPM Leadership CUT News Partnerships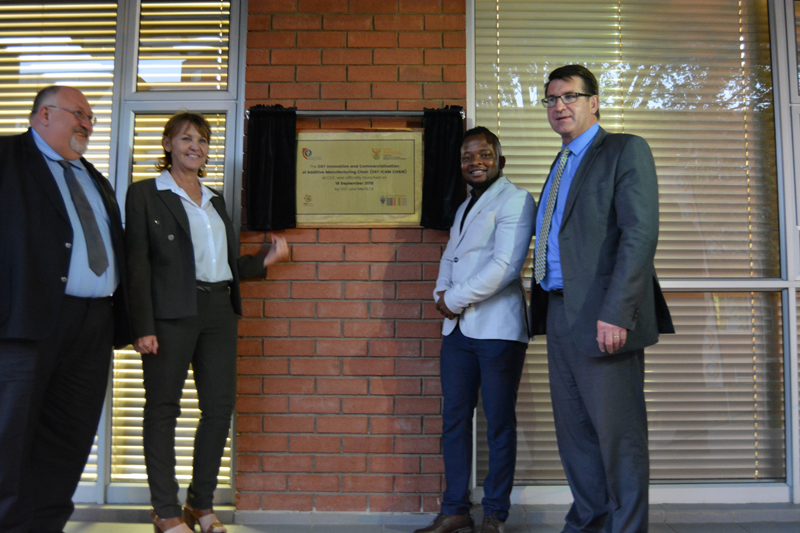 The Central University of Technology Centre for Rapid Prototyping and Manufacturing celebrated 21 years of innovation and excellence in changing and touching the lives of ordinary people in South Africa. Established in 1997 as a centre for commercial work and research using Rapid Prototyping, Rapid Manufacturing, Rapid Tooling and Medical Product Development technologies, the centre currently has ten Additive Manufacturing (AM) machines which makes it one of the best equipped AM centres of its kind in the Southern Hemisphere. The AM technologies opened the possibility to go directly from Computer-Aided Design (CAD) to a physical prototype or model. These prototypes are used by industrial product designers for form and function test as well as final prototypes before tooling commences.
"The CUT's innovation drive and value chain is demonstrated through many successful projects, one of which is the CRPM, that serves as an important link between our Innovation eco-system and the external stakeholders. CRPM is a world-renowned centre for its innovations, and the impact it is making on society thus CUT is gaining momentum in its drive to be reimagined as a transformational university and "model" University of Technology (UoT) in Africa, impacting on the socio-economic development of the central region, country and beyond", these were the words of Prof. Henk de Jager, Vice-Chancellor and Principal at the 21st anniversary of the CRPM held 18 September 2018.
As we celebrate this milestone and years of hard work, commitment and determination, we are also launching the first DST Innovation and Commercialisation of Additive Manufacturing Chair (DST ICAM CHAIR).
Prof. de Jager also stated that strong partnerships are needed to build external networks as well as internal cross-unit networks to generate ideas from new connections. "You cannot take the university to the next level without partnerships. CUT is a University of the people and the region and has been forthcoming with encouraging idea generation and building strong external networks. In the space of innovation ecosystem, we have to join hands and not compete against one another," he said.
When taking the audience through the 21-year journey of the centre, Mr Gerrie Booysen, Director: CRPM shared the impact made using 3D technology in changing the lives of ordinary people in the region and the country. He presented some of the successful cases dating back to 2015 when it produced about 3614 prototypes and how the centre has grown immensely, producing more than 13 000 components to date.
He further mentioned that the centre was awarded with an international certification (ISO13485) in 2016 and is the only manufacturer of titanium implants in the African continent, and the South Africa Research Chair Initiative (SARChI) for medical product development through additive manufacturing. "I am really excited about our growth, the team efforts and dedication, support from our management and council, and our incredible partners and sponsors for making us realise this dream. All these achievements will open the doors for commercial manufacturing of medical devices here in South Africa and also offer us global export opportunities."
He said that the centre is looking for new ways and methods of doing things as they are currently developing custom made design of temporomandibular joints with cutting guides. "In the past, we used to have just a fixed implant and now, we will also have moving components, and this is our current big research project," he concluded.
Ms Sherly Pretorius, Senior Manager, Client Services: merSETA, indicated that the future of AM looks bright. "In the future, 3D printing will position itself more prominently in the manufacturing landscape. The time is now where industry needs to be capacitated on the relevancy of adjusting to 4.0 technology. We entered into a partnership with CUT to benefit the merSETA, stakeholders as well as CUT and more importantly, it will be a benefit to the merSETA sector and South Africa as a whole."
Mr Jaco Hart, industry partner from CSIR spoke about the impact of Additive Manufacturing products and the involvement of CRPM in assisting them with producing CORONA cameras through Additive Manufacturing and applauded CUT for their consistency and excellent service.
Meanwhile, the Department of Science and Technology in collaboration with merSETA launched the first DST Innovation and Commercialisation of Additive Manufacturing Chair (DST ICAM CHAIR) under the leadership of Prof. Deon de Beer.
The DST ICAM CHAIR comes in three years after the South African Research Chairs Initiative (SARChi) Chair launch in 2015 by the Department of Science and Technology and the National Research Foundation of South Africa. The launch is a response to requirements of the industry and science to improve research and innovation capacity of public universities in producing high-quality postgraduate students. Led by another CUT professor, Ihar Yadroitsau, the SARChi chair is a great recognition for the university as a leader in Medical Product Development in South Africa.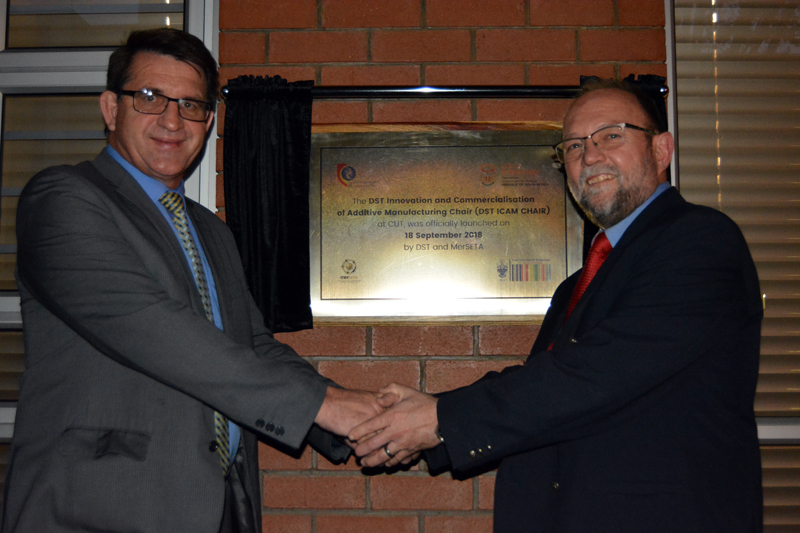 The newly appointed DST ICAM CHAIR, Prof. Deon de Beer said that the value proposition of the CHAIR in Innovation and Commercialisation of AM is to drive technological outputs from conceptualisation through implementation to full commercialisation, develop and lead a team of industry collaborators, researchers, postgraduate students to resolve challenges of commercialising AM products and processes. The outputs are aimed at benefiting the AM community and all relevant industry sectors.
"I feel honoured to have been selected as incoming Chair and privileged to be able to dedicate my time and efforts to support innovation and commercialisation of AM. It is my sincere intention to develop a collaborative spirit and pull the best national expertise and resources in the field. Successful outcomes will be beneficial to the whole industry and ensure the growth of our manufacturing industry. I would not be doing my job if I do not seize today's opportunity to remind you all that there is significant collaboration and investment opportunities available. I would like to thank CUT executive management for the strategic vision, support and readiness for having acted innovatively. I would also like to send my sincere gratitude to our partners, DST, VUT and merSETA for collaborative spirit and support, and the South African Additive Manufacturing community for continuous collaboration and positive response received."
Mr Sechaba Tsubella, Acting Director: Advanced Manufacturing Technologies at DST applauded CRPM for reaching a hearty 21 years and also captured the journey of the DST around AM, "I am happy to announce that the DST through CPM has sponsored many post master's studies who will form our future scientist and engineers so that we have the critical skills base when this industry takes up. He also congratulated Prof. Deon de Beer on advancing his new ropes as the DST ICAM CHAIR. "We believe that this technology has immense potential to create industries and opportunities for all our people, create the competencies and develop the skills base to maintain and develop this industry further."
He also thanked CUT, NRF, DST, THRIP, industry and corporate sponsors for making this dream come true. Other partners includes Pelonomi Hospital, EOS, Materialise, Department of Science and Technology (CPAM project), National Research Foundation (SARChi Chair), Technology Innovation Agency (TIA), the Fuchs Foundation, Council for Scientific and Industrial Research (CSIR), Central Analytical Facilities (CAF), PDTS,  CUTis, Medical Professionals, Life Healthcare group, FS Provincial government, FS Department of Education, FS Department of Health, DESTEA, FS Department of Public Works, Department of Trade and Industry, IDC, Botswana International University of Science and Technology, Botswana Institute for Technology, Research and Innovation, Rapid 3D, Metal Heart, LHA, FDC, MRC, Universitas Hospital, SEDA, SqwidNET, Sefako Makgatho University, UFS, VUT, NW University, University of Johannesburg, University of Pretoria, Stellenbosch University, University of Namibia, National University of Singapore, SABS, SAAB, Grintek Defence, Denel, Bloemfontein Chamber of Commerce and Industry, SAMTI, South African Airways, Gauteng Tooling Initiative, UV Tooling, CSAR, Gold Yard, Rapdasa, Phatsoane Henney Attorneys and media houses.
Images
1: Proud moments at the unveiling ceremony: partners (from  left) Mr Heinrich van der Merwe, Operations Manager at the Vaal University of Technology, Ms Sheryl Pretorius, Senior Manager Client Services at merSETA, Mr Sechaba Tsubella, Acting Director: Advanced Manufacturing Technologies from the Department of Science and Technology (DST) and Prof. Henk de Jager, Vice-Chancellor and Principal.
2: Prof. Henk de Jager, Vice-Chancellor and Principal congratulating Prof. Deon de Beer, the newly appointed DST Innovation and Commercialisation of Addictive Manufacturing Chair (DST ICAM Chair) at the DST ICAM Chair Launch and CRPM 21stanniversary celebration.
3: Mr Letsoalo Letsoalo, Project Engineer at the CRPM (right) showcasing some of the prototypes produced to the delegates from Botswana International University of Technology during the centre tour. The guests are from left: Prof. Ochieng Aoyi, Prof. Edward Lungi, and Dr Mmoloki Mangwala.
Uploaded: 21 September 2018