Andile Khumalo delivers CUT's 7th annual Herman Mashaba Lecture
Management Sciences CUT News Teaching and Learning Alumni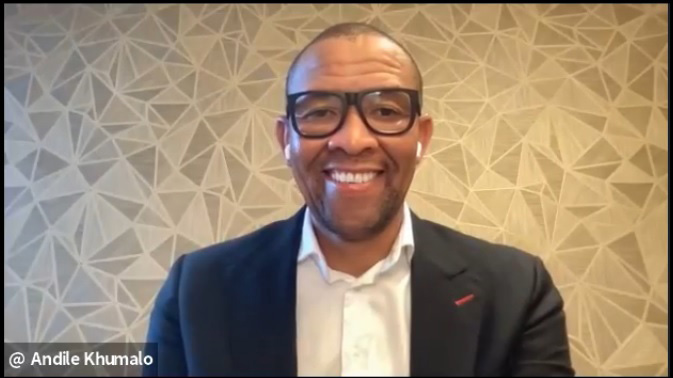 The Central University of Technology hosted its seventh annual Herman Mashaba Lecture on Entrepreneurship. The lecture was on 12 October 2021 and delivered by Andile Khumalo, founder and Chief Executive Officer of KhumaloCo and founder of I AM AN ENTREPRENEUR.
The inaugural lecture was initiated after the well-known and renowned entrepreneur and former Executive Mayor of Johannesburg, Dr Herman Mashaba, was awarded an Honorary Doctorate in Business Administration by CUT's Faculty of Management Sciences in 2013. Since the inaugural lecture by Dr Mashaba himself in 2014, CUT has brought a sterling line-up of speakers and many opportunities for internal stakeholders and partners to share their knowledge and meet with world experts in this field.
Andile Khumalo, seasoned entrepreneur and Chartered Accountant (SA) focused on the topic of the role of entrepreneurship in building the South Africa we want. Following an in-depth look at the country's current economic equality status, highlighting the vast difference between Sandton and Alexander, which are only 6,7 km apart, Khumalo reiterated that the current inequality is unsustainable.
"You cannot build higher walls between the haves and the have nots of South Africa, it's not a sustainable strategy. The inequality is just unsustainable, and the only way, I put to you, that we have a chance of minimizing it is to create economic opportunity for the people living in the picture that I've shared with you, where the people living on the other side of that highway and bridge don't have so much, such that the people living on the other side have so little, especially when the people that have so little are the majority of the people of the country," said Khumalo.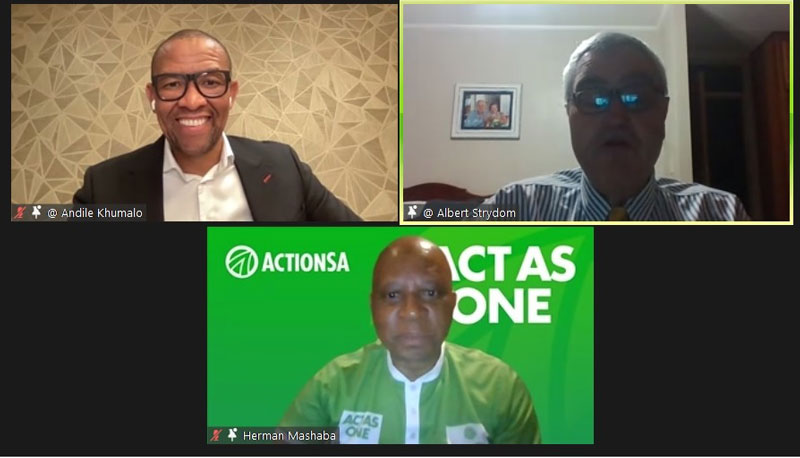 He added that the only way to reduce the impact of this inequality in society is to give economic opportunity. Although one can do so as an employee, but there is an exponential impact if you do so for entrepreneurship, in this instance through supporting small businesses. Khumalo lists three things that he believes we should all be doing to support entrepreneurs.
"The first is to buy from small businesses. This is something that corporate South Africa has absolutely failed at doing. For many reasons, one of which is the fact that generally people do business with people they like, or they trust, and big businesses tend to do well by dealing with other big businesses. If that continues, that means there will never be an opportunity for small businesses to be able to scale and therefore build their own scale. If you've ever spoken to any small business owner, they'll tell you that cash flow is the oxygen. So, you've got to find a way to win work, do the work and collect. And the best way to do that is for big business to continue to buy from small business."
"Number two is upskilling small businesses, you ask any small business owner, they will tell you they know everything, well evidence suggests otherwise. The majority of our people that have gotten into businesses do not necessarily come from a history of business. We don't have the benefits of dinner table discussions where our uncles are owning a business and they can chat and tell us about some of their stresses or their lessons, many of us don't come from that environment so this is new to us culturally. Secondly, many of us may not have studied some of the basic principles that come with running a business, particularly the basics of finance, collecting early paying late, cash flow management, when do I bring in debt vs when do I bring in equity. And I've found in my experience of working with SMME's and small business owners is that a large proportion of the reason why they fail is not, because they are stupid or irresponsible, it's because they really don't know."
"And thirdly to fund small businesses. Often times, we go to banks, development finance institutions and we say please sir won't you lend me some money I need to go invest in my business, and banks say no; and often times, it's because we cannot show them a bankable proposition. The challenge lies with the guys that are still in the early stages of starting their business, the biggest need of this support is at the very small of small companies and that is where we should all be dedicating our time and energy."
Khumalo concluded by asking that if the inequality continues at the rate that it is, and we are living next to each other in the way we are, using Alexandra and Sandton as an example, at what point will we all realise that the walls we tried to build, like Donald Trump didn't help us all.
WATCH: 2021 Herman Mashaba Lecture
Caption
Andile Khumalo, founder and Chief Executive Officer of KhumaloCo and founder of I AM AN ENTREPRENEUR, delivering the CUT annual Herman Mashaba Lecture.
Andile Khumalo, founder and Chief Executive Officer of KhumaloCo; Prof. Albert Strydom, Dean of the Faculty of Management Sciences and Dr Herman Mashaba, renowned entrepreneur and former Executive Mayor of Johannesburg.
Uploaded: 14 October 2021