Academics reflect on teaching and learning practices at the 5th annual SoTL Conference at CUT
CUT News CILT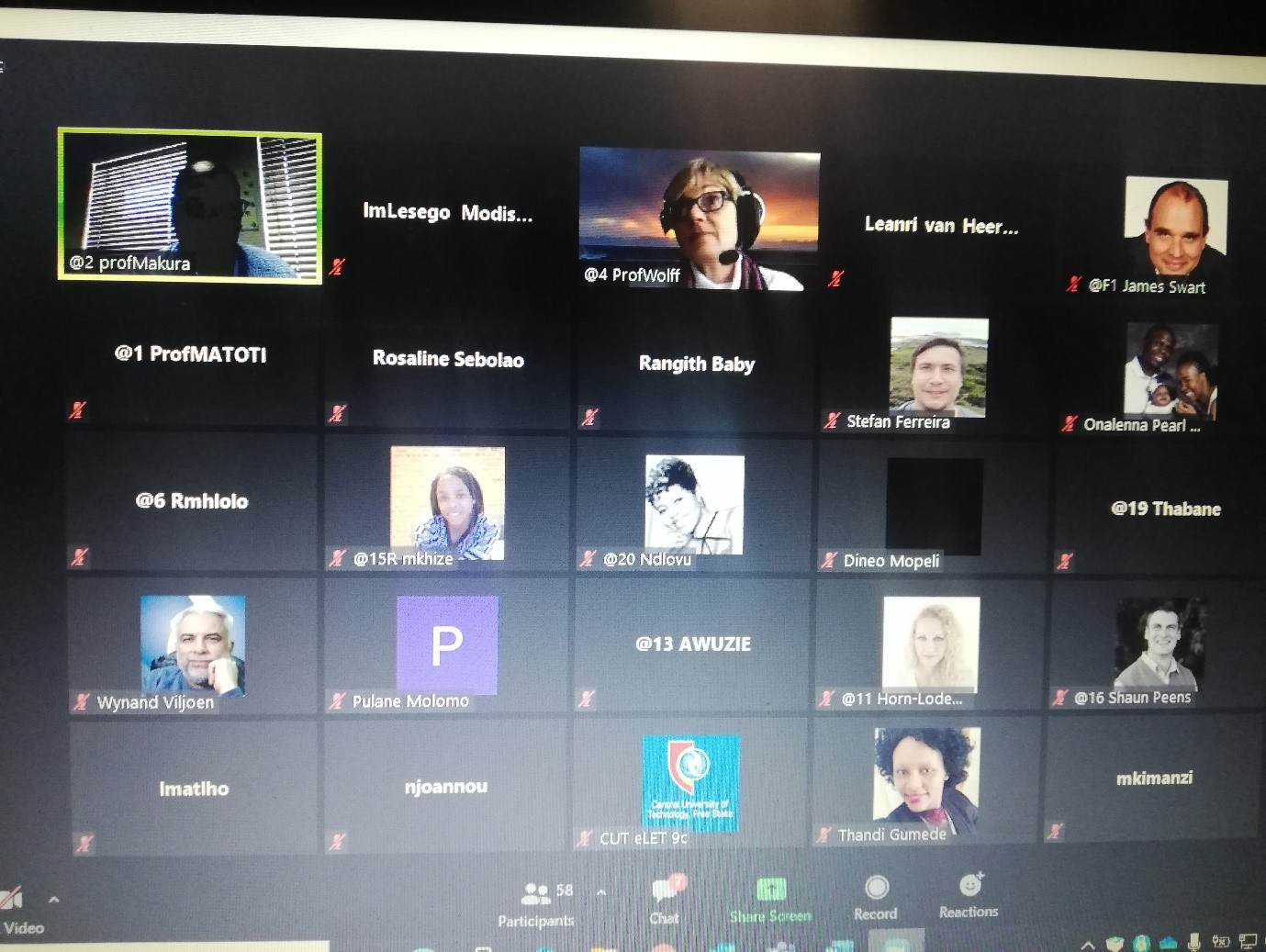 COVID-19 has no doubt affected how universities operate, bringing forth new challenges and experiences for both staff and students. In a two-day Scholarship of Teaching and Learning (SoTL) conference hosted by The Central University of Technology, Free State (CUT), academics gathered virtually to reflect and improve their ways of teaching and learning. The conference was held on 08 and 09 October 2020 under the theme: Promoting new pedagogies and teaching practices in higher education.
Prof. Karin Wolff, Senior Teaching and Learning Advisor in the Faculty of Engineering, Stellenbosch University and one of the two keynote speakers presented on: 'Seeing, Hearing and Speaking out: Lessons from the COVID era for HE in South Africa.' In her address, Prof. Wolff shared some lessons learned and challenges experienced from the COVID-19 era within South African Higher Education.
She stated that the global pandemic would be remembered in Higher Education as the moment that cast a spotlight on the incontestable relationship between three key facets of educators mandate: to facilitate the development of knowledge, citizenship and skills by providing cognitive, affective and systemic support aligned to the epistemological, ontological and praxis dimensions of the curricula.
She said that never has the age-old 'head-heart-hand' philosophy been more significant, as exhausted educators continue to innovatively tackle the challenges of enabling meaningful learning for all in an inclusive environment while using often limited technologies. "Being in HE in 2020, may well prove to be the moment we realized our collective humanity. The sudden shift to Emergency Remote Teaching (ERT) has presented the HE community with both unprecedented challenges and disruptive, possibly transformational opportunities. In order to develop the whole person, the head heart hand philosophy and fulfil higher education's mandate to inculcate knowledge, citizenship and skills, our cognitive affective and psychomotor educational objectives should be aligned to epistemological, ontological and praxes curriculum dimensions."
Another speaker, Prof. David Pace, an emeritus Professor of European History at Indiana University delivered his keynote address on: 'Catching Students who are slipping through the Cracks: The Decoding the Disciplines Paradigm,' Seven Steps to Increased Student Learning.
He stated that decoding rests on the assumption that students frequently have difficulty because crucial steps that they must follow in their courses are so automatic for their teachers that these have become invisible and, thus, are not taught. "By focusing on places where the learning of a significant number of students gets stuck and then systematically exploring what professionals in the field would do to get past these bottlenecks, college teachers can help more students succeed in their courses."
Uploaded: 16 October 2020