7th annual PwC and CUT Business Ethics awards
Faculty of Management Sciences Accounting and Auditing CUT News Partnerships Teaching and Learning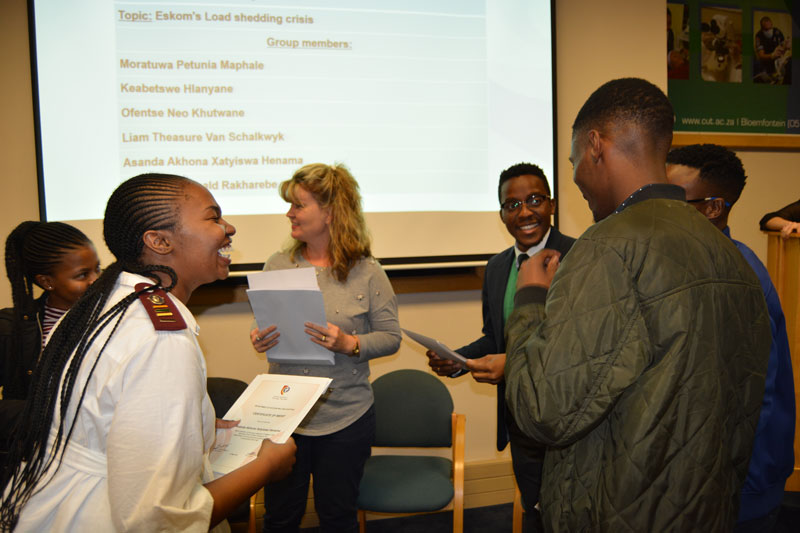 Ecstatic members of the winning team receiving their prizes from Mrs Annette Loots, Senior Manager: PwC Central Region and Mr Mojalefa (Jeff) Mosala, Lecturer at UFS and external subject moderator.
The international audit firm PricewaterhouseCoopers (PwC) in partnership with the Department of Accounting and Auditing in the Faculty of Management Sciences co-hosted their 7th annual Business Awards in a continuous quest to raise awareness among accountancy students regarding various unethical aspects occurring in both the public and private sectors.
Driven by the business ethics lecturer and coordinator, Ms Nandi Lubbe, the Business Ethics IV (BNE41AB) course is a compulsory module in all the BTech programmes offered by the Department of Accounting and Auditing. As part of their semester mark for the module, students are assessed by way of a formal presentation, and the teams participate enthusiastically in this exciting and incentive-driven project. It is compulsory to work in groups, think outside the box, track the South African media, read newspapers, learn good time management skills and debate vigorously among team members in a safe learning environment. 
"The expertise gained through this business ethics project aims to enable students to make informed decisions when faced with ethical dilemmas in the workplace, equip them for employment in a field that involves various moral dilemmas in the private as well as the public sector, integrate their theoretical knowledge with real-life ethical dilemmas and enables them to have a better understanding of our environment and society," said Ms Lubbe.
Topics such as ethical decision making, resolving ethical dilemmas, social responsibility and corporate governance are also covered in the scope of researched topics. "This also assist us in focusing on developing their soft skills such as self-promoting, advertising and communication skills. At the final assessment stage and awards presentation session, our students get an opportunity to network and acquire information from subject experts and contacts for their work integrated learning and future employment opportunities."
The final assessment and selection of the three winning teams and overall best presenter were conducted by an interdisciplinary panel of judges. The panel consists of employees from the faculty, the University of the Free State and PwC specialising in governance and business ethics.
When addressing the students, Mr Gerhard Geldenhuys, Director: PriceWaterhouseCoopers, Central Region said that it is important to make the most of what they have and live by example. "What you have experienced and learnt here is golden. Go back to your communities and the world, lead by example and make a difference."
The three winning teams, as well as the overall best presenter, received certificates and cash prizes sponsored by PricewaterhouseCoopers.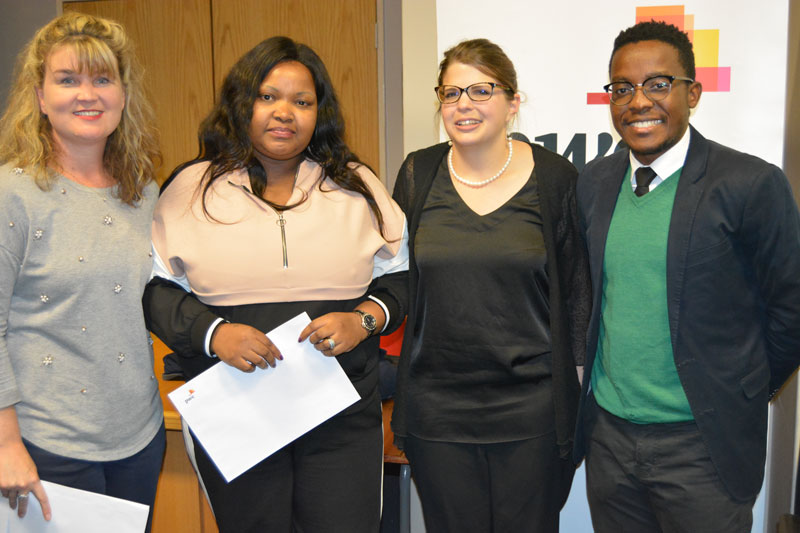 The 2019 best presenter title went to Kebogile Mokodutlo (2nd from left) from The Invincible Six group who presented on Corporate Espionage. She is flanked by Mrs Annette Loots, Senior Manager at PwC Central Region and panel member (left) Ms Nandi Lubbe, Business Ethics Lecturer and coordinator and Mr Mojalefa (Jeff) Mosala, Lecturer at UFS, panel member and external subject moderator.
Uploaded: 23 May 2019