2020 Academic year activities commence smoothly at CUT
CUT News Students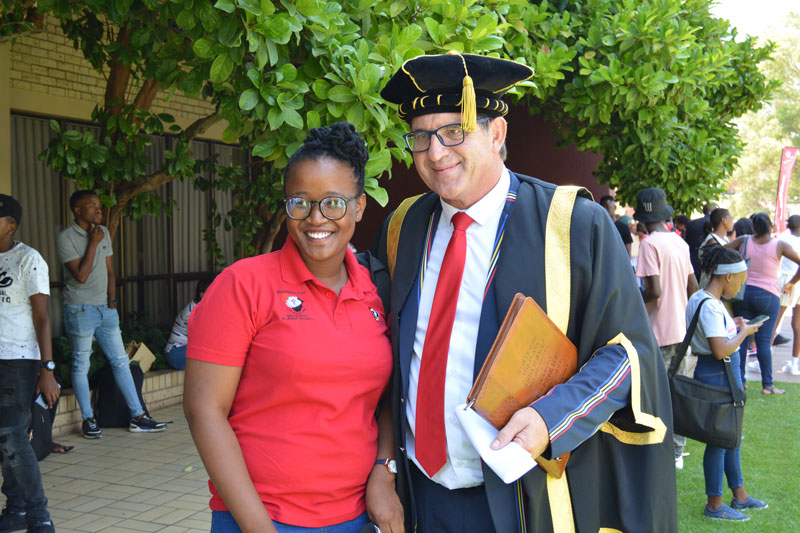 It is that time of year when tertiary institutions open their doors and welcome back their students for the academic year. CUT did just that during the past week, when its two campuses, in Welkom and Bloemfontein, respectively, were officially opened by CUT Chancellor Madam Justice Mahube Molemela.
The 2020 academic year officially commenced at both campuses this week. Classes and other related academic support programmes have begun, and are running smoothly. More than 4 300 first-year students were welcomed at the university, from a total of 48 253 applicants. This figure is in line with the Department of Higher Education, Science and Technology approved CUT Enrolment Plan. The university's final total enrolment figure for 2020 has not yet been determined, given that late registrations have not yet closed, but the figure is likely to exceed 23 000 students, including first-year, returning undergraduate, and postgraduate students.
The year 2020 year marks the first year in which the university did not accept walk-in applications. Students who applied for admission to the university by the end of
November 2019 were required to make use of the Central Applications Clearing House (CACH) system, https://cach.dhet.gov.za/page/studentsignup
The South African higher education sector is facing various challenges, some related to student funding. Various media sources have reported extreme disruptions at some universities, but the ongoing discussions and engagements between CUT Management and the SRC leadership have proven to be fruitful in resolving challenges pertaining to the university. In his communiqués to staff and students, dated 31 January 2020 and 03 February 2020, respectively, Prof. Henk de Jager, Vice-Chancellor and Principal of CUT, commended the Students' Representative Council (SRC) for their contribution in ensuring the smooth transpiring of the academic activities and the commencement of lectures on 03 February 2020. "CUT prioritises operational stability. Our student leaders have at various times and in diverse manners demonstrated that a stable education environment is indeed their priority as well", said Prof. De Jager.
Although late registration is still underway at selected on-campus venues, all students have their "elbows on their desks", focusing on making 2020 an academic success.
Caption
CUT Student, Ms Onkabetse Marumo is in her final year studying towards her degree in Electric Engineering. She engaged with Prof. de Jager following the official opening at Bloemfontein campus.
Uploaded: 06 February 2020