Communiqué to the CUT Staff and Students: 2021 Academic Year and NSFAS Matters
Dear Staff and Students
Once again, welcome to the 2021 academic year at CUT!
The academic activities at both campuses commenced on 6 April 2021, whilst late registrations are still underway.
As at 15:00 on 7 April 2021, a total of 20 158 students registered and commenced with their studies, of which 5 079 students are at the Welkom campus, and 15 079 are at the Bloemfontein campus. Of these, 874 first-time entering undergraduate students registered at the Welkom campus, and 2 523 at the Bloemfontein campus. We witnessed a decrease in the intake of first-year students in Science, Technology, Engineering and Mathematics (STEM) fields, which remains a concern.
Furthermore, in order to enhance communication related to the payment of allowances, it was decided that the Office of the Chief Financial Officer (CFO) will release regular updates to NSFAS-supported students on the payment of allowances and related matters. See below the first issue in this regard, NSFAS Update#1. You will note that allowances of R84,746 million have been paid to 10 981 registered students for the 2021 academic year by 7 April 2021.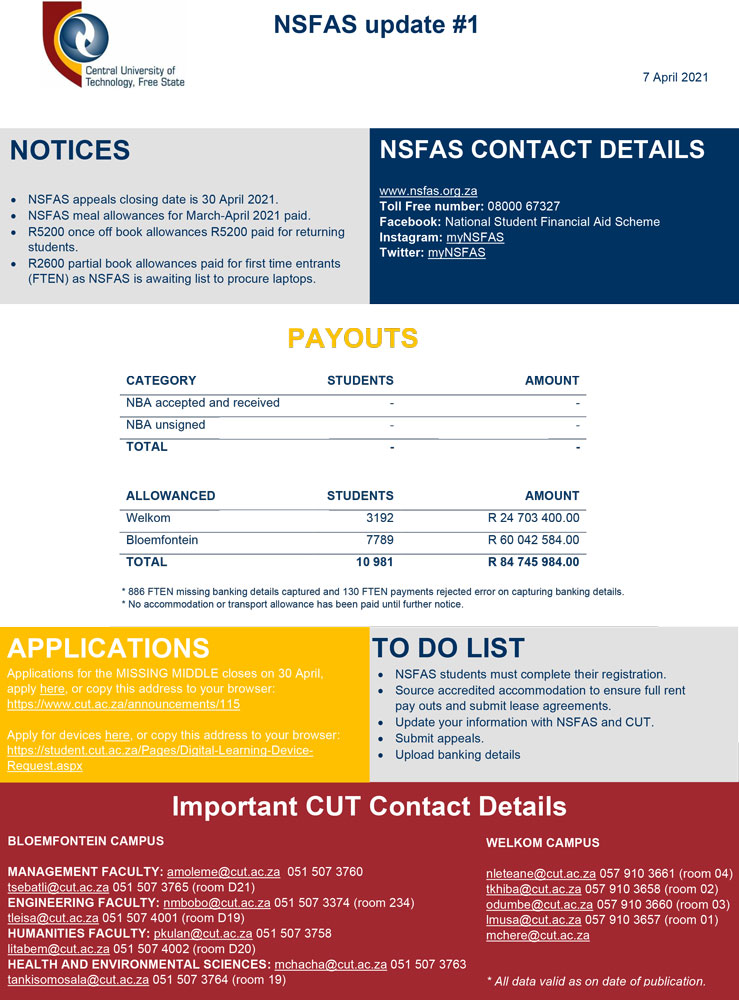 On behalf of Management, I wish you a successful 2021 academic year. Make maximum use of the opportunities available to you to achieve your goals and dreams, and to enhance CUT!
Kind regards / Ditumediso tse mofuthu / Vriendelike groete
Prof. Henk de Jager
Vice-Chancellor and Principal
Download the VC Communique, 07 April 2021 (PDF)
Download the NSFAS Update, 07 April 2021 (PDF)
Uploaded: 07 April 2021