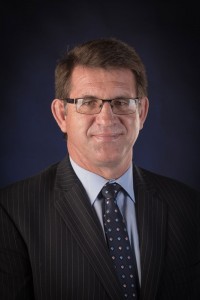 Professor Henk de Jager
Henk de Jager was born in Upington in the Northern Cape. He matriculated from Upington Technical School in 1982, where he was Head Boy and Rugby Captain of the provincial Craven Week Team. After he completed the compulsory two years' military service at the South African Intelligence School, he commenced with his studies at the then Vaal Triangle Technikon in 1985, where he also served as Students' Representative Council (SRC) Chairperson in 1987. Henk studied on a full-time basis for three years, and on a part-time basis for 15 years. During the course of his studies, he obtained an MDipTech in Electrical Engineering; BA in Industrial Psychology; Postgraduate Diploma in Tertiary Education; and a DTech in Education Management. After working in industry for a period of four years as Trainee Certified Engineer at ISCOR, he commenced his academic career as a Lecturer in 1989, and was appointed as Associate Director: Cooperative Education in 1993. To date, he has 30 years' experience in higher education, including 12 years' experience as Executive Dean in Engineering, Technology, Built Environment and Information Technology at the Vaal University of Technology and the Nelson Mandela Metropolitan University, respectively. He held the position of Deputy Vice-Chancellor (DVC): Academic and Research at CUT from 1 July 2012 to 31 December 2015, after which he was appointed as the DVC: Research, Innovation and Engagement at CUT. He was appointed as Acting Vice-Chancellor and Principal of CUT on 1 October 2016, and as Vice-Chancellor and Principal of the same institution with effect from 1 June 2017.
Henk is a member of several professional bodies, and is registered as a Professional Engineering Technologist with the Engineering Council of South Africa. He is also a Board member of Universities South Africa (USAf) and the South African Technology Network (SATN); Deputy Chairperson of the Board of SATN; Chairperson of the Joint USAf Admissions Committee & Matriculation Board in 2018; Chairperson of the World of Work Strategy Group of USAf; and member of the International Association of University Presidents (IAUP). He was involved in various quality assurance audits for the Engineering Council of South Africa, the Higher Education Quality Committee (HEQC) of South Africa, and the Quality Assurance Authority for Education and Training of the Kingdom of Bahrain. He has supervised at postgraduate level, and holds several publications in proceedings and scientific journals. His research is focused on innovation ecosystems, and strategic management and leadership in higher education.
 Henk regards himself as a proud African, and as a son of the soil of this great continent. He embraces the late President Nelson Mandela's approach to leadership –
"I am leading by serving others" –
and regards the function of leadership as producing more leaders, not more followers.
Uploaded: 17 March 2020
Office Manager of the Vice-Chancellor and Principal
Laura Botha

Tel: +27(0) 51 507 3001

laurabotha@cut.ac.za