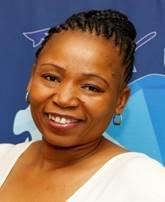 Mrs Sejake has extensive experience of more than 24 years in South African Higher Education as a Student, Senior International Officer and Administrator dealing with internationalisation. She is an International Students Advisor in the Centre for Global Engagement at the Central University of Technology, Free State. Cecilia specializes in the administration of full degree-seeking international students. She also manages the preregistration of international students and international student academic administration.
In addition, she also coordinates the legal compliance of all international students and reporting to CUT stakeholders as well as reporting to the South African regulatory institutions like the Department of Home Affairs (DHA) and the Department of Higher Education (DHET).
She an active member of the International Education Association of South Africa (IEASA) and is a regular participant in the webinars organized by IEASA and the Department of Home Affairs (DHA). She has a keen interest in global networks like the European Association for International Education (EAIE) that provides information regarding international students' services.
She obtained a BTech in Office Management and Technology, from the Central University of Technology and is busy with a Postgraduate Diploma in Project Management. To enhance her knowledge on project management she is affiliated to the International Knowledge Hubs to gain experience from different expects in terms of project management.
Ms Ceecee Sejake

Tel: +27 (0)51 507 3885

msejake@cut.ac.za