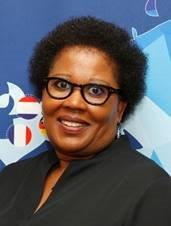 Martina Moss has an extensive experience of more than 15 years in South African Higher Education. Her experience covers a wide range of skills in office administration, communication, financial management, project management, policy and procedure development and secretariat duties.
She is the Office Administrator and Study Abroad Coordinator in the Centre for Global Engagement (CGE), formerly known as the International Office, at the Central University of Technology, Free State (CUT). Martina manages all office administration processes, office budgets, the study abroad fairs, and inbound and outbound students' orientation.
In addition, she is involved with the development of policies and guidelines on Internationalisation and is an active participant in the comprehensive internationalisation of higher education narrative at CUT. She also plays a pivotal role in the implementation of Internationalisation at Home (I@H) projects and is the Secretariat to the University Internationalisation Committee, a sub-committee of CUT Senate. She manages all communications and processes between the CGE and the institutional global partners as well as local and international Embassies and High Commissions regarding the CUT inbound and outbound students & staff mobility.
Ms Moss was nominated for the Golden Key Award and holds a Master of Commerce (MCom) Degree in Business Management from the University of the Free State, with a focus on Internationalisation in Higher Education.
She is an active participant and member of the International Education Association of South Africa (IEASA). Her research interest is focused on Internationalisation of Higher Education with a particular focus on student and staff mobility as drivers of internationalisation of the curriculum and internationalisation at home. She strengthens her knowledge base through her association with networks like The Forum and the European Association for International Education (EAIE) regarding study abroad and student exchanges.
Moss Martina

Tel: +27 (0)51 507 3410

mmoss@cut.ac.za