Sweden's top-ranked research and education university, Uppsala visits CUT
CUT News Partnerships Leadership International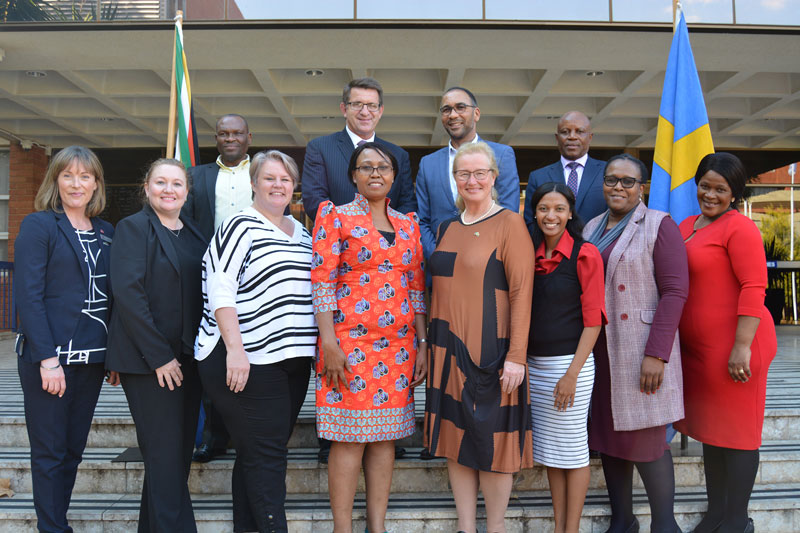 Delegates from Uppsala University, Sweden (UU) visited the Central University of Technology, Free State (CUT) on 07 May 2019, to strengthen the already existing partnership. CUT and UU have been partners for four years, and to date, the two institutions have collaborated in two Erasmus+ programmes including staff and student exchange. The latest collaboration is Erasmus+ YEBO, International Credit Mobility as well as Erasmus+ Capacity Building of Higher Education project called YEBO, Internationalisation of Doctoral Studies in South Africa and South Africa – Sweden University Forum (SASUF). Through this partnership, participants will be given a once in a lifetime opportunity to shadow a female VC of Prof. Eva Âkesson's calibre.  Prof Âkesson is Vice-Chancellor at Uppsala University.
Image
Back row, from left: Prof. David Ngidi, Deputy Vice-Chancellor: Teaching and Learning; Prof. Henk de Jager, Vice-Chancellor and Principal; Dr Gary Paul, Deputy Vice-Chancellor: Resources and Operations and Prof. Alfred Ngowi, Deputy Vice-Chancellor: Research Innovation and Engagement.
Front row: Ms Erika Dabhilkar, from Uppsala University with the CUT Woman in Leadership programme candidates. Ms Laurika van Straaten, Manager: Language Services; Ms Helene Kotze, Deputy Director: HR Operations; Prof. Wendy Setlalentoa, Associate Professor: Teacher Education, Prof. Eva Âkesson, Vice-Chancellor: Uppsala University; Ms Reynell van der Ross, Talent Management Specialist; Ms Edith Sempe, Deputy Director: Research and Development Support and Ms Ntokozo Dlamini, Deputy Registrar: Academic Administration.
Uploaded: 17 May 2019