Protective Perspex easy assemble screen designed by CUT Lecturer meets WHO requirements
Faculty of Humanities CUT News Research and Innovation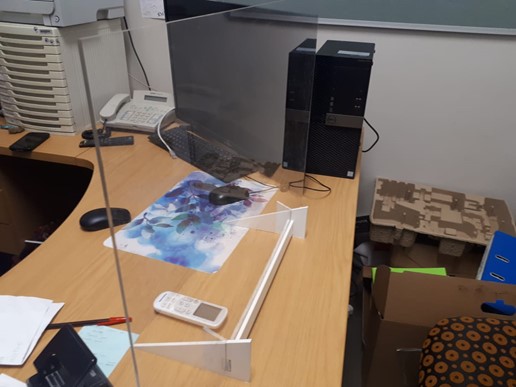 "I just made one for myself," Gerhard Beukes, Mechanical Technology Lecturer at the Department of Mathematics, Science and Technology Education, Central University of Technology, says about his sought-after screen. "Then my colleague asked if I could make another one… and then everybody in the department wanted one!"
Gerhard wanted to make something that could protect him against possible COVID-19 infection during lockdown level one, but without limiting interaction with students and colleagues. The Protective Perspex Screen, dubbed the "Sneeze Guard", meets the World Health Organisation requirements for product development in terms of measurements and the material used. The screen can be shipped in a flat pack, and easily assembled without requiring any fasteners. The screen slots into the wooden base, and for a personal touch, you can have your name engraved on the base.
Prof. Wendy Setlalentoa, Acting Dean: Humanities, is excited about this initiative that will facilitate safe interaction among colleagues, lecturers, and students. "We hope to get buy-in from other departments, faculties, and even other universities."
In addition to addressing the physical distancing requirements of lockdown level 1, it also promotes innovations and entrepreneurship skills at the CUT.
Uploaded: 19 October 2020