Prof. Rambe entrepreneurial fundi inaugurated as full professor
Management Sciences CUT News Teaching and Learning Leadership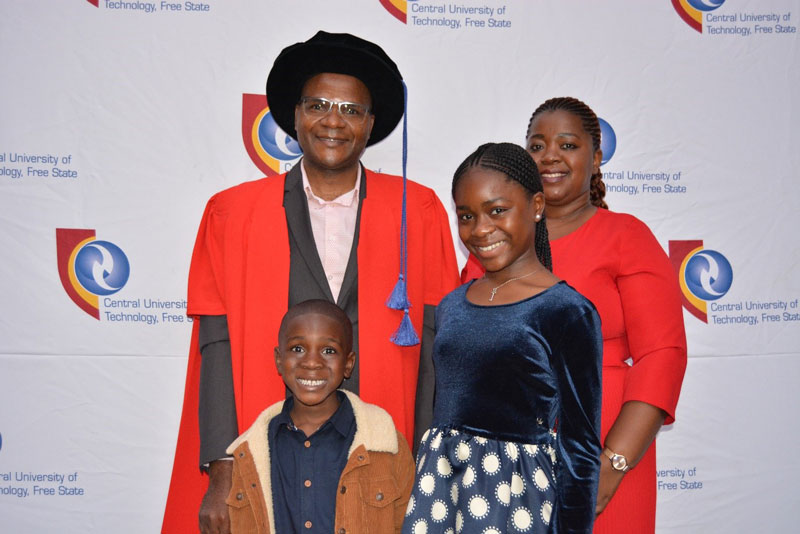 Prof. Patient Rambe, Research Professor: Faculty of Management Sciences was inaugurated as full professor at the Professorial Inaugural address held on 13 May 2021. The professorial lecture not only provided an opportunity for Professor Rambe to share his academic journey and research work but also, to recognize and celebrate this milestone and achievement.
Prof. Henk de Jager, Vice-Chancellor and Principal said a professor is reserved only for the most senior academics at any university across the globe. "A professor is highly accomplished, and the title is only awarded after decades of scholarly work to senior academics. Prof. Rambe is indeed a highly accomplished and recognized academic. We are very proud as the CUT community to celebrate this special occasion with him and his family and friends."
Prof. Rambe titled his presentation Technology Entrepreneurship of University Incubated firms: a multi-level perspective. He focused on his academic and profession trajectory, research and technology entrepreneurship of university incubated firms. He summarized his academic career into three phases which are - formative phase, consolidation phase and growth phrase. "In the formative phase of my career, I look at the social media networking in higher education; the consolidation phase, I looked at emerging technologies in business SMMEs and start-ups; and for the growth phase, my focus was on technology entrepreneurship of university incubated business."
Prof. Rambe said that before he did his PhD, there were a couple of questions that triggered him to do it. "Questions such as, why has students' entrepreneurial passion not translated into high growth-oriented start-ups? What explains the absence of university spinoffs despite universities' positioning as citadels of entrepreneurial knowledge production? What explains the high start-up failure despite the prevalence of a relatively sophisticated SMME support infrastructure and quadruple helix engagements?"
The research question he was sought to understand was how do individual, institutional and environmental factors that affect Technology Business Incubation (TBI) merge to support technology entrepreneurship?
When defining Business Incubation (BI) he said it is a business support process that accelerates the successful development of start-ups & fledgling companies by providing entrepreneurs with targeted resources and services. Technology Entrepreneurship (TE) is the establishment of a new technology venture.
He said that Technology Business Incubation (TBI) emphasise creating jobs, economic wealth, expanding economies and commercialising technologies through intermediaries whose actions reduce transaction costs, promote science-industry-government interaction, and support the creation of new innovative ventures.
When wrapping up his presentation, Prof. Rambe suggested that Incubators need to advise incubatees on situations where heuristics are germane and could be exploited. "There must be a disciplined technology entrepreneurship and entrepreneurial leadership training for incubatees to facilitate technology commercialization, a threshold of commercialisation of IP and patents needs scaling and wider rollout to increase product competitiveness, an increase pre-incubation support duration to ensure that only incubation ready entrepreneurs are admitted into incubators," he said.
He also encourages greater knowledge spillovers from academia into incubation process and partnership with industry, government and development institutions emphasizing product commercialisation. "There is a need for greater devolution of national funds to regional and local levels. Threshold of regional funding for technology commercialisation can be improved through capacitating regional institutions with funding instruments for TE. The entire incubation and innovation ecosystem needs revamping to make knowledge exchange, innovation support and commercialisation the heartbeat of commercialisation efforts," he concluded.
Caption
Professor inducted: Prof. Patient Rambe (left) with his family, Mrs Nyasha Rambe (spouse), Jayden Rambe (son) and Cheryl Rambe (daughter). He dedicated the professorial address to his parents and family.
Uploaded: 21 May 2021